Local Chef Spotlight: Finn Town's Steve Dustin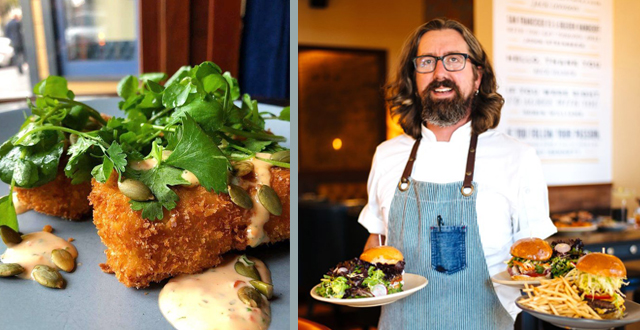 On top of the fact that this chef's first and last name bring together two of our favorite characters in Stranger Things, chef Steve Dustin is a pretty cool guy. Before jumping into the driver's seat at Finn Town, a one-year-old tavern in the Castro, Dustin was the Culinary Director of Operations for San Francisco's Big Night Restaurant Group (Park Tavern, Marlowe, Petit Marlowe, The Cavalier, Marianne's, Leo's Oyster Bar).
Steve Dustin quickly advanced up the ranks after working as the Chef de Cuisine at The Cavalier, the semi-British establishment at Hotel Zetta. He lived in New York City and Colorado and has chosen the Bay Area as home base. We reached out to pick his brain on food trends, favorite spots to dine out, and his thoughts on brunch.
If you had to describe Finn Town's cuisine in three words, what would they be?
Comfort food with a twist!
How do you start your day?
Two shots of espresso, at home.
Which restaurants do you like to eat at in the city and why?
I live in the East Bay and spend most of my time dining out there. I really love Penrose, Boot and Shoe Service, and Homestead. They all focus on local, seasonal, and sustainable food.
What's your favorite dish on your menu and why?
Currently, my favorite dish on the menu is our Crispy Brussels Sprouts with pear, pistachio, honey, apple cider vinegar and Aleppo pepper. This dish hits all of your taste buds; acidic, salty, sweet, nutty, and spicy. Everything you might want from a dish!
Some chefs have confessed to hating brunch. What are your thoughts about it, since you serve it? 
I like brunch, it's fast paced and exciting. I think that sometimes just cooking dinner and savory food all the time gets a bit boring. It's honestly a nice breath of fresh air.
How do you like the location since you opened? 
I love the Castro. It is really nice being back in a neighborhood again. I missed that coming from NYC. I would really like guests from outside of the Castro to experience Finn Town and the Castro more. I feel that there are a lot of good things happening here.
Finn Town
2251 Market St