10 Family-Friendly Holiday Happenings in San Francisco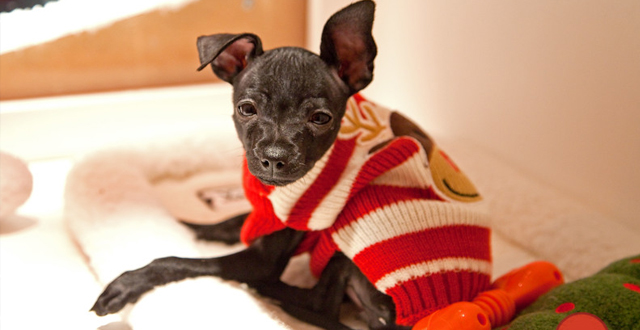 With Thanksgiving just around the corner, many of the holiday event organizers have already confirmed plans for upcoming end-of-year activities. Whether its ice skating or tree lighting, there are plenty of options for friends and families to check out and embrace that once-a-year holiday spirit.
Here are 10 holiday activities with plenty of photo-ops for the fam.
Photos by Cheryl Guerrero
Macy's + SF SPCA Holiday Windows
Friday, November 18 through Monday, January 1 at Macy's Union Square (170 O'Farrell Street.)
Stopping by for a cuteness reboot at the Macy's Holiday Windows is always a must. A glimpse of these adorable and adoptable animals from the San Francisco SPCA will make that holiday shopping anxiety melt away; well, at least for the moment.
Ice Skating at the Embarcadero Center Ice Rink
The Bay Area's largest outdoor ice rink and is open now through Sunday, January 7, 2018 at Embarcadero Center, across from the Ferry Building). Maybe this will be the year you finally learn to ice skate, if not, at least you have a good opportunity to wear your favorite holiday sweater.
Union Street Fantasy of Lights Celebration
Saturday, December 2 at Union Street, San Francisco
The annual, free event returns to the Cow Hollow neighborhood with twinkling lights that transforms Union Street into an impressive display of holiday magic, illuminating shops and Victorian houses along the route. Festive activities include horse-drawn carriage rides, live entertainment along the streets and many of the trendy restaurants and shops will be in the holiday spirit.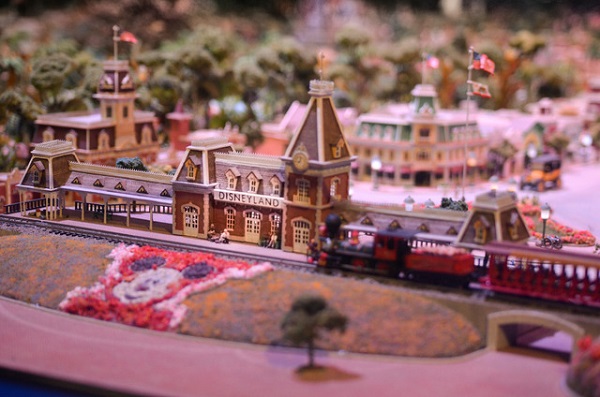 Walt Disney Family Museum
View the Home for the Holidays Disney Exhibit
November 9 through January 9 at Walt Disney Family Museum in the Presidio
The Walt Disney Family Museum's Home for the Holidays exhibit is now on display. Visitors to the historic building can experience 40,000 square feet of imagination, complete with contemporary interactive galleries and state-of-the-art exhibits narrated in Walt's own voice. Discover early drawings, cartoons, movies, music, listening stations, more than 200 video screens, and a 14-foot model of Disneyland.
Also on display will be an elaborate three-dimensional model of the Disney Family home on Carolwood Drive in Holmby Hills, Los Angeles—featuring Walt's personal steam locomotive, the Lilly Belle, chugging along his Carolwood Pacific Fair Weather Route. The intricate scale model will be on view for the entire duration of the installation and will be decorated with lights. It will be ceremonially illuminated for the first time on Walt's birthday, December 4.
Join the Crowds at Pier 39's Tree Lighting Celebration
Sunday, November 19 at Pier 39 at Beach St.
A crowd will converge once again at Pier 39 to catch the lighting of the majestic 60-foot tree. And this year, some special Disney pals from the Disneyland Resort will also be there. Below is the schedule of events for the day:
12-3:30pm: Meet & greet with Disney friends
12–5pm Letters to Santa with the United States Postal Service at N-Trance Plaza
2–5pm Holiday Crafting with the Museum of Craft at the Carousel Stage
4:30–5:30pm Grammy Award-Winning Mariachi Divas at the Main Stage
6pm: Tree Lighting with Friends from Disneyland Resort at the Main Stage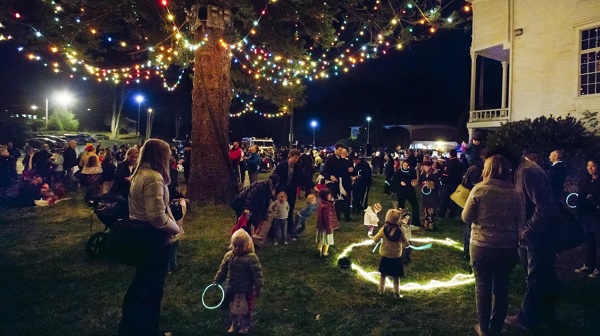 Holiday Lights: The Presidio's Traditional Tree-Lighting Ceremony
Feel the Fun in the Forest at the Main Post's Holiday Lights Party
Friday, December 8 at Funston St. in the Presidio
Another tremendous holiday lighting event happens inside Park Presidio. Gather at the tree and sing holiday classics along with the Golden Gate Carolers. Enjoy light refreshments and children's activities held in the Presidio Community Y gymnasium. There will also be an intimate, lantern-lit evening forest walk. Partners include the Presidio Y, National Park Service, US Park Police, SF Fire Department, Presidio Residences, and Art Seed. See below for the schedule:
5pm: Event kicks off outside at the tree with Golden Gate Carolers with a meet & greet with USPP horses and SFFD fire truck
5:30pm: Tree lighting
5:30 to 6:30pm: Free Activities in the Presidio Y Gym
Support Families Affected by Northern California Fires with Celebrity Chefs
Wednesday, November 29 at 555 California Ave., San Francisco
Organizers of the 555 California Street Tree Lighting Ceremony in the Financial District are preparing to celebrate their 11th anniversary and have added an All-Star Holiday Culinary Kickoff, to benefit families affected by the Northern California fires. Tons of tasting selections from top Bay Area chefs and vintners will be available for attendees. Also on the docket are musical performances and tree lighting countdown.
NFL Hall of Famer Ronnie Lott's foundation, All Stars Helping Kids, will distribute 100% of the event's ticket sales to Northern California fire relief efforts, through grants provided by the foundation's Fire Zone Relief Project.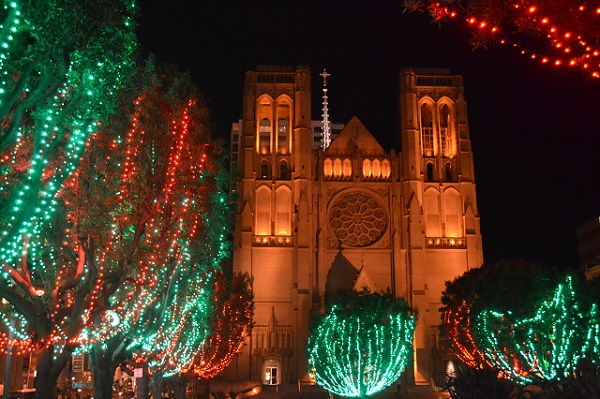 Grace Cathedral
Take a Bus Tour to See All the Best Holiday Lights
December 15, 2017 through January 2, 2018 at 99 Jefferson St. in Fisherman's Wharf
One of the best ways to soak in all sites and sounds is to take a 90-minute tour via the Open Top Holiday Lights Bus Tour. Run by Big Bus, the largest privately-owned open-top sightseeing tour company in the world, their tours are available nightly at 6:30pm and 7pm. Along the way, participants will see festive holiday trees, trimmings, and twinkling lights decorating the city for the winter season. To sweeten the deal you can enjoy complimentary seasonal treats from Ghirardelli Chocolate and bring home a complimentary souvenir.
The Holiday Lights Tour begins at Big Bus's Visitor Center and goes up historic Nob Hill for a stunning view of the magnificent Grace Cathedral. Then it makes its way across the illuminated Bay Bridge for picturesque views of the sparkling city skyline from Treasure Island. The return includes a tour along the Embarcadero to view the glittering lights at the Port of San Francisco.
Learn How to Make Holiday Bread
Wednesday, December 13 at 399 Fremont St.
From 6:30-9pm, learn to make cranberry bread and spicy cinnamon scones from scratch. Enjoy some homemade snacks and learn a thing or two about breadmaking from chef, instructor, and owner of cookalongblog.com, Tatiana Grebennik.
Snag Local Gifts at the Ocean Avenue Holiday Craft Fair
Sunday, December 10 at Unity Plaza, 1002-1040 Ocean Avenue
Whether you celebrate Christmas, Hanukkah, Kwanzaa, or none of the above, partake in a festive craft fair and enjoy the unique neighborhood shopping. The free event from 12-5pm features local artists selling handmade arts and crafts. The fair is a joint collaboration between the Ocean Avenue Association and the OMI-Cultural Participation Project.
Related article: Beyond the Pumpkin Spice: 7 Holiday Arts & Craft Fairs that Take DIY to the Next Level