Honoring Harvey Milk: A Day of Remembrance, Illuminated Art Installation & Harvey Milk Plaza Re-Imagined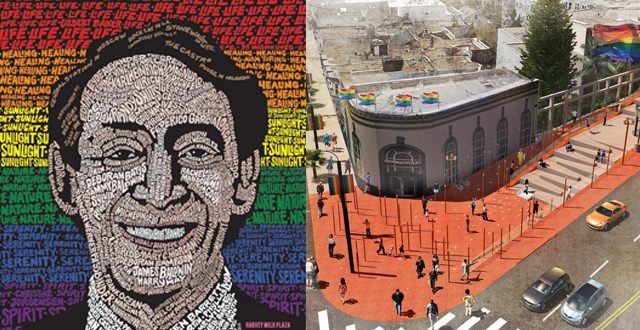 This week marks 40 years since the election of civil rights activist Harvey Milk, California's first openly gay elected official, and San Francisco community leaders have big plans to commemorate the major milestone. This includes a large-scale, peaceful and positive public gathering set to take place on Wednesday, November 8 at the intersection of Castro & Market streets. In addition, a design contest was recently held to revamp Havey Milk Plaza in a way that inspires people to carry forth a message of inclusivity and equality to this day.
A quick bit of history. November 8 is the day that Harvey Milk secured his position to the SF Board of Supervisors and also when the giant symbolic rainbow flag was first raised in the Castro. It has been two decades since the flag has been in place. Both anniversaries give both the LGBT community and San Francisco at large, plenty to reflect on and celebrate.
Milk lived and worked on Castro Street before he and former Mayor George Moscone were both assassinated in 1978. Milk is famous for leading soapbox political rallies at the plaza, which is currently used as a gathering place for community protests and celebrations. The site serves hundreds of daily commuters along with thousands of tourists who pass through the transit station on the way to visiting the famous neighborhood.


Illuminated Installation Honoring Harvey Milk & A Day of Remembrance
Join the Friends of Harvey Milk Plaza and nonprofit arts collaborative Illuminate (the same team behind The Bay Lights and the lighting for the Conservatory of Flowers for the Summer of Love). At 6 pm on November 8, San Franciscans will gather at Castro & Market Street "to celebrate Harvey Milk's vision of equality and to give everyone hope for moving forward towards peace and justice."
Gregg Cassin and Kate Kendell co-host…with a list of speakers, performers, artists, and activists…including some Harvey contemporaries.  The list includes Jan Mirikitani & Mona Webb, Breanna Sinclaire, Gwenn Craig, Anne Kronenberg, Danny Nicolletta, Tom Ammiano, DJ Lamont, San Francisco's Gay Men's Chorus and more.
The celebration includes the unveiling of two light art installations to commemorate the 40th anniversary of Harvey Milk's election to office. The neon lights display called "Hope Will Never Be Silent" will be placed in remembrance of Harvey Milk's words on the facade of Soulcycle, where the Bank of America sign once was. This neon sign will serve as a permanent greeting to all those that call Castro home.
"Harvey's Halo" will be a temporary installation that will be visible for seven nights over two weekends (November 8-11 & 16-18). The 15, 350-watt colored beams will raise a beacon of light and equality into the sky, with visibility all the way down Market Street to the Ferry Building.
The groups also collaborated with artist John Mavroudis and Haight Street Art Center to create an interactive poster, titled, "Hope Will Never Be Silent."
Honor Harvey Milk
Harvey Milk Plaza (2401 Market Street)
Wednesday, November 8, 6-7:30pm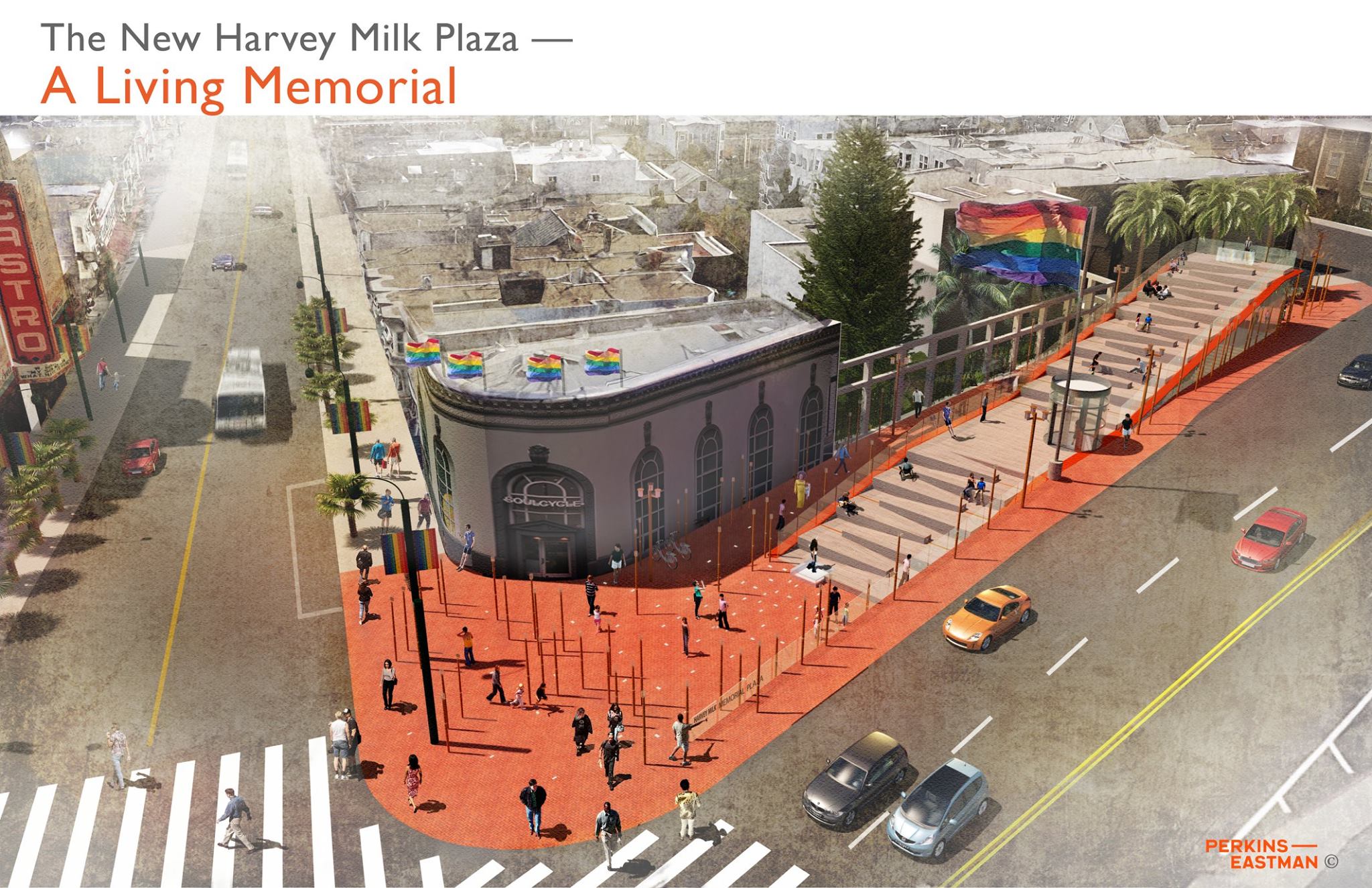 Credit: Perkins Eastman
Harvey Milk Plaza Design Competition
Coinciding with the two major anniversaries is a Harvey Milk Plaza design competition. The plaza, located at the entrance of the Castro Street Muni Station, was built in 1980 and in 1985, the plaza area was named in honor of Harvey Milk.
Earlier this year, a volunteer-led Castro neighborhood organization called Friends of Harvey Milk Plaza collaborated with San Francisco Municipal Transit Authority (SFMTA) to bring the competition to life.
Their goal? Reimagine the sacred ground for LGBT civil rights history, Harvey Milk Plaza, as a public gathering space with the following criteria in mind:
Encourages generations of visitors to come to the Castro, learn about Harvey Milk and be inspired by his vision of hope and civil rights
Allows for public gathering for protests and celebrations
Is a high-quality design with an interpretive element that transforms Harvey Milk Plaza into a truly unique and important San Francisco destination
Is a well-functioning urban transit center
Takes into account the new MTA elevator and MTA's accessibility project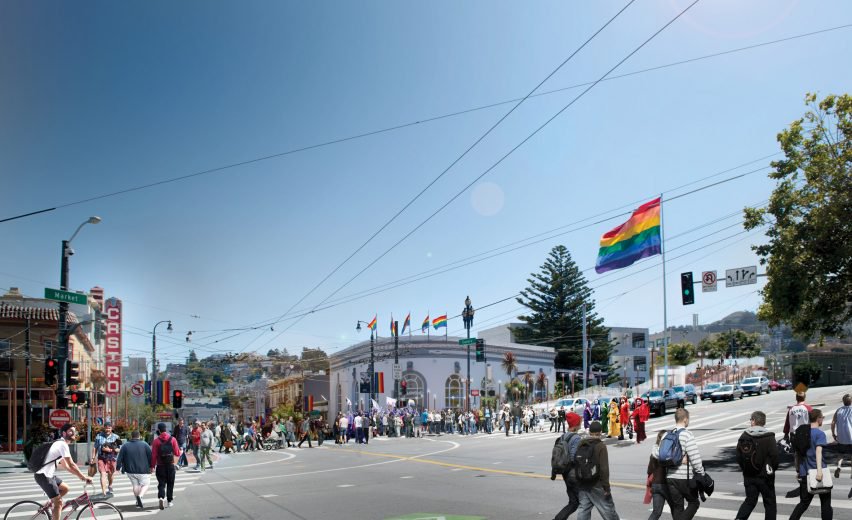 Credit: Dezeen
Entrants were asked to review and respond to the details gleaned from community meetings to influence and inspire their solutions. The winning entry, which was announced on October 31, came from the design team led by New York-based group Perkins Eastman with support from structural engineering firm Arup, graphic designer Propp + Guerin, lighting design by Lightswitch SF, Inc and artwork by Cybele Lyle. Friends of Harvey Milk Plaza president, Andrea Aiello praised the design's "immersive experience" allowing people to interact with the memorial component.
The winning look features a "soapbox for all," an elevated amphitheater that overlooks the Castro Station's southern entrance. This design is intended to facilitate activism, community events, and hangouts.
After securing initial funding of $500,000 from an anonymous donor, the community-supported design competition continues its fundraising efforts with the goal of securing $10 million for the full funding of the design, construction, and maintenance of the plaza.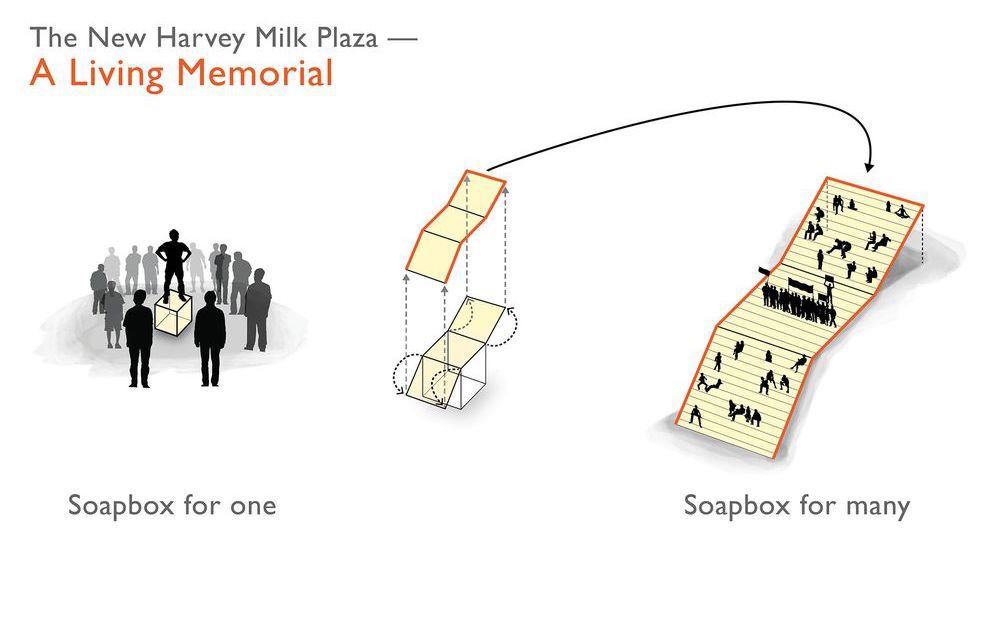 Credit: Perkins Eastman
Castro, Civil Rights, design, development, equality, gathering, harveym milk, LGBT, peaceful, peawce, plaza, protest, Public, SFMTA, works