Bay Bridge Lights Exhibit Might Be Permanent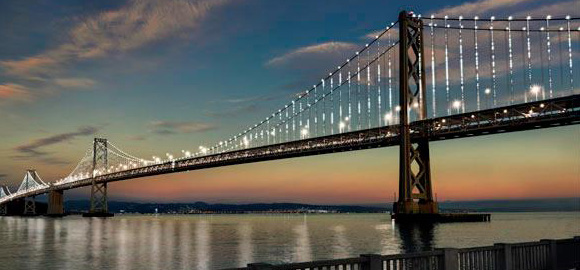 The not-for-profit foundation supporting the "Bay Lights" sculpture has reached its $4 million funding goal to keep the 25,000 programmed LED lights on, signally that they soon could become a permanent nighttime fixture in SF.
Next year, the lights have to be taken down for maintenance work on the bridge cables. Additional funds were needed for new equipment and re-installation of more robust LEDs. Bay Area real-estate mogul and philanthropist Tad Taube has pledged $2 million, or half the funding goal, to keep the lights shining.
Illuminate the Arts foundation, who originally hired artist Leo Villareal to create the art exhibit, conceived the sculpture as a temporary, two-year exhibit. The glimmering lights were strung across San Francisco's Bay Bridge in 2013.
Caltrans, the state agency that owns the bridge, agreed to reinstall the light sculpture by January 2016 in hopes of shining for Super Bowl 50, which takes place at Levi's Stadium the following month.
Afterwards, the lights would then become the property of the State of California, which would be responsible for maintenance. The Bay Area Toll Authority has pledged at least $250,000 per year for maintenance.
MORE: Five Restaurants with Views of the Bay Lights Art Installation