Five Restaurants with Views of the Bay Lights Art Installation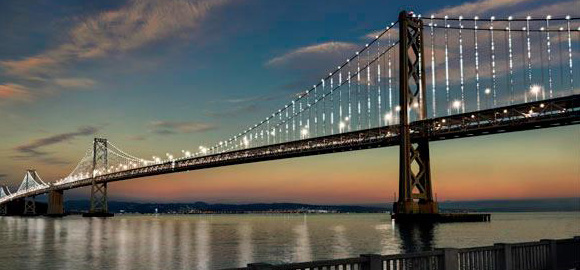 Those passing by the Bay Bridge at night over the last month or so may have noticed something different—an occasional light show of sorts taking place. It was all part of testing of the Bay Lights art installation, set to be officially unveiled on Tuesday.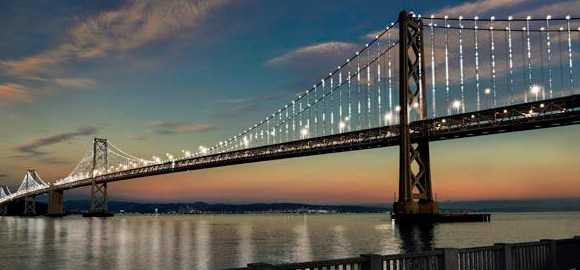 The exhibit, created by New York artist Leo Villareal, includes 25,000 individually programmable LED lights, which will create a constantly changing image on the north side of the Bay Bridge.
The exhibit will appear nightly on the span for the next two years and there are a number of restaurants that will offer diners a front row seat for the spectacular display.
CHAYA Brasserie (132 The Embarcadero) is offering specials through March 10 to celebrate opening week of Bay Lights. Executive Chef Yuko Kajino will be offering a special five-course Bay-inspired chef's menu ($125) for those who make reservations in the North Dining Room. The bar and lounge will also feature a "Late Night Lights" special starting at 9pm, with champagne pairings. The specials run through March 10.
Two neighboring restaurants may have the best view of the entire production each night – Waterbar and EPIC Roasthouse are both located right near the Bay Bridge. And although there are no specific plans for special events as of now, both offer beautiful views inside and out. Waterbar is full of seafood options while EPIC is more a haven for steak. The restaurants are located at 369 and 399 The Embarcadero.
Sens Restaurant, located in the second level Promenade of the Embarcadero Center 4, always offers an amazing view overlooking the piers and Ferry Building.  The bar/restaurant offers a Mediterranean menu and seating both inside and outdoors.  Be aware, the space is normally reserved for private events on weekends.
Offering American classics along with a seafood-specific menu, Waterfront Restaurant is located right on The Embarcadero, just a bit further down from the hustle and bustle of the Ferry Building.  Whether diners sit indoors or dine on the restaurant's patio, it will offer plenty of views of The Embarcadero, and the Bay Lights project.  Waterfront Restaurant is located at Pier 7 on The Embarcadero.
Photo Credit: Lucas Saugen, Saugen Photography