Dia de Los Muertos in the San Francisco Bay Area: 9 Cultural Celebrations around the Cycle of Life & Death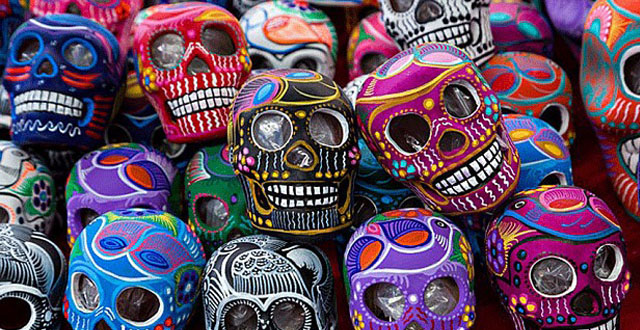 If Halloween is a day to dress up and pretend to be a spirit, The Day of the Dead (or Dia de los Muertos), celebrated between October 31 and November 2nd, brings the opportunity to better connect with the spirit world. In Mexican culture, it's a three-day celebration filled with craft making, altar building and visits to the graves of loved ones.
In San Francisco, the annual Day of the Dead parade attracts flocks of residents cradling mementos in remembrance of the dead who form a thrumming procession that echoes along the corridors of the Mission District.
Aside from this sight-to-be-seen, there are plenty of other ways to get involved, see performances, try your hand at some crafts and learn a little more about this annual tradition that honors the cycle of life and death.
We've rounded up some events around the Bay Area that will have you discovering new ways to pay your respects while having a little fun in the process.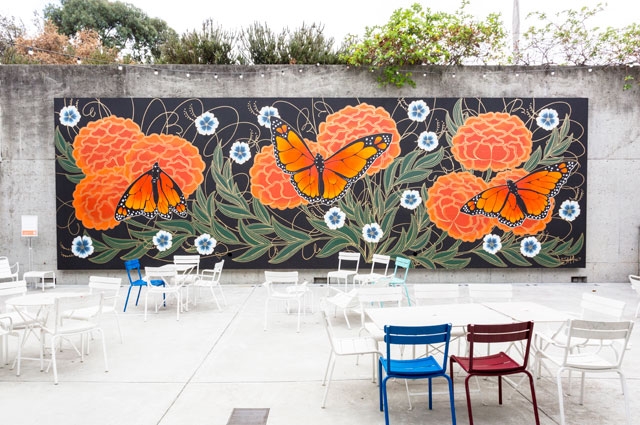 Oakland artist Jet Martinez mural Resilience at the Oakland Museum of California
Metamorphosis and Migration: Days of the Dead
This year, Oakland Museum of California's (OMCA) Day of the Dead exhibition is inspired by the life cycle of the monarch butterfly. Known for their mass migration each winter, following the same path their ancestors traveled, these butterflies symbolize the returning souls of loved ones passed. Metamorphosis & Migration: Days of the Dead explores ofrendas (offerings), features rare butterfly specimens and artwork with themes inspired by tradition and transformation.
Oakland Museum of California (1000 Oak Street, Oakland, CA)
Through October 18th-January 14th; Adults $15.95
Unity Council Sugar Skulls Workshop
Learn how to make paper mache skulls at this workshop, hosted by community development organization the Unity Council. You'll also have the chance to learn about the Dia de los Muertos holiday from traditional artists connected with Fruitvale's Latino community.
Fruitvale-San Antonio Senior Center (3301 E. 12th Street, Oakland, CA)
Monday, October 23rd, 5-7pm; Free
This exhibit, featuring work from artists Tere Casas and Karen Folgner, highlights Mexican and American ancestry through the tradition of prayer and remembrance. Their works challenge viewers to step outside the confines of cultural tradition and explore how each artist pays tribute to their ancestry and the memory of those passed.
The Laundry (3359 26th Street, San Francisco, CA)
Thursday, October 26th, 6:30-9:30pm; Free
Creative Family Fun Dia de Los Muertos Maskmaking
Explore the Presidio's natural heritage and connection to Mexico through family fun craft events like Day of the Dead mask-making.
Presidio Officer's Club (50 Moraga Avenue, San Francisco, CA)
Saturday, October 28th & Sunday, October 29th, 11am-4pm; Free
Day of the Dead Ritual Procession
El Colectivo de Rescato Cultural hosts the 34th annual procession to celebrate Dia de los Muertos. "This year's Ritual Procession honors Malinalli (grass) governed by Patecatl (the tonali Aztec calendar symbol) connoting life's energy." Procession leaders invite participants to remember the ways in which the Ancients struggled to create order out of chaos.
Mission District (22nd and Bryant Street, San Francisco, CA)
The annual procession, November 2nd at 7:00 PM at 24th & Bryant, in the Mission District of San Francisco. The procession ends in Garfield Park at the Festival of Altars 8:30 PM at 26th & Harrison. 
Wednesday, November 2nd, 7pm; Free
Hosted by the Oakland Ballet Company, Luna Mexicana is a dance performance that follows a young woman's dreams as she attempts to revive her relatives and friends. This family-friendly performance weaves festive dancing, colorful costumes and traditional Mexican folk music with modern electronic fusions. The audience is encouraged to attend in Day of the Dead costume and face paint.
Multiple East Bay Locations: San Leandro, Tuesday, October 24th; Pleasanton, Wednesday, November 1st; and Dublin, November 3rd; Free
Berkeley Day of the Dead Celebration
Join the Berkeley community for DIY art projects, skeletal face painting, food trucks and music during this outdoor street festival. The public is invited to bring photos or stories of loved ones, candles, bread or flowers to add to the community offering, with a Candle Light Procession to follow at 9pm.
Downtown Berkeley (Kittredge Street and Harold Way, Berkeley, CA)
Thursday, November 2nd, 5-10pm; Free
Dia de Los Muertos Community Concert
The San Francisco Symphony will host its 10th anniversary Day of the Dead celebration with two events. You'll find Mexican cultural icon Eugenia León leading vocals and Alondre de la Parra conducting this celebrated family event. Join attendees before the show for refreshments, live music, dancing, colorful altars and folk art.
Davies Symphony Hall (201 Van Ness Avenue, San Francisco, CA)
Saturday, November 4th, 2pm; Adults: $25-95
Closing Event for Remembrance and Resistance 
Chosen by father and son curators René & Rio Yañez, Remembrance and Resistance places value on mourning in the context of resistance and struggle. "More than 25 altars by over 60 participating Día de los Muertos artists build a dense environment of creativity that creates space for meaningful reflection and community engagement." In the Trump era, the need for collective mourning is ever present. Since its inception, Day of the Dead at SOMArts has offered a space for community reflection and remembers those lost to violence and displacement. The exhibition will be on display from October 6th through November 9th.
SOMA Arts Cultural Center (934 Brannan Street, San Francisco, CA)
Thursday, November 9th, 6-9pm; $7-10