San Francisco's Board of Supervisors recently approved a resolution to rename Justin Herman Plaza and the city's Recreation and Park Commission now has the authority to either make or break the final decision.
Before rushing to a decision, it's best to understand the historical background behind the name of this open space located just across from the Ferry Building.
October 19 Update: It's official…the parks commission voted 4-3 to temporarily re-name the space as Embarcadero Plaza.
Justin Herman, who died in 1971, was the city's executive director of the San Francisco Redevelopment Agency under three mayors (George Christopher, John Shelley, and Joseph Alioto). Herman is widely blamed for bulldozing the Western Addition because it was his idea to create the urban renewal program, which ultimately displaced thousands of residents, most of them African American and Japanese Americans. The program also destroyed several blocks of original Victorians buildings.
Herman's era is commonly viewed as one of the more disappointing times in San Francisco's history. However, his story should be interpreted with caution when considering some additional evidence that Herman wasn't entirely an evil villain. In the late 1950s, Herman proposed that the Diamond Heights development should be a mix of housing types, including homes for low-income tenants. Not all of his ideas led to mass displacement.
Justin Herman Plaza is currently a prime location for skateboarders and a meeting area for protests and marches. It was also a campground for the Occupy movement back in 2011. The open space was once named Embarcadero Plaza and the landscape features an irregularly shaped expanse of red brick pavers. The sunken plaza's focal points is a 40-foot-tall concrete fountain designed by sculptor Armand Vaillancourt, who designed the fountain to respond to an elevated freeway that wrapped around the Plaza. The original fountain no longer runs and the structure is not exactly fully intact after significant damage during the severe earthquake in 1989.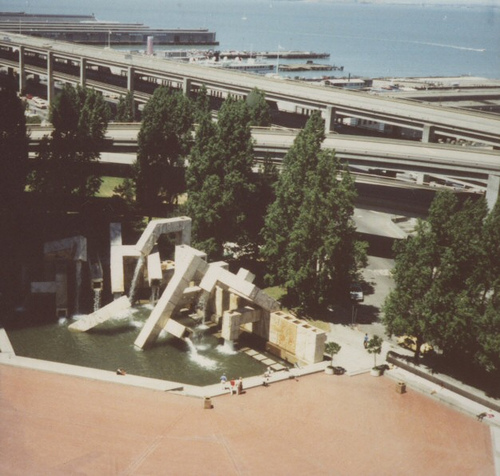 Photo of I-480 from 1988, Wikimedia Commons
Earlier this month, a handful of people attended the board's Land Use and Transportation Committee meeting where the topic of changing the name of the plaza was discussed and opinions varied in terms of support. Mayor Ed Lee has so far remained neutral, supporting a community process to rename the plaza, which would cost approximately $5,400 to change the signs.
Although the Board of Supervisors technically lacks the legal authority to change the name, every board supervisor co-signed the recent resolution that passed unopposed. The Recreation and Park Commission members will debate the topic next month even though no formal discussions have taken place about the name's contentious symbolism. One board supervisor, Aaron Peskin, suggested that the plaza be temporarily known as Embarcadero Plaza until a new name is determined.
According to Curbed SF, the petition does not directly address what the new name of the plaza should be but does say, "Some have suggested renaming it after poet and civil rights activist Maya Angelou, San Francisco's first black female streetcar operator."
What do you think the city should name the plaza?