Free Event Series: 'Commons on 3rd Thursdays' Transforms SF Civic Center into a Block Party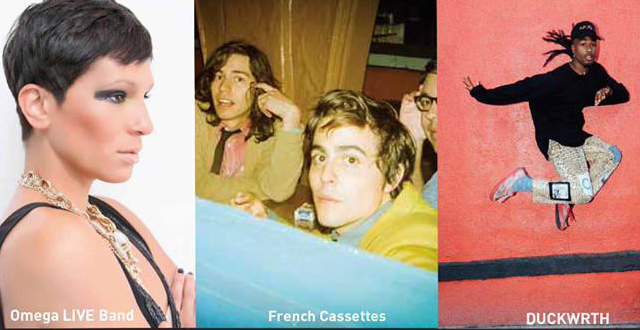 Tomorrow is the third in a series of four evening events dubbed, Commons on 3rd Thursdays. The community event converts the Civic Center public areas into a fun environment for all ages with music, activities, food, and drink options.
This new initiative is thanks to a public-private partnership between the City of San Francisco and numerous private cultural, for-profit and nonprofit partners like Another Planet Entertainment, Off the Grid, Noise Pop, and the Civic Center Community Benefit District. The goal is to make the Civic Center into a safe and desirable place for the public.
The next installment of Commons on 3rd Thursdays runs from 5-9pm on Thursday, September 21. The evening will feature a variety of entertainment, including live music on three stages, free skate rentals and roller skating organized by the Church of 8 Wheels, food trucks, alcoholic beverages, games such as bocce ball and skee ball, and a balloon sculpture installation. Activities for all ages will take place across multiple spaces, including the Civic Center Plaza, UN Plaza, and Fulton Street between the Asian Art Museum and the San Francisco Main Public Library.
Credit: David Perry
Headlining the September event will be local bands French Cassettes and EagleWolfSnake on Fulton Street, Omega LIVE Band in Civic Center Plaza and DUCKWRTH at UN Plaza.
Visitors can also experience a dynamic sound installation in UN Plaza, courtesy of the Exploratorium, an outdoor art gallery by the Asian Art Museum, and a new yarn wrapping installation on trees throughout the area. The latest installment includes a cluster of three knitted giraffes in Civic Center Plaza, with parrots on their way to Fulton Street and octopuses to UN Plaza. The yarn artists Knits for Life will be on hand with a knitting demonstration. The Tenderloin Museum is also curating an outdoor art gallery in UN Plaza, highlighting a selection of works from area artists Ira Watkins, Darwin Bell, and JB Higgins.
Some notable vendors include Bi-Rite Creamery showcasing ice cream and other menu items to customers in their future location – a new café kiosk in Civic Center Plaza opening in February 2018, when the new playgrounds open. Off the Grid food trucks will be parked on site, such as Cochinita, It's All Gravy, Kokio Republic, Lamas Peruvian Food, SAJJ and QBC.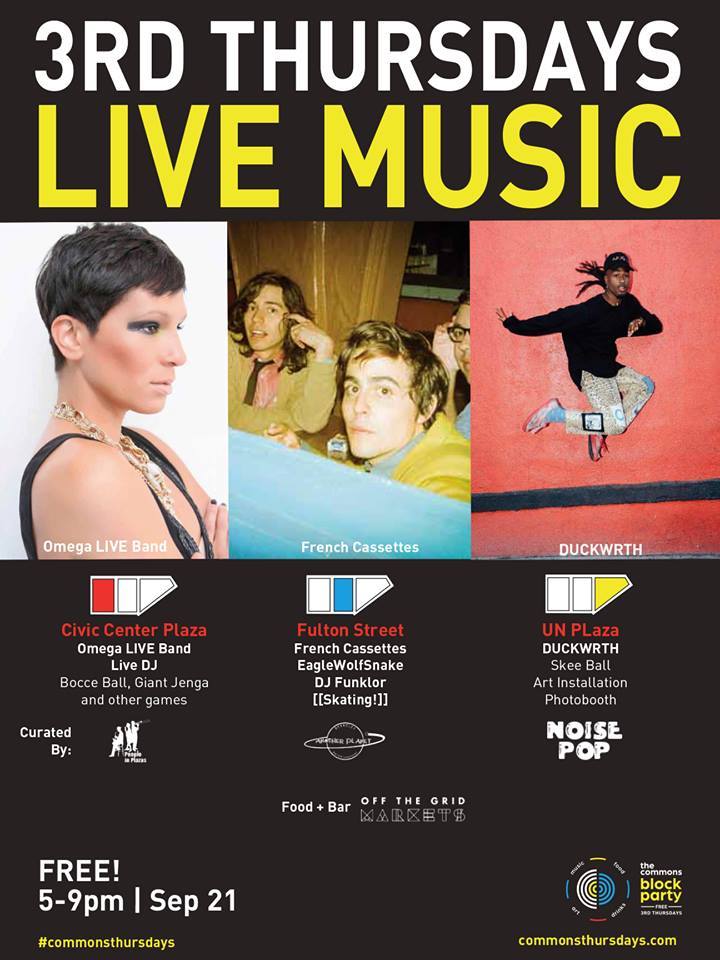 The Commons on 3rd Thursdays event series started back in July and grew out of the Civic Center Commons initiative, a strategic effort led by the City of San Francisco and community partners to transform daily experiences in these public spaces and create a unified, inclusive civic "commons."
Since its inception, new sponsors have joined to provide additional support for the event series. New sponsors include Lendlease, Dolby, Tishman Speyer, Trinity Properties, Streetplus, CMG Landscape Architects and AECOM.
The last Commons on 3rd Thursdays event of 2017 will take place on October 19.