National Radio Day with Best Frequencies Forever (BFF.fm), Live from the Secret Alley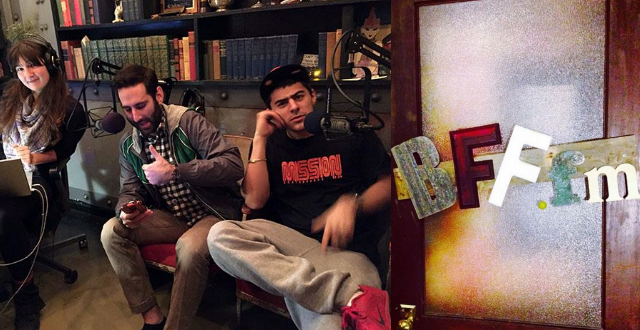 It's National Radio Day! And who better to celebrate with than Best Frequencies Forever (BFF.fm), San Francisco's DIY community radio station. BFF.fm introduces its listeners to a lot of independent music you'd be hard-pressed to find on your own and broadcasts from within the Secret Alley.
We chatted with BFF.fm founder, Cosmic Amanda about the history of the station, its ties to the Secret Alley's creative workshop space, and some of the highlights from its various on-air programs. Oh and also, Halloweeeeeeen!
The Origins of Best Frequencies Forever (BFF.fm)
BFF.fm was first established in 2013 and is incredibly accessible radio for two main reasons. One: because all the shows are online. The show notes and past episodes are available whenever you want. And two: the people who are part of BFF.fm are totally approachable. I would almost bet money that you, a friend, or a friend-of-a-friend are connected to this community.
When asked about the rotating show schedule, Cosmic Amanda considers it "a labor of love." She makes running the 82 weekly shows look like a piece of cake. But the reality is that she has a full-time job, on top of running BFF.fm, and there is a lot to juggle. The group stays in touch via email and Slack, and instead of official station meetings, they have potluck brunches every couple months.
The Secret Alley is where the magic happens.
Best Frequencies Forever broadcasts from a small but mighty center within the Secret Alley, located on the second story of an unassuming building in the Mission. The Secret Alley is a hotspot of creativity. It's an under-the-radar space to work on projects and watch Star Trek off a projector screen mid-week.
BFF.fm became part of the Secret Alley and it was a match that was meant to be. Cosmic Amanda described her serendipitous connection, "Before I moved to SF, five years ago, I kicked around the idea of starting a community radio station. I also got to know one of the original guys who built The Secret Alley and after seeing photos of it online I knew I wanted to get involved in some kind of art space. What I didn't know was that one day I'd move to SF and start a community radio station inside the Secret Alley. That's just how it all happened to come together."
There's been a lot of cross-pollination between the Secret Alley and BFF.fm. A lot of DJs who join BFF.fm do so because they want to also be a part of The Secret Alley
The Secret Alley was first-established twelve years ago and is made up of filmmakers, artists, makers, activists, and of course, BFF.fm. Everyone who is part of the Secret Alley and BFF.fm seems to know how to make their own fun. From those who host their own radio shows, to their in-house arcade, to individual studios where film and set design magic might be coming together at that very moment.
As Cosmic Amanda explains, "Back in 2005 four friends who had just finished working on a movie together decided to move to SF and build an artists workshop and cinematic set where they could work on their art. I couldn't tell you why they decided to build it the way they did- with a ship, a private investigator's office, a pawn shop, and other sets. But, today it's one of only a handful of spaces of its kind in San Francisco, and the perfect setting for BFF.fm."
Music and art are their own BFFs. So, only fittingly, BFF.fm is also connected to the Secret Alley's gallery space, the Galallery.
The Galallery is curated by Tiffany Yau. She also started as a BFF.fm radio DJ host and has since taken the reigns for the gallery. The long narrow gallery space in itself feels untraditional. For the unimaginative, it is a hall. For those with vision, it is a blank canvas for experimental art installations and group shows. (Full disclosure, I've done shows here so I may be a bit impartial, so, as always, you be your own judge.)
If you were new to BFF.fm, here are some shows to get you started. And for those that are already long-time listeners of BFF.fm, here are some facts you may not have already known. 
Upcoming Happenings
On September 3rd BFF.fm is celebrating their 4th birthday with a big Birthday Bash at Elbo Room featuring French Cassettes, Dirty Denim, Half Stack, and Cosmic Amanda is DJ'ing. Go high five some of these dedicated radio hosts and then go shake that boooooty.
Also, on September 7th they are continuing their LOUD & Local showcase at Pop's Bar with Graduating Life, Snooze, and a DJ set from NRVS LVRS.
Then the big, circled-in-red calendar date is Halloween. Did I mention yet, this place goes the whole nine yards, the whole enchilada…the super-sized version when it comes to Halloween? They are becoming a bit notorious for their decorating and next-level DIY concepts when it comes to the holiday and this year is expected to be no exception.
The Secret Alley and the Galallery are already planning the Halloween installation. Each year they create a new, completely immersive walk-through environment, featuring interactive animatronics, projections, and more.
This year's Halloween theme is a SECRET but planning and the behind-the-scenes magic is already underway. Fundraising and early ticket sales for the three opening nights have already started. Stay tuned!