8 Incredibly Instagrammable San Francisco Bars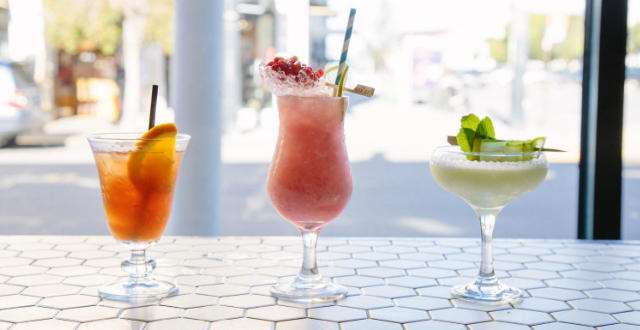 Photo-worthy restaurants aren't the only thing San Francisco does incredibly well. The bars, especially the newer additions to the city's drinking scene, are equally gorgeous.
From the highly attractive cocktails to the funky, colorful interiors, here are the best places to Instagram and drink, on repeat.
Anina
Hayes Valley's Anina is an exotic paradise in the center of everything. The floral wallpaper and the gallery wall are the main stunners here, but take an ornamental menu and place a couple of inventive color-pop cocktails near it, and a perfect Instagram moment is born.
482 Hayes St
The Riddler
The Riddler is the champagne bar San Francisco always needed. The Parisian vibe translates into chic photos. The tables (and the elegant, caviar-sprinkled hors d'oeuvres) are lovely, the ceiling is painted gold and the giant champagne bottle mural outside invites endless Instagram shenanigans. Cheers!
528 Laguna St
Leo's Oyster Bar
No Instagram-centered piece of writing can be complete without Leo's Oyster Bar, a retro-chic, colorful mecca. The wallpapered, mirrored entrance is everyone's favorite shot, but all the other spaces, including the private, events-oriented tiki lounge, are equally stunning. The food and drinks, from the model oysters to the finger sandwiches, complete the picture.
568 Sacramento St
The Grid inside Coin-Op
Coin-op, the fun arcade bar in the SOMA, is already cool enough, but inside it, the pristine Tron-themed Grid is a true Instagram star. Enter through a Tron cabinet, and let the neon lights and angular sofas welcome you to another dimension. While the interior is definitely worthy of hashtags, the cocktails, in anything but traditional glasses, are the real show-stoppers.
508 4th St
Biig/ 98 Turk
Have you heard? Biig, the reservations-only bar in the Tenderloin, is now rebranded as 98 Turk, as of June. This bar feels like it was inspired by Twin Peaks and is powered by the folks behind Jones, Oddjob and Myriad. It offers up sophisticated cocktails in a 'speakeasy' atmosphere, taking the popular buzzword quite seriously. Instagram perks include dramatic taxidermy, maroon draped ceilings, log-cabin walls and unexpected dishes hosting strong drinks.
98 Turk St
The Dorian
The Dorian is complete with tiled tables and library backdrops which equal out to a smart and cozy atmosphere. Whether it's a night of noteworthy conversations with an old friend or a first date, this place is a conversation starter.
2001 Chestnut Street
Other honorary mentions: 
Wildhawk (Those zebra touches!)
Bar VIA (Stunning rooftop views at the newly opened VIA hotel)
Related: 8 of San Francisco's Most Instagram-Worthy Eateries