10 Stunning Road Trips for Nature Lovers (Totally Worth the Drive)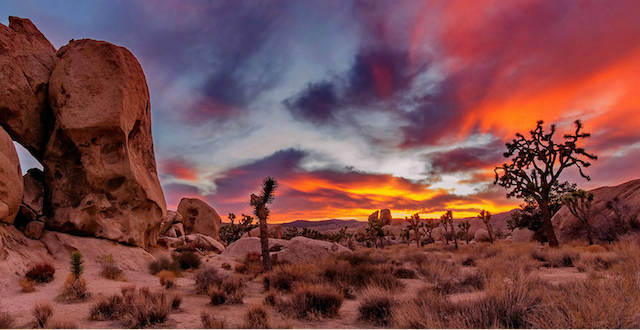 California has an incredibly diverse landscape, as I'm sure you've learned by reading our past guides on overnight beach and wilderness excursions. Now it's time to focus our attention on really getting away. The spots we've collected here are often challenging to get to but they almost certainly guarantee you'll be moved by their magnificence.
Who says summer is just for school kids? True, we graduate and there's no guarantee we'll get a vacation off from work, but all the more reason to find an opportunity to escape the hamster wheel every now and then―and just go for it!
It's almost as if you can easily escape the city anytime―maybe for a hike that takes you deep into nature and into full view of a starry night sky—oh wait, you can.
It's time for you to cash in on that long weekend and enjoy the thrill of being far-removed from the daily grind. So, turn off your phones and get those bags packed for the car. Well, maybe not in that exact order―because it's going to be a long drive.
Thankfully, it'll be filled with a stockpile of sights that are nothing short of amazing.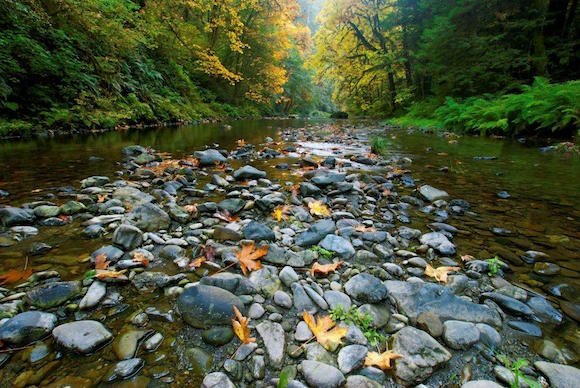 Creek at Jedediah Smith State Park (Photo courtesy of California State Parks)
Jedediah Smith Redwoods State Park, Crescent City, CA
With the exception of Tolowa Dunes State Park, Jedediah is the last park you'll find this close to California's coastline before you start heading into Oregon. It's also one of the most densely-covered forests you can find, filled with lush plant overgrowth and a stunning seven percent of the world's remaining old-growth redwood trees. Explorers can roam through these towering beauties for nearly 20 miles before reaching the Smith River National Recreation area where the 1936 film The Last of the Mohicans was filmed. Salmon and trout can be found swimming through the Smith River, the longest major free-flowing river in California.
Distance: roughly 360 miles/6 hrs, 40 mins
Cost: $5 hike-in/$35 drive-in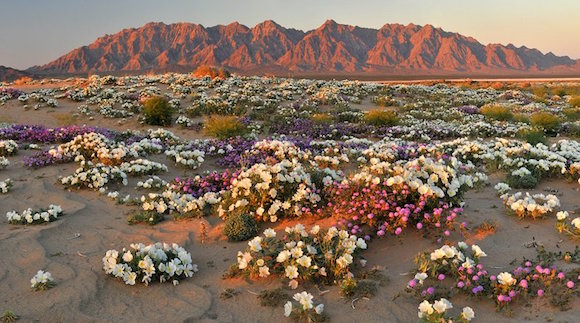 Wildflowers in the desert (Photo by Dean Hueber)
Mojave National Preserve, Kelso, CA
An arguably fair rival to Joshua Tree National Park, the Mojave Desert houses its own unique collection of Joshua trees, as well as some imposing volcanic cinder cones and a carpet of wildflowers that bloom during the cooler fall and winter months. The higher elevation of campsites on the Mid Hills make them cooler in scorching summer months and many are still shaded by pinyon and juniper trees. You might feel like you're in a tiny replica of the Sahara Desert walking across the Kelso Dunes where tiny particles of quartz and feldspar make up the silky waves of sand. We'd recommend traveling towards the end of warmer months, but before winter brings the droves of campers who usually shy away from boiling temperatures.
Distance: roughly 475 miles/7 hrs, 15 mins
Cost: $12 per night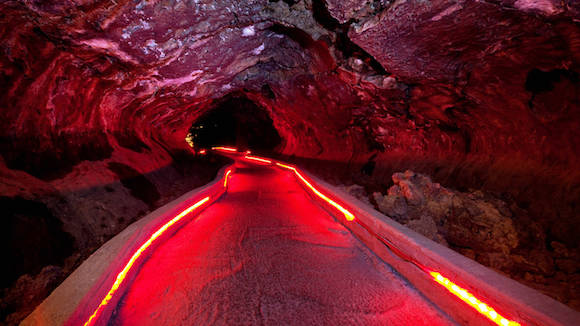 Underground Lava Beds cave (Photo courtesy of National Parks Conservation Association)
Lava Beds National Monument, Tulelake, CA
This area is as serene as it gets and spelunking heaven, if you like exploring creepy caverns. This site sits on top of Medicine Lake Shield Volcano, where some tube caves were formed over 50,000 years ago from flowing lava. If you'd rather steer clear of running into any cute, furry bats, there are plenty of trails to hike, including the Big Nasty Trail, which is actually not as bad as it sounds. Named after a brush-covered rock formation (which still makes little sense), this hike is a great venture out to catch a spectacular sunset. Keep in mind, there is only one campground with about 40 sites, so reserve your site before you venture out for the day.
Distance: roughly 360 miles/6 hrs
Cost: $10 per night/by permit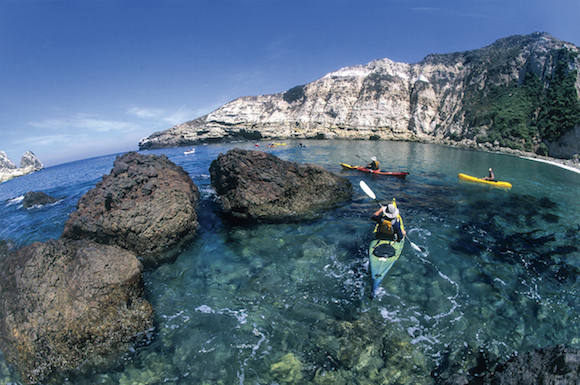 Potato Harbor off coast of Santa Cruz Island (Photo by Chuck Graham)
Channel Islands National Park, Ventura, CA
Itching to take that special island vacation you've been dreaming of since last winter? Not to worry; you won't have to go that far. It's somewhat laughable to consider camping just off California's coastline, on an island that's barely six hours from the city and barely an hour from Santa Barbara. However, the five islands that comprise the remote Channel Islands are well worth it, with world-class snorkeling, whale watching and frequent sightings of over 100 species you can't find anywhere else in the world. While transportation to any of its four accessible islands is not exactly cheap, it's basically a must-do for local nature enthusiasts. Think about it this way: you can't beat less-than-twenty dollars a night to camp under the stars on a mostly-deserted island—especially one that houses Painted Cove, one of the largest sea caves in the world.
Distance: roughly 325 miles/5 hrs, 10 mins (minus island travel)

Cost: $15 hike-in/by permit ($79-$114 by air & sea)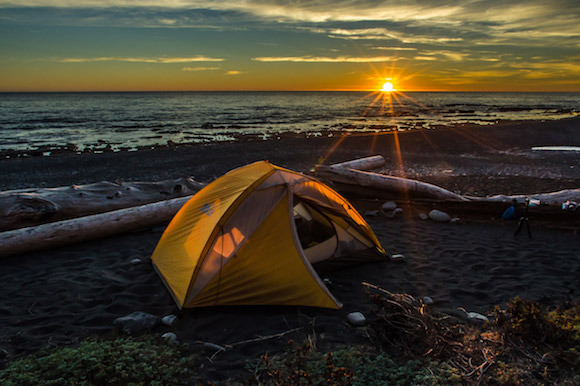 Tent on the Lost Coast Trail (Photo by Dan Kempel)
King Range National Conservation Area, Whitethorn, CA
No camping guide would be complete without a mention of the Lost Coast Trail that runs through this area. Attracting backpackers from all over, this NCA is an example of our planet at its finest without human intervention. This mountain range encompasses over 60,000 acres along 35 miles of Northern California's coast, with features that proved to be too rugged for highway development. Douglas-fir covered peaks attract adventurous mountain bikers, while the coast lures in the surfers. Campers can obtain permits for any stretch of the trail, but careful planning ahead and packing all the proper supplies is advised, as this area can be highly unsafe for unseasoned travelers. You can spend days or weeks traversing an often tricky terrain, but those with less time can still find some rewarding solitude.
Distance: roughly 240 miles/5 hrs
Cost: $10 hike-in/by permit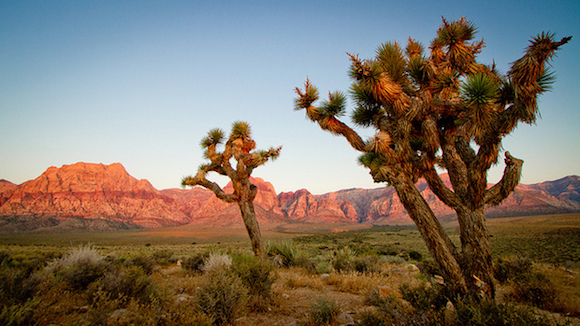 Desert landscape of Joshua Tree National Park (Photo by N i c o l a/via Flickr)
Joshua Tree National Park, Joshua Tree, CA
This area has inspired visitors for decades with its iconic terrain dotted with oversized rocks and scraggly trees that look like something you might see in a Dr. Seuss book. In this delicate desert ecosystem, you might see an array of animals and plants you'd be hard-pressed to find camping anywhere else. There's a good chunk of land set aside for dispersed camping by permit, but make sure to do your research. There are unique guidelines to follow in desert climates and weather to take into account. Also designated camping sites are known to fill up quickly.
Distance: roughly 500 miles/7 hr, 30 min
Cost: $20 drive-in/by permit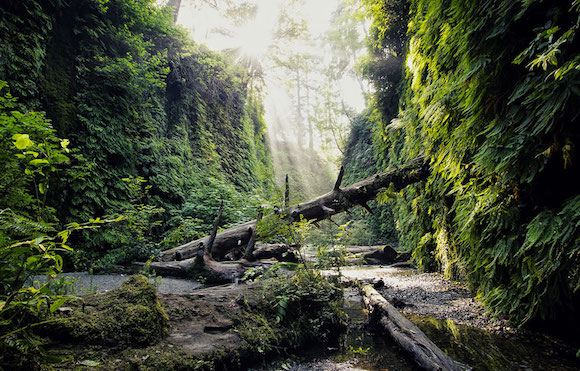 Hiking lush Fern Canyon (Photo by Alex Green)
Prairie Creek Redwoods State Park, Orick, CA
This park has footbridges that lead you deep into canyons and is also home to Fern Canyon, where Steven Spielberg filmed part of the classic movie, Jurassic Park. While you probably won't be eaten by any dinosaurs, you might feel like you're being engulfed by nature. There is the option to rent some pretty nice cabins here or snag a nice beach spot at Gold Bluffs Beach Campground.
Hint: See the Big Foot exhibit Willow Creek – China Flat Museum to learn about nearby sightings of this legendary creature.
Distance: roughly 315 miles/5 hr, 30 min
Cost:$5 per night/by permit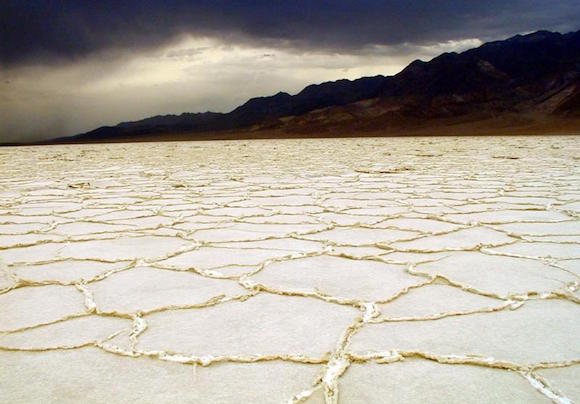 Salt flats at Death Valley National Park (Photo courtesy of National Parks Service)
Death Valley National Park, Death Valley, CA 
From its name, you'd expect to find only a dismal stretch of sand and a questionable outcome for your visit here. Yet, this desert park actually houses over 400 species of wildlife and boasts a rich history of settlers, including Basque miners, Chinese workers and Japanese American internees. Stretching into neighboring Nevada, Death Valley is the only below-sea-level park that continually attracts attention for being the hottest, driest and lowest topographical point in the nation. While some travelers may scoff at the mere idea of setting up shop here, others will find serenity in the expanse of salt flat patterns and crystal arrangements of Badwater Basin. Father north, hikers can wander throughout dramatic rock formations in Titus Canyon, or spend an unearthly evening creeping throughout the remains of Leadfield Ghost Town. One thing is for certain: your evenings won't be short of stars.
Distance: roughly 510 miles/8 hrs, 30 mins
Cost: $12 hike-in (7 days)/$25 drive-in (7 days)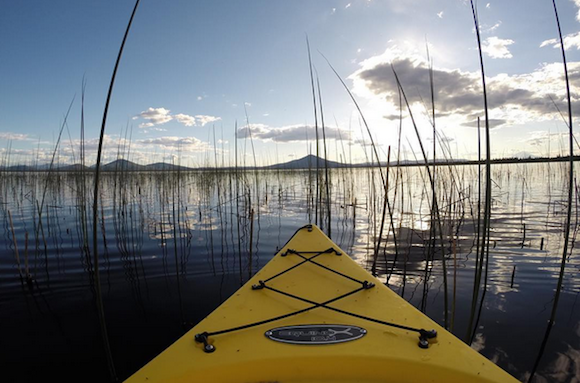 Kayaking around Ahjumawi (Photo courtesy of California Parks Service)
Ahjumawi Lava Springs State Park, McArthur, CA

Without direct access by car, you can be sure this spot will be 6,000 acres of primordial unsettled beauty in Shasta County. The park is an interconnected chain of lakes, swamps and channels that make up one of the largest freshwater spring systems in the nation. With less than ten boat-in campsites set against rugged lava rock exposures and spotty islets, visitors should treat the area as pure wilderness and plan accordingly. "Rat Farm" is a popular launch point for getting to the park and preparations can also be made in advance at nearby outfitters for fairly inexpensively travel rentals. Adventurers should come prepared with enough supplies, information and experience (or gusto) to get from Point A to Point B.
Distance: roughly 295 miles/5 hrs

Cost: $15 walk-in/plus rentals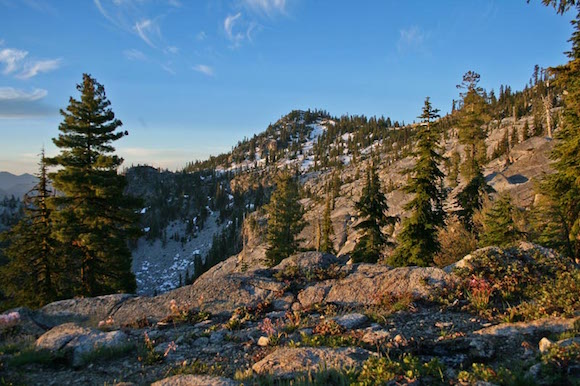 English Peak in Marble Mountain Wilderness (Photo by Michael Kauffmann)
Klamath National Forest, Siskiyou County, CA

This area provides visitors with a fantastic view of the Pacific Coast Ranges running up into the southernmost parts of Oregon. There are some great places to set up your tent here, but you can also go off-road in the Marble Mountain Wilderness, where Cliff Lake might have you feeling like you've found a mini-version of Lake Tahoe. You'll also find the seemingly endless stretch of Butte Valley National Grassland here—the only national grassland in the state. There are nearly a million acres of land to explore, as well as ample opportunities to go white water rafting. There are a handful of campsite offerings by the coast, as well as more secluded ones inland like Sulphur Springs Campground, which draws campers to its 75-degree waters.
Distance: roughly 350 miles/6 hrs
Cost: $10 per night