The Nature Fix: 10 Off-the-Grid Wilderness Camping & Backpacking Trips from the Bay Area
Just because Memorial Day weekend has come and gone doesn't mean you can't keep the nature adventures going. It's time to hit the dusty (or forested) trails and head out into the great outdoors.
While you can easily roll up to Redwood Regional Park expecting it to deliver everything in its name, you might want to shoot for less trafficked areas to get that true quieted moment of zen. Backpacking and going a step past the "park and camp" experience is also a great option for explorers who are willing to go the extra mile (literally). Either way, plan your adventure in advance and be sure to reserve a spot if you do go for more traditional camping spots which can get quite busy in the summer months.
While we're not talking about anything on that Bear Grylls level, don't forget a water pump or enough water for a long hike, a trail map. If you are camping, bring toilet paper and a bear-proof canister—in case you run into some furry friends that want to join the BBQ. Backpacking in the elements, sans a bathroom and running water is no joke, so read up on some tips for what to pack and be sure to leave no trace. Here's a good resource.
Take a half day next Friday and give yourself a long weekend to explore some of these wilderness picks located a few hours outside the city. It's really up to each camper to decide how long they want to hike but here's a good list to get you started.
And while designated wilderness areas have become much more coveted as the State struggles to balance exploration with the preservation of natural habitats, there are still plenty of places you can rest easy, maintaining that delicate balance between man and nature.
Rejoice in the splendor of solitude and abundance of wildlife! Here are some destinations are better for relaxation and stargazing, while others happily support more strenuous activities such as hiking and rock climbing.
Make sure to do your end of the research to find out what you need before you start the adventure.  Also, while many wilderness areas are free to camp, you might still need to pay to hike specific trails or to park your vehicle overnight.
And brace yourself—the weather is becoming increasingly awesome out there!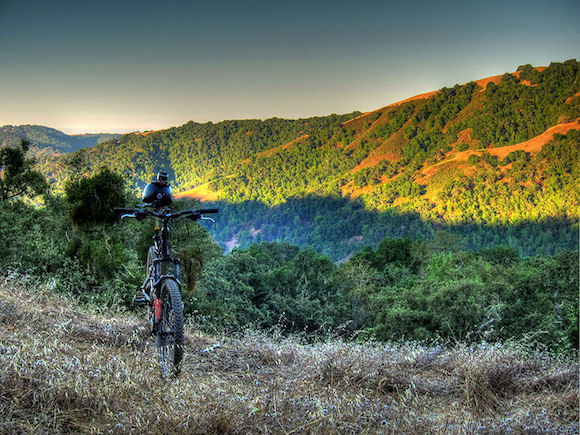 Photo courtesy Rip3d
Orestimba Wilderness, Henry W. Coe State Park, Morgan Hill, CA
One lesser known fact about the largest state park in Northern California is that Henry W. Coe houses 22,000 acres of designated wilderness. There are at least 20 miles of pure backpacking country and you have to hike at least 10 miles in before you get to Orestimba. With mostly rolling hills, you'll get fantastic sunset views and an opportunity to camp in a new spot each night. It's still a popular destination, but, if you go far enough, you can find yourself a little break from civilization here.
$5 per night. Distance: 1 hr, 37 mins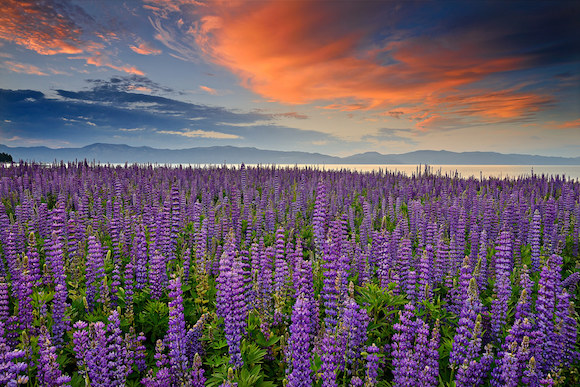 Photo by David Shield via Flickr
Granite Chief Range, Tahoe National Forest, Tahoe, CA
Maybe it's just me, but a view of snow capped Sierras is just as good as being on top of them. Plus there are a handful of nearby lakes and forest paradise clusters surrounding them to fulfill that nature fix. There are about 75 designated camp spots around the Tahoe National Forest area, but you can camp just about anywhere you want—just be sure to follow some simple rules. For example, you can't camp near Five Lakes Basin, and be sure to get a fire permit for areas where campfires are permitted so you can stay toasty.
Free. Distance: 2hrs, 15 mins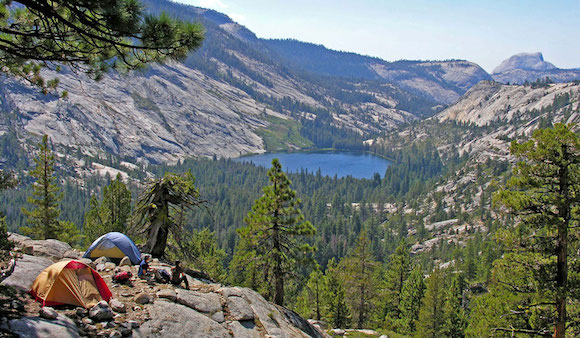 Photo courtesy of US National Park Service
Yosemite Wilderness, Yosemite National Park, CA
Yosemite is best known for its outstanding Sierra Nevada views and ever-changing terrain, but what you might not know is that almost 95% of the land is actually designated as wilderness. It's a haven for rock climbers and hiking enthusiasts. Tuolumne Meadows is a great stop on your way through and the hike up the 5,000-ft summit of Half Dome presents an extra fee, but it's so worth it.
$5 per night. Distance: 3 hrs, 3 mins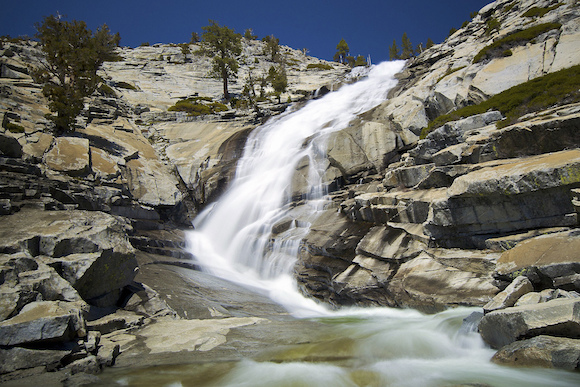 Photo courtesy of Steve Dunleavy via Flickr
Desolation Wilderness, El Dorado National Forest, Placerville, CA
Just the mention of its name should get you excited. Jointly managed by El Dorado and the Lake Tahoe Basin Management Unit, this is a fairly heavily trafficked area for hikers. We'd recommend securing a permit ahead of time. Over 60,000 acres takes you through dense alpine forests and marveling at the natural beauty of places like Emerald Bay and Pyramid Peak. Keep in mind that the nature of this forest permits campers from building fires.
$5-10 per night. Distance: 3hrs, 37 mins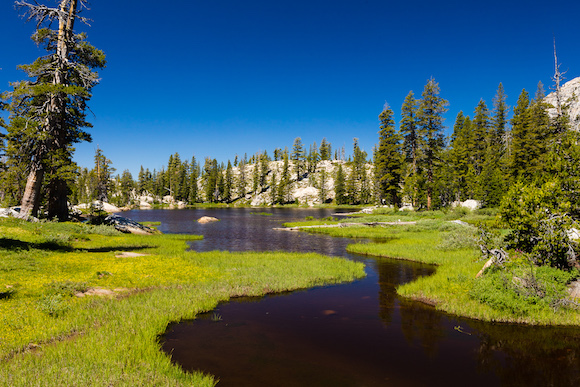 Photo courtesy of Hank Christensen Photography
Emigrant Wilderness, Stanislaus National Forest, Sonora, CA
This area showcases some volcanic ridges and sleeker mountainous zones that are undoubtedly breathtaking to look at, but also great for scaling. Yosemite is often overrun with tourists from every continent, so folks here can expect to see fewer humans. Snow sometimes lingers until July, but you won't be hard up to find a dry area to park your tent for the night. The plus is campfires are permitted here at certain altitudes, unlike the similarly attractive neighboring lands of Mokelumne Wilderness.
Free. Distance: 4 hrs, 5 mins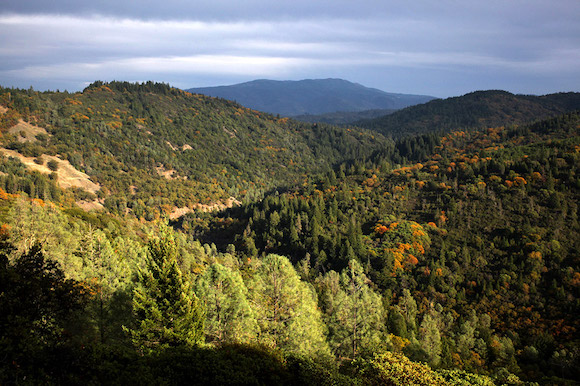 Photo by Nik Daum via nikdaum.com
Sanhedrin Wilderness & Big Signal Peak , Mendocino National Park, Willows, CA
The fun factoid about Sanhedrin is that it was established only a little over ten years ago. The terrain can be steep and oftentimes uneven, with hardly any developed trails as far as the eye can see. Named after The Great Sanhedrin, or supreme council of the ancient Jews, it's only accessible by a trail off Big Signal Peak. Since this find is overwhelmingly less built out and traversed, you'll enjoy more freedom and peace from other trekkers than in nearby Yolla-Bolly-Middle Eel Wilderness.
Free. Distance: 4 hrs, 15 mins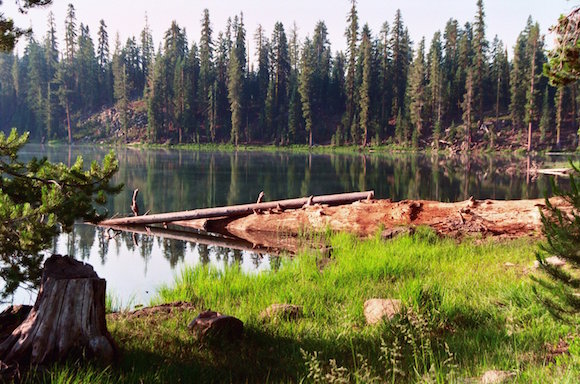 Photo courtesy of USDA
Caribou Wilderness, Lassen Volcanic National Park, Shasta County, CA
This area is a must-see, as one of the few areas that exist where you can find all types of volcanoes—one of which erupted just 100 years ago. As you rough the landscape, you'll find it dotted with a number of different natural sights such as Juniper Lake, secluded forest groves with running streams, and a good share of wildflower meadows. The western area of the park houses several geological gemstones, like lava pinnacles and jagged craters, as well as active sulphur vents. Tours are also offered through the site if you're feeling touristy.
Free. Distance: 4 hrs, 27 mins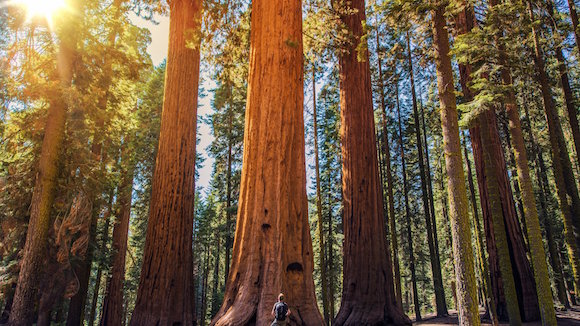 Photo courtesy of National Park Foundation
Jennie Lakes Wilderness, Sequoia National Park, Tulane County, CA
Just slightly over four hours, depending on where you head out from, this area is not-to-be-missed for some redwood bliss. With majestic views of Mt. Whitney, this park offers over 800 miles of backpacking mania (although you'd be crazy to try to pack it all in). There is much to see in the area from lakes and mountains, to meadows and streams. This wilderness area is slightly more remote than Rae Lakes Loop, which can get crowded as a popular warm weather port of call.
Free. Distance: 4 hrs, 32 mins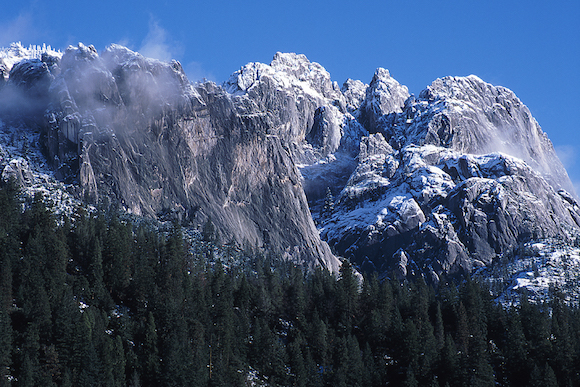 Photo by Bruce McKinley Photography
Castle Crags Wilderness, The Shasta-Trinity National Forest
This is the furthest out we're going for this lineup, with a wild backdrop of craggy mountains and a first-class view of Mt. Shasta. There is a fee to enter the state park which takes you up to the 170-million-year-old spectacular granite spires of Castle Dome that look like something that materialized from a science-fiction novel, but it's otherwise open to camp. If you're looking for a longer escapade filled with plenty of exercise and stimulation, this is the place to be.
Free. Distance: 4 hrs, 38 mins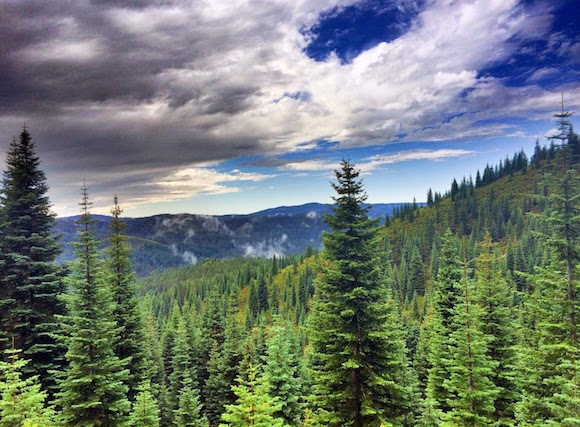 Photo Joan West via Blogspot
Bucks Lake Wilderness, Plumas National Forest, Quincy, CA
Red firs dominate these trails and create an abundant shrouded tree grove cradling your view of the stars. The Backcountry Discovery Trail appeals to off-roading enthusiasts looking for extra exploration routes throughout rocky, barren roads free of commercial excess. Plumas was one of the last places to be explored during the Gold Rush era. Once miners heard the rumor there could be treasure hiding here they flocked in droves to search for the infamous Gold Lake.
Free. Distance: 4 hrs, 39 mins
Related article: Life's a Beach: 10 Easy Yet Amazing Camping Getaways by the Water
111 Minna Gallery, Activities, adventure, backpacking, beach, best, Biking, camping, city, climbing, destination, event, explore, fishing, flower, Hiking, lake, location, map, mountain, National, nature, outdoors, outside, park, peave, Photo, snow, spot, stars, Sunset, tent, top, trail, travel, trees, Water, weather, Weekend, wilderness