Life's a Beach: 10 Easy Yet Amazing Camping Getaways by the Water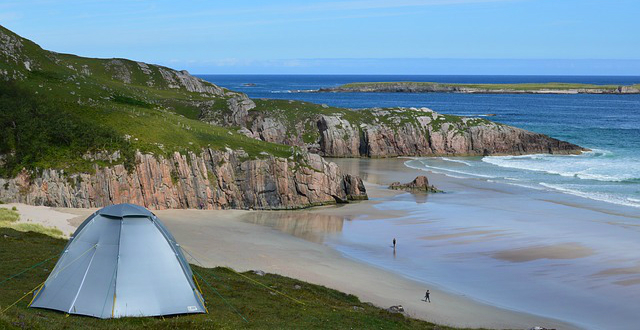 We've been patiently waiting for some permanently warm weather since December and it's becoming more and more tempting these days to just pick up and run for the closest body of water. If you've been feeling that call of the wild, we've heard your cries.
That's why we've decided to bring you the first of a four-part series featuring some unforgettable overnight getaways just hours outside the Bay Area. We'll also be including a special roundup, spotlighting a few longer road trips. The breathtaking scenery and views will be well-worth the drive.
Each guide will cover our picks for places a little off the beaten path, places to pitch your tent (none of that "glamping" nonsense) along sweeping landscapes, craggy mountain trails, and shady tree groves. All within reach of those glimmering waters.
The rainy season has brought some magical flora and fauna with it, but it has also contributed to the closure of more than a few areas. With that in mind, we'll start by introducing a few locales that you can still access with ease. Also be sure to reserve camping spots ahead of time. NorCal camping is serious business and spaces will often fill up.
Here are ten spots to get you outside and frolicking in nature in no time!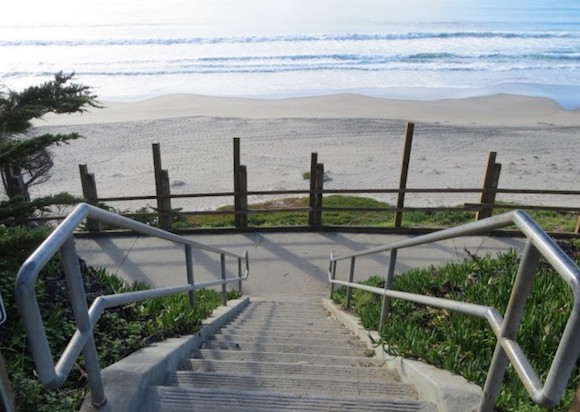 (Photo courtesy of californiabeaches.com)
Sunset State Beach, Santa Cruz, CA

If you don't mind being at a popular beach locale, in exchange for the slightly warmer waters of Santa Cruz, this is a great option to check out. And it isn't overrun with RVs. The center loop of Pine Hollow offers more spacious campgrounds, but note that you won't always have complete privacy from your neighbors—but hey, this might be the opportunity to make some new friends. Make sure to call about reservations in advance, as it gets busier as the weather gets hotter. $35 per night.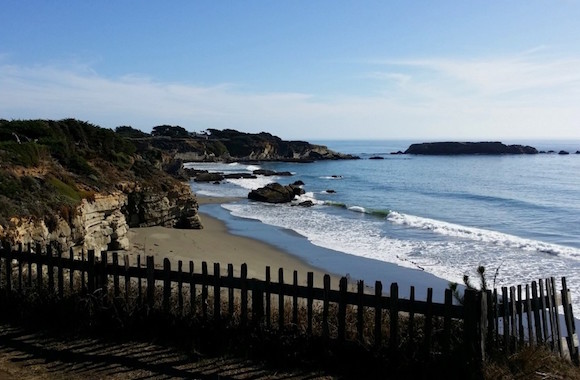 (Photo courtesy of californiabeaches.com)
Gualala Point Regional Park, Gualala, CA

Gualala River, situated next to towering redwoods, all in walking distance to the Sonoma Coast, is a great spot for camping and hiking. And for those that are more adventurous, there's fishing and kayaking. In the heart of wine country, grab a couple of bottles of some fine locally-produced "grape juice" before you head out for some sunshine. Maybe you'll see some seals sunbathing while you're at it. Campsites are open year-round and groups of up to eight are welcome to camp along this 195-acre park. $32 per night.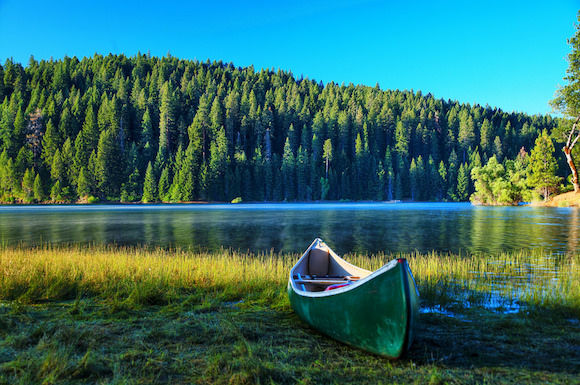 (Photo by jrfphotography via Flickr)
Sly Park Lake, Pollock Pines, CA

With stunning views of the Sierras, most of the camping spots at Jenkinson (Sly Park) Lake are either directly on, or close to the water, with direct beach access. There are over 100 sites and Pinecone Peninsula Campground has spots right up on the water. Boats can be taken out, as well as kayaks and paddle boards on Saturdays and Sundays. You can go fishing, hike by foot around the 8-mile lake trail, or hop on one of the bike or horse paths leading through the Fleming Meadow Loop. There's also a picturesque waterfall to find on your journeys through Sly Park Creek. $35 per night.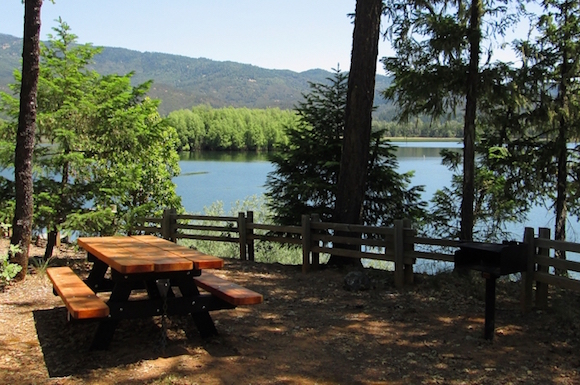 (Photo courtesy of Konocti Regional Trails)
Pillsbury Lake, Mendocino, CA

If you're looking for something a little more out of the way, this seldom visited camping area is the place. The only other sounds you might catch are a few takeoffs and landings from neighboring Gravelly Airport Base, which averages around three flights a day. There are 20 campsites surrounding the northern part of the lake, with over 30 miles of shoreline. Navy Camp has some of the best water access and direct sunshine. $16 per night.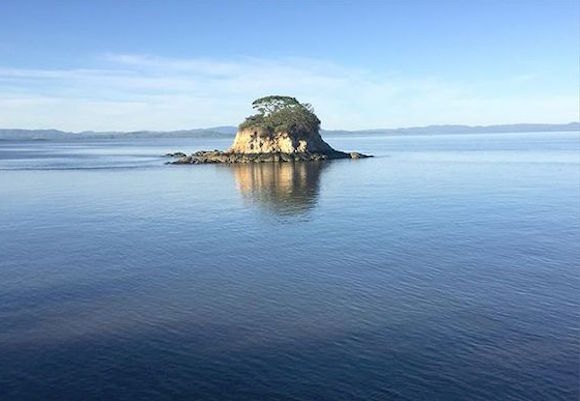 (Photo courtesy of caliparks.org)
China Camp Beach, San Rafael, CA
One of most interestingly storied places to camp, with its own museum on site, this state park was at one point a highly populated shrimp fishing village for Cantonese immigrants in the 1880s. Along the San Pablo Bay salt marshes, you can pack in some impressive bird watching and you may catch a fox or two. On the weekend, make your way to the Quan Bros. snack shop for beer and shrimp cocktails. Mudslides have currently closed sections of the trail, but there are still plenty of areas for moderate hiking (only around 1,500 ft elevation) and mountain biking. $35 per night.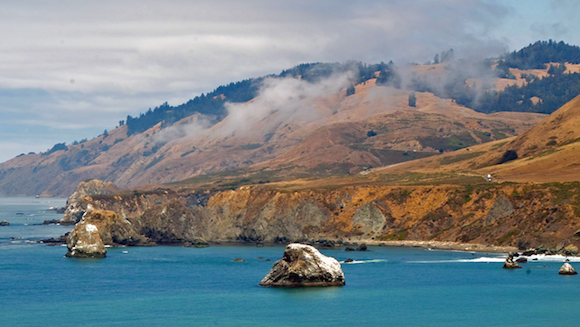 (Photo courtesy of californiabeaches.com)
Stillwater Cove, Jenner, CA
Fairly untraveled, this park backs up into nearby Stockhoff Creek and offers over 300 acres of greenery and beach views. It has historically been popular for divers hunting red abalone, but wildlife managers have recently enforced fishing regulations that serve to protect the declining population of these (unfortunately) tasty sea creatures. One half-mile trail takes you over to the Fort Ross Schoolhouse, a tiny Greek Revival-style landmark that dates back to 1885. $35 per night.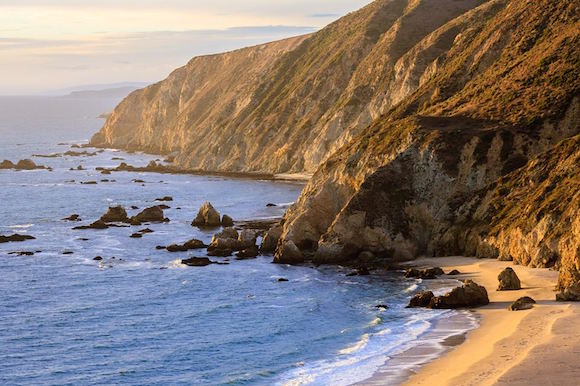 (Photo courtesy of Point Reyes National Seashore via Facebook)
Point Reyes National Seashore, Inverness, CA
This locale is probably one of the most well-known spots for marveling at the sheer grandeur of the Pacific Coast. The geological formation of the area is half of what makes it so unique—sitting atop a tectonic plate that's moved northwest for millions of years along the San Andreas Fault. This is a great windy spot to sit and admire ocean waves while contemplating the fragility of the Earth's landscape. Hike the trail past Wildcat Campground that leads to the impressive Alamere Falls, which cascades down a 30-foot cliff. $20 per night, backcountry permits available.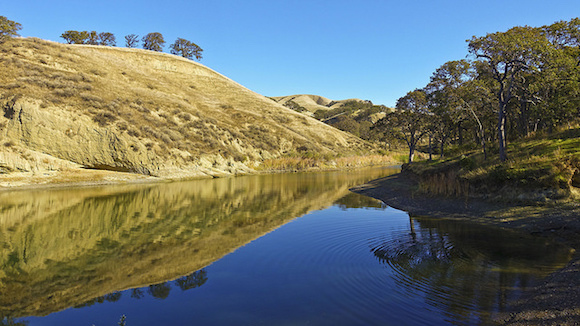 (Photo by Greg Brian via Flickr)
Del Valle Regional Park, Livermore, CA
In a scenic valley, popular for boating and windsurfing, this five-mile lake is conveniently parked right next to the entrance to the Ohlone Wilderness Trail, which offers over 4,000 acres of day hikes. The little strip of beach at Del Valle can get packed in peak season, but it's a great place to relax and people watch. There are individual campsites available, as well as group sites like Punta Vaca and Wild Turkey. $25 per night.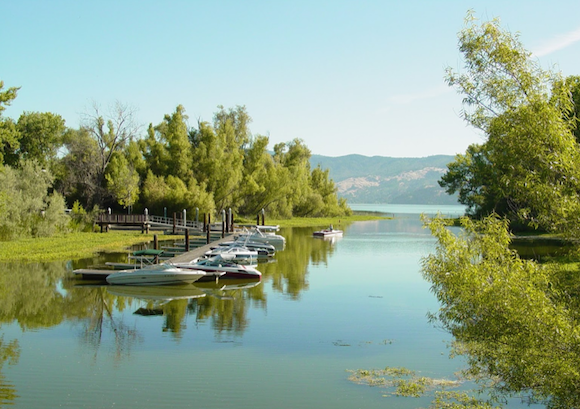 (Photo courtesy of Clear Water State Park via Google Images)
Clear Lake State Park, Kelseyville, CA
This creek offers some sweeping views of the lake and surrounding areas. Here, you might tie your hammock up and relax, as well as see some furry little otters diving for dinner in the water. There are short trails that wrap around Kelsey Creek Campground and other area sites, as well as a swim beach that's open sunrise to sunset. $30-35 per night.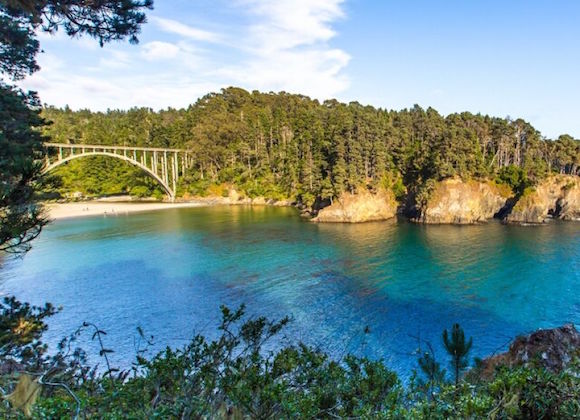 (Photo courtesy of viamagazine.com)
Russian Gulch State Park, Mendocino, CA 
Want to see some impressive sunsets along rocky cliffs? You got it. Trails here also lead to Devil's Punch Bowl, a giant collapsed sea cavern where the waves seem to echo for days. Fern Canyon Trail takes you through an overgrown creek and out past a secluded bay that's traversed by a massive concrete arch bridge. More than twenty campsites are available along Russian Gulch Creek, by reservation or on a first come, first serve basis. $35 per night.