Punk Rock Doc 'Turn it Around: Story of East Bay Punk' Returns Home to Where It All Began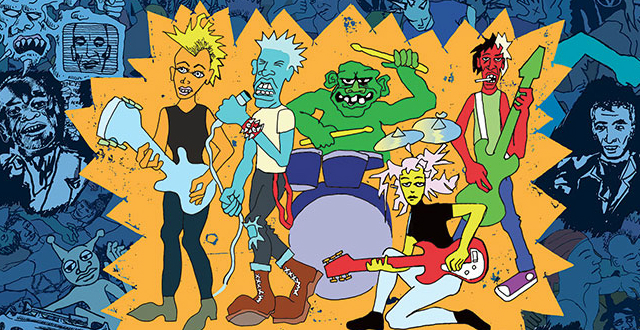 On Friday, August 4th, Turn It Around: The Story of East Bay Punk, a documentary directed by Corbett Redford and Green Day, will return home for six nights at the Rialto Theater in Berkeley. We spoke with Redford about the making of the documentary and punk rock's effect on cultural history and the Bay Area.
I remember sitting in my room as a youth, living in Arizona where I sought shelter from the sweltering heat by making mix tapes and sifting through rock magazines. On my walls hung posters of Rancid and Green Day, while my Operation Ivy t-shirt was still in mint condition. Little did I know that in Berkeley, California, these posters resembled a transcended scene that fought hard to exist for someone like to me enjoy.
In 1995, I moved to the Bay Area and was immediately shell-shocked by the thriving punk scene. It might have been old news for those who paved the way of 924 Gilman Street and backyard punk shows, but for me, it was just the beginning. I waited for the days I could get to Telegraph Street and look through tapes at Streetlight Records, trying to scrounge together enough money to buy all the AFI and Tilt tapes I could get my eager hands on. Friends made me mix tapes, introducing me to bands like Jawbreaker, Mr. T Experience, Neurosis, and countless other bands.
This is relevant because, without Green Day, my history would be different, along with a bunch of other kids who lived outside the bubble of the East Bay Punk Scene. The album Dookie was monumental for me. When I watched the documentary Turn It Around: The Story of East Bay Punk it wasn't just nostalgic, but an important take on history. Like Duff McKagan (Guns N' Roses) attests in the film, the Bay Area, at one point, "was probably the strongest scene in America."
The documentary spawned from Green Day wanting to make a film about their early history. They approached first time director Corbett Redford about some old footage of them playing at backyard show. Once the footage was captured, they asked if he could recommend a good director for the project, and without hesitation, he replied, "me." Redford, who grew up in the scene and went to high school with Green Day, attributes his gutsy reply to his punk rock ethos. "Punk gives you that permission," he told me, "it gave me that spirit."
Redford, who had experience writing screenplays and lyrics in bands, dedicated himself to this tireless project which he worked 60 to 100 hour weeks for four years. He and Green Day, who co-produced the film, sat in a room and "threw names against the wall," whittling down 500 hours of footage, countless photos and flyers, and at least 150 names into a two and half hour documentary that covers the span of over thirty years of Bay Area punk rock.
I caught up with Redford, right before the premiere of the film in New York and a review by the New York Times. I didn't get a man that was burnt out, or cynical, but instead a man who was inspired, excited and enthusiastic about his achievement. "I'm coming out the end of this a completely different person," he admitted, "the responsibility of doing this sacred history justice weighed heavily on me…but I've gotten nothing but love from the people this is about."
That was one of the points I took from this film— that it wasn't created for Siskel and Ebert to give two thumbs up. It was created for the people who it was about.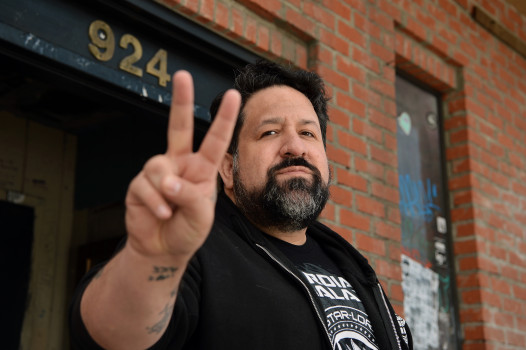 The essence of the film is the rise of East Bay punk against oppression from high society and radicals like the Skinheads, and its relentlessness to thrive through multiple identity crisis' and juxtapositions, and the morality of "selling out." Redford does a great job highlighting the characters whose passion and spirit helped the scene thrive through values of acceptance and tolerance, and their self-created safe haven of 924 Gilman Street.
"To those who live it, Punk Rock is something more. It is a conversation with society"- Iggy Pop
The film is narrated by Iggy Pop, who speaks with a slow conviction, like a punk rock version of Sam Elliott, and shifts through interviews with stars like Kirk Hammett (Exodus, Metallica), Jello Biafra (Dead Kennedys), Ian MacKaye (Minor Threat, Fugazi), Tim Armstrong (Operation Ivy, Rancid), Michael Franti (Beatnigs, Spearhead), Kathleen Hanna (Bikini Kill), and Green Day. But most importantly, those who aren't immediately recognizable in the bevy of familiar names and faces, like Robert Eggplant, creator of Absolutely Zippo Magazine, or Tim Yohannan, who started the popular radio show and fanzine, Maximum Rocknroll, were pivotal in establishing 924 Gilman Street down the road.