Northern Nights Fest Got Joyfully Weird In The Woods This Year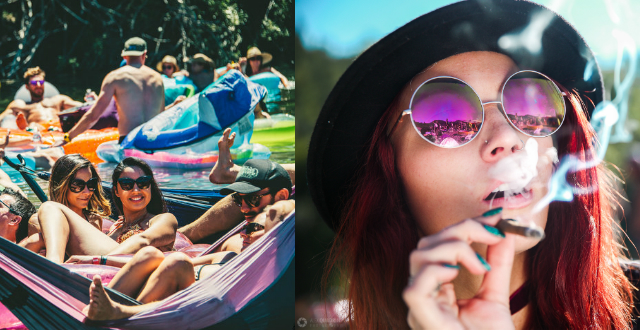 The redwoods of Nor-Cal shook this past weekend with the fifth glitter-bombed edition of Northern Nights Music Festival. All walks of beautiful life drifted and boogied around the banks of Eel River and the luscious redwood groves of Cooks Valley Campground. The headliners in big print on this year's musical lineup included Jai Wolf, Living Legends, Justin Jay, Random Rab and Cherub.
The lineup caused some minor grumbles on social media leading up to the fest, but that didn't seem to matter to the people who turned out. Truth told, the music was only one part of the all-encompassing experience. You won't find the rich satisfaction of your lungs loving on a deep pull of redwood-fresh oxygen on the bill. You won't read anywhere that you'll cross paths with a magical, albeit crunchy, loin-clad woodsman who walks out of the trees from nowhere carrying a flute and a pouch of tinctures and potions. And no ad-banner or bill poster could tell you that the same nude woodsman would, in fact, appear again out of nowhere behind Justin Jay and Moon Boots while the two DJ's were throwing down back-to-back tech-house heat! No shit. This actually happened. In the final moments of the River Stage on Sunday, the nearly naked woodsman snuck up between Justin Jay and Moon Boots behind the DJ booth—totally unplanned—playing his flute. Justin Jay didn't skip a beat. In seconds he reversed his headphones into a pickup transducer to mic the flute. Then, Justin mixed the piper's riffs into his track, manipulating it with crescendo into a fat bass bomb. It was absolutely legendary.
Those who showed up to Northern Nights to be a part of such moments didn't overanalyze the program schedule. When a variety of festies were asked of their top draw to the party this year, not one person mentioned anything about music. Most showed up simply to dance, float, and get sun-turnt with contagiously positive company.
And that positivity demonstrated its resilience during a Main Stage meltdown in the final moments of NoMBe's otherwise outstanding Saturday evening set. "That was supposed to be our last song," said the German electro-soul singer before announcing that his team was filming a music video at the fest. With that, NoMBe started in on "Freak Like Me" for a second time. His audience, still receptive, took the cue to groove down even deeper on the call back. But NoMBe flipped Northern Nights through a deja vu loop, giving the song a third pass before leaving the stage…but it wasn't over. A hype man stormed out to beg the thinning crowd for an encore chant that never took. Regardless, NoMBe and his band returned to the stage. Confusion swept the campus as NoMBe led his band into a fourth and fatal execution of "Freak Like Me." The video shoot seemed to take priority over the audience experience—a massive error. The few audience members stuck in the awkwardness only lingered to discern if this was actually happening or if they'd been slipped some bad acid.
Relief from NoMBe's uncomfortable finale came quickly, compliments of Big Wild, who repeatedly hopped out from the Main Stage booth. With long locks whipping to beat, Big Wild slapped away at the wood box to add a tribal element to the fuzzy bass music washing over Cooks Valley.
The weather was gorgeous—best you could hope for—and the water was the perfect amount of chill. The sun provided some serious heat to the valley. As did Random Rab, Falcons, and Living Legends. The later of whom reminded the festival how much fun it is to bounce to live 90's style hip-hop.
Festies had ample opportunity to discover a few rising artists, too. Brazilian multi-instrumentalist, Paranguí, taught the Grove Stage a little Portuguese before looping his wild beatbox skills with an arsenal of worldly instruments. And Eko Zu, Starfari, and Manics each nailed down two sets to show off both their live music and DJ'ing skills between stages at the River, Grove, Silent Disco, and the Tree Lounge.
The upgraded medical marijuana zone, called the Tree Lounge, was repositioned to a focal point of the festival this year. The well-shaded and cushy new canna-lounge cultivated both conscious conversation about the plant's medicinal qualities, as well as some stoney cuddles. Curious canna-sseurs were engaged by sophisticated brands like Bloom Farms, who also sponsored daily yoga in The Grove. In addition, the Tree Lounge had its own stage with a lineup that kept beat for the nearby field of campers—a field that in previous years hosted camp games like tug-o-war and kickball. If those shenanigans took place this year, this writer missed out.
On the subject of missing out, it's always hard to leave a festival that's still in swing. Whether you're in the zone or just finding your rhythm—or, fest forbid, having a bad time due to some unmet, hard-to-let-go expectation—life awaits us all on the Monday after.
Those who dip out early are missed but a special kind of twinkle can be caught in the eyes of a weekend warrior at the fest's final party. Maybe those eyes belong to a deep friend or a colleague, a naked woodsman or the gorgeous human you were proud to have the courage to talk to. Maybe you recognize one another without fully remembering a name, but either way a familiar smile flashes over a fleeting moment punctuated by a little shimmy that says, "We did it. We made it to fest's end."
You're doing great, Northern Nights. Keep it weird. Until next year, here's an Insta-gallery I feel captures the weekend well.
https://www.instagram.com/p/BWqhghngMXo/
https://www.instagram.com/p/BWq0dujAFpp/