Calling all Cat People: Sketchpad Gallery's Cat-Centric Art Exhibit & Mini Con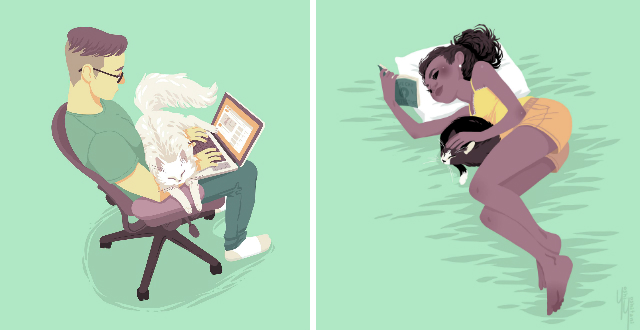 On Saturday, Sketchpad Gallery is hosting "MEOW That's What I Call Art!" an art exhibition and mini cat convention featuring cat-themed art and products from local SF Bay Area artists.
If you are a pop art fan and not yet familiar with this SoMa gallery space, then you are behind the times! Sketchpad Gallery started with a modest space on Sixth Street and has since moved a few blocks over to a larger space less than a year ago. The move has meant a hell of a lot more room for activities—more wall space, more participating artists, and room for a modest yet mighty shop space which predominantly features items produced by local artists.
With an emphasis on digital art prints, the gallery has managed to hit the sweet spot: highly affordable artwork by extremely talented artists.
This one day event will feature artwork by Deth P. Sun, Robotnicc, Jamie Borja, Dawn Carlos, Aggie Cheung, Makaylah Fazzari, Kim Herbst, J.C. Hernandez-Ruiz, Angie Hu, Lindsey Lydecker Keller, Chris Koehler, Megan Lynn Kott, Isabella Kung, Krystal Lauk, Wilma Lai, Ubin Li, Frank T Lin, Shiu Pei Luu, Benjamin Paras, Jenny Parks, Jennifer Phan, Christine Rhee, Abby Rocha, Jeannine Schafer, Scott Simons, Elda The, Ana Valdez, Yoshi Yoshitani, Kitikhun "Pan" Vongsayan, Waffles the Cat, Mary Syring, and Shayna Yasuhara.
In addition to the gallery show, adorable plushies, greeting cards, prints, tote bags, and shirts will be on sale from a number of vendors, including Little Red House, Isabella Kung, Deth P. Sun, and Black Sheep Comics. There will also be a raffle which includes cat-tastic prizes from Megan Lynn Kott and Chronicle Books.
Browse, buy art and hang with your fellow cat lovers.
Sketchpad Gallery, 505 Natoma Street, between 6th & 7th Street)
Saturday, July 15, 1pm-6pm
Related article: Sketchpad Gallery's 'My Little Big Friend' Celebrates Childlike Awe of the Animal Kingdom