Bay Area Art Events Heating Up in July (SF Art Book Fair, Queer Comics Expo & More)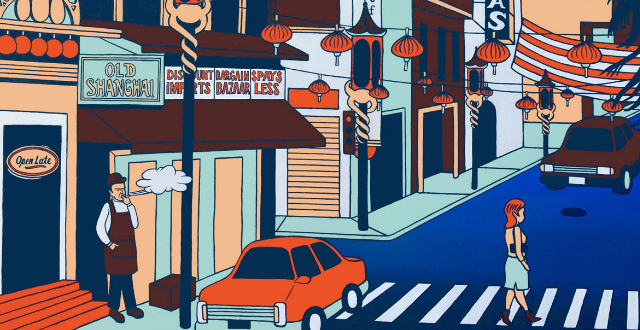 Traditionally, art shows cool down a bit in the summer—often due to artists and gallery owners going on vacation—but July in the Bay Area's art world seems hotter than ever.
We've rounded up a collection of promising art events for the month. So turn down that grill and come see what the local art community has been cooking up this summer.
"Now Hiring + Open Late" at 111 Minna Gallery
This Friday 111 Minna Gallery will be officially opening their new show, featuring works by two fresh Bay Area artists, Noah Ptolemy and Emily Fromm.
Ptolemy's work addresses rent increases in the community and the adjustments being made to survive. The pieces attempt to create conversations around his belief that the soul and vibrancy of the Bay Area will persist, despite the challenges. Yet still a hint at the many opportunities that may go unrealized in the process.
Fromm plays with clean lines and an intentionally limited color palette that give her modern, urban landscapes that old school vintage cartoon and comic book vibe. Raised in the outskirts of Los Angeles, Fromm felt the aesthetic influence of the American West and often borrows from nostalgic signage and architecture from her time there.
Opening July 7th, 5-11pm
2017 Queer Comics Expo (QCE) at SOMArts
The QCE is an annual event that celebrates the diverse LGBTQ community found amongst the wider world of arts, comics, animation and storytelling.
This fundraising event is part of the fourth annual National Queer Arts Festival which coincided with June's Pride Month celebrations and continues into July. The Cartoon Art Museum partnered with the Queer Cultural Center, a multiracial community-building organization, put on this event and part of the proceeds help to raise money for the museum which continues to host traveling exhibitions as its permanent location is not yet open. 
July 8th and July 9th, 11-5pm
Tickets: $15 for the day and $25 for the weekend here.
"All of The Things" at Athen B Gallery
Leighton Kelly, is not a self-proclaimed artist, instead, a person awarded that title by others through years of making "stuff" and "things." His show at Athen B. will serve as a debut of sorts. A mishmash of artifacts he's crafted over the years—all of which he never really meant to show anyone.
What started as a blog dedicated to making one piece of art each day later became a lifestyle—and a large and varied body of work. Kelly has enjoyed a meandering career in painting, sculpture, illustration, bricolage, robotics, erotic collage and weaponized fruit modification, and contributed work to collaborative video projects such as this one for Beats Antique, an experimental electronic group that deeply infuses music with performance art.
Opening July 15th, 7pm-11pm
Other happenings at Athen B. this month include Open Studios and the Closing Reception for the Two-Year Anniversary Show. Both events take place on Friday, July 7.
Editor's Note: There are a surprising number of art studios tucked within the Athen B. space and well-worth a visit. Ten years from now someone will be writing a book about this space. Artists include Steve Chellis, Christie Yuri Noh, Brett Flanigan, Cannon Dill, Woodrow White, Jack Chappel, Anson Cyr, Troy Lovegates, Muzae Sesay, Joonbug, Olivia Krause, Arrington West and Joey Bianchi.
The Moleskin Project VI, July 8, 6pm-9pm
Spoke Art presents the sixth annual Moleskine Project, a group exhibition. The artist's sketchbook is sacred and also a great centerpiece for a format-driven show. The event brings together a selection of artists from around the world, each who are working in a variety of creative professions.
With over 50 participating artists, the project continues to evolve to include the commonalities of the ubiquitous sketchbook, where both viewers and artists can peer into the art making process and find how each piece plays between permanency and thoughts that have yet to be completed.
Co-curator Rodrigo Luff says the show is "a tribute to how artists have developed and grown by using sketchbooks to dive deeper into the personal realms that fuel their artwork, exploring new ideas, concepts and even experimenting with different media and styles. An energetic visual dialogue of imagery flows from frame to frame, forming a collective sketchbook that allows us to appreciate the radically individual approach taken by each artist."
The opening night reception will be Saturday, July 8, from 6– 9pm.
SF Art Book Fair 2017 at Minnesota Street Project
The San Francisco Art Book Fair is an annual multi-day affair of art viewing and page-turning delights. Books, art catalogs, monographs, periodicals, zines and printed ephemera, presented by independent publishers, antiquarian dealers, artists and collectors, will all be on display. 
The mission of the SF Art Book Fair is to foster the unique Bay Area publishing community and provide a platform for national and international artists to unveil works to a new audience. If this year is anything like the last, expect a well-attended event with a wide-range of interesting small press finds to be had. 
The Minnesota Street Project is a 35,000 square-foot space in the Dogpatch neighborhood, which houses 11 galleries, exhibitions spaces, a media room and cafe.
July 22, 11am-6pm and July 23, 11am-5pm. Free to attend.
Find a complete list of art-related events here.