Q&A: Bay Area Band Beats Antique on their New Album, Early Years, Symbiosis & Oakland Tour Date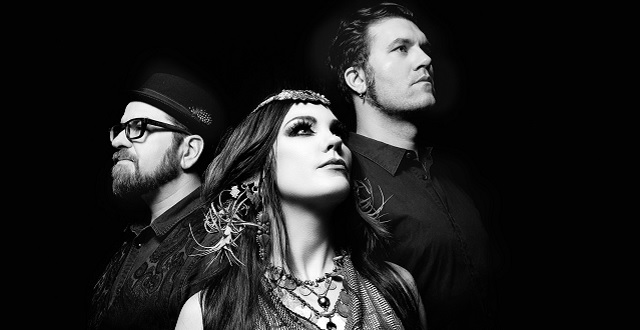 Bay Area experimental world fusion and electronic music group Beats Antique are hot off releasing their tenth studio album, Shadowbox, commemorating their tenth year as a band. The trio has mounted a larger-than-life cross-country tour, which incorporates global influences and mesmerizing visual performance art.
Sidecar Tommy, David Satori and Zoe Jakes are the three legs of Beats Antique, each bringing their own skill set to the music project. Their new album (released on October 5), current tour and new store front in Berkeley all share the Shadowbox name. The new music material was mostly recorded at their studio in nearby Oakland, with some additional recording work done in places less close to home, like Russia and Israel. Shadowbox is an amalgamation of Beats Antique's history and showcases what this band does best–transform, innovate and revolutionize musical concepts.
Beats Antique uses a mix of shadows, light, Indonesian shadow puppetry, custom-created lanterns, dance, story-telling, crowd participation to create their signature performances. Per their reputation, this tour will certainly be an unforgettable visual spectacle for the audience.
To preview their upcoming, local tour stop at Fox Oakland, Saturday December 3, we spoke to Tommy to learn more about the group's formation, their friendship with Bassnectar, their memories from Symbiosis Gathering, and what fans can expect from their new music and live show.
Did you grow up in the Bay Area and where are you currently based?
No, I grew up in D.C., well Northern Virginia. I've been in the Bay since 1998, so a long time. I moved from New York City. I came out to visit a couple friends. Everyone and everything there seemed so much more pleasant. The people seemed really sweet and they liked art. They would rather hang out outside on the side of a hill in Dolores Park than do their 100 task list for the day. I really felt like this place was home. All three of us live in North Oakland.
How did the Beats Antique trio originally form?
Zoe [Jakes] and I were in two bands previous to Beats Antique. One was Extra Action Marching Band. She was on the flag team and I was one of the drummers, so we met each other through that. I started playing with the Yard Dogs Road Show. We had Zoe sit in with us to do dance and performance art stuff. Soon after she began touring with us as well. David [Satori] moved up from LA. He was going to Cal Arts at the time. Zoe was in a belly dance troupe…
David and Zoe moved into my warehouse at the Vulcan. We basically started our first record. At the time we were just excited to be able to pay rent by making something. We were also excited to make something we didn't know what exactly the end product would be. The way that first album worked was I wrote six songs and David wrote six songs, then we swapped. When we swapped, we met up with Zoe and went through them to see what came out of it. David and I both have very different influences. Zoe, being a dancer, also has a very unique perspective on production. She was always telling us this is too difficult, or this is too much. Simplify it. Let's make it for people to move to. That was a really cool aspect of working with a performance artist and a dancer. That's not something I ever really thought about. I'm a music geek. I want to make crazy stuff. It was really fun to mesh all of our influences together. Since we weren't limited to a particular genre, we were able to cultivate a sound.
After our first album, we started DJing and playing parties at Burning Man and locally at different clubs. We're close friends with Bassnectar, Lorin Ashton. He was inspired by our music and decided he wanted to make a remix of our song "Roustabout" on our second album, Collide. He put it out on his EP. He invited us to go on tour with him that fall. We played numerous sold-out shows opening up for him. We've been around to see his world develop into what it is now. We have a really nice solid community of artists and crazy people. We all want to help each other do what we want to do. That's the important thing. Lorin's a great example of someone who stepped up and said, 'Let's do this. You guys are weird!'
That's where we entered into the beginning of what we're doing now. Back then we were mainly DJing. Our productions have so many instruments and so many people playing different things. It's inspired us to get more 'live' with it and become a band.
How many people are you touring with beyond the trio?
Zoe brings the dancers—Calamity Sam, Auberon Shull, and Pixie Fordtears. [We have] Sylvain Carton, who has co-written and recorded on many of our records, playing baritone saxophone and clarinet. He plays through tons of effects including the sub-bass saxophone, which is crazy. He goes through an octave pedal and it sounds huge. He is a really experimental, awesome musician who is also super versed in jazz, gypsy, and cultural music too. He had a band called The Japonized Elephants and they played in the Bay Area for a really long time and were part of the weird arts scene we were in. Then we have a crew of four people and a driver. That makes 11 of us on the road…I think.
What is your favorite memory from Symbiosis Gathering?
That's a hard question actually. The whole damn thing. It was actually probably one of the sweetest festivals I've been to in a long time. Just the amount of art, time, attention to detail on all the stages, and all the places they made for people to enjoy hanging out together. A lot of it was really cool interactive sculptural art—things to sit underneath it, things to climb.
Plus the stages were just packed with awesome talent. They put in the extra effort. They make their own fun. Symbiosis spends the time, money, and the creative juices to give their community artists a chance to show people what they're about—which is displaying their art and music positively. Of course, we know the people who run it, so we have a personal attachment to it as well.
What were some of the influences for creating your newest album, Shadowbox?
Shadowbox is the name of our storefront that we have in Berkeley. It's on Alcatraz Avenue, open on Tuesday and Saturday only. We created a space that's attached to our studio where we can sell our merch, sell our friends' stuff…to have a little hub. Our studio is in a building attached to a cafe called Alchemy Cafe. It's a very community-oriented spot. We started first Tuesday parties, bringing together different artists. We hired some of our friends, Christina and Shawn from Black Lotus Clothing who are kick-ass artists, and they turned it into a really magical, awesome spot. They found wood and all sorts of different elements to make it like someone's porch, like a house in the country. It has two roll-up doors and you end up being in this curious space that feels like a different universe…it reminded us of a shadowbox [and named it such]. We really liked that concept, so we decided to name our album and our tour after it.
It's a unique album. Some songs go back to our roots. It encapsulated a sense of our past and a bit of our future. In a lot of ways it was a retrospective. Once we started to put the PR together, we realized that it's been 10 years and it's our tenth release. Nine are physical releases and one we just put it out for free online. Realizing this was our tenth year and we've done an album every year is crazy to think about and it's happened really fast.
For this album, we've traveled to different places around the world and connected with different musicians. We recorded in Tel Aviv, Moscow, London, New Orleans. Even within downtown SF, we went to different studios [to record]. We're taking these journeys that we go on and putting them into a song form.
The live show for us is a super important part of what we do. Zoe has created costumes and choreographed and helped produce and write with this vision in mind. We wanted it to be an intimate show whether it was in a small or big venue. The stage design brings a little aspect of our storefront and our little world out to the rest of the world. We also collaborated with some other Bay Area artists under the name, HyByCoZo. They make these really beautiful sacred geometry-inspired lamps that cast shadows over the stage. We created our set to be a shadowbox of sorts. We even have a couple pieces that we do shadow play. They're dorky and awesome. For one of the sets, we have a 30-foot inflatable dragon that comes to attack the princess. The prince and princess are both women. We're using it as a platform to discuss marriage equality in a funny way…with a fucking dragon. There are parts that are made for entertainment, but it's also a platform to discuss some really tough things, for example, gender, marriage, equality of people, and internal and external fighting among cultures.
We're really stoked to come back to the Bay and play the Fox again! We have a great lineup that night! Local Bay Area classical Indian Sarod musician, Alam Khan, opens the night with his group, so be sure to get there early his performance is so beautiful. He's been on two of our albums. He's taken over his father's school, Ali Akbar Khan School of Music, since he passed. And he's followed in his father's footsteps.We also have DeVotchKa, an amazing band from Denver. The night will be a wonderful hometown show for us!
For more on Beats Antique, visit their website and SoundCloud account.