The Guide: Top Picks for Fourth of July Fireworks & Festivities Across the Bay Area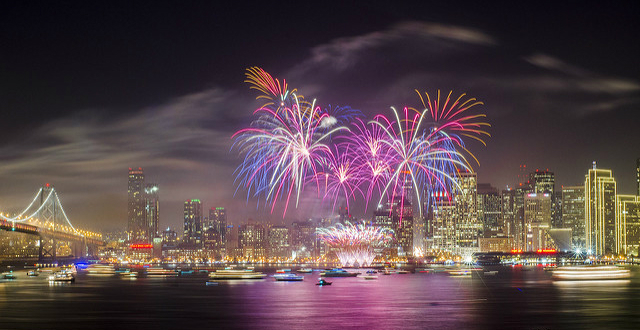 Whether you're looking to hop aboard a boat and watch the pyrotechnic display from the Bay or you prefer to stay on shore to watch the fireworks shows, there are lots of Fourth of July options for you and your family. The Bay Area offers plenty of free and paid activities to celebrate Independence Day 2017.
See below for our list of San Francisco, East Bay, North Bay and South Bay options. Have a safe and happy Fourth!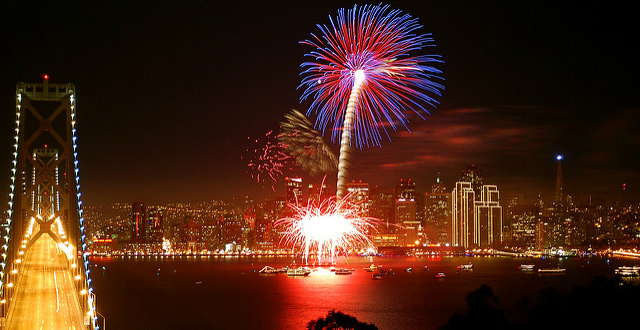 Photo: Flickr, Nick Fullerton
San Francisco
Speakeasy 4th of July Fireworks Party Cruise
For the party people, consider this VIP cruise that offers a 4-hour bar, free pizza, and two DJs on as many dance floors. The ship has large, indoor panoramic windows and an open sky deck. Check-in begins at 5:30pm, boarding 6:30pm, cruising at 7pm and disembarking at 11pm. (Tickets: $85-$119)
Pier 39
If you're seeking for the best views and don't mind crowds, look no further than Fisherman's Wharf, which will have live music at the entrance to the plaza. This location is super popular because of the 180-degree views of the Bay. Beware of limited parking and a crowd of people. Fireworks start at 9:30pm. (Free event)
Dockside Viewing on the SS Jeremiah O'Brien
Purchase tickets to board the historic World War II Liberty ship, which will stay docked shoreside near Fisherman's Wharf. Hop aboard the vessel starting at 6:30pm. This party will help minimize the crowds that will be situated nearby. (Tickets: $40 adults, $10 for kids)
Natural Vistas:
The Bay Areas has plenty of easily accessible spots in nature to soak in the fireworks displays. Ideal viewpoints can be found at Bernal Heights Hill, Mount Davidson, Corona Heights Park, Tank Hill, Ina Coolbrith Park and Twin Peaks. Although the peaks don't always offer up-close views, it can be a fun nighttime adventure without too many people. But beware of limited views if the Fourth of July happens to be a foggy night. (Free – choose your own adventure!)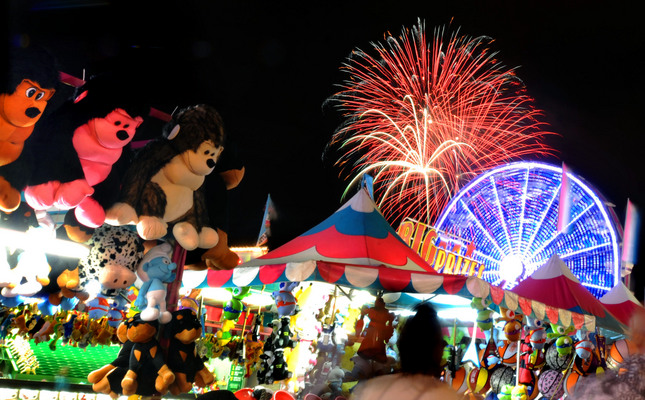 Photo: Alameda County Fair, SFkids.org 
East Bay
Alameda County Fair
During the day, the Alameda County Fair hosts a Red, White & Blues Festival. At night, there's a fireworks display set to music performed by the Oakland East Bay Symphony. Before the show, there will also be a Salute to Hometown Heroes video. Fireworks start around 9:30pm, with the best viewing at the Budweiser Grandstand. Keep in mind that gates close at 6pm, which is also when tickets are no longer sold, there's no re-entry and no new parking. (Gate admission: $15 adults, $10 kids)
Jack London Square
During the day, check out this free festival of family fun along Broadway and Embarcadero West in Oakland to celebrate the 4th of July. The event will feature backyard BBQ vendors, live music, a beer/cider garden, local shopping, a kids' zone, photo booth and more. Activities start at noon and run until to 6pm. The fireworks show over the Bay starts after dark. Last year saw more 10,000 people attend. (Free event)
Berkeley Marina
An Independence Day adventure playground is open to families until 8pm, where there are plenty of activities to keep kids entertained until its time for the fireworks. Children can use hammers, nails, saws, and paint (all with parental supervision, of course.) They can also get their face painted, try the giant slide, or splash in the water at the beach. The fireworks show starts at 9:35pm over the water from the end of the Berkeley Pier. (Free event)
Fireworks Cruise on the USS Potomac
Those in Oakland looking for a cruise option should consider Franklin Roosevelt's "Floating White House", known formally as the USS Potomac. The ship will travel to various fireworks locations along San Francisco Bay. On board, hosts will serve desserts, champagne, tea, and coffee. (Tickets: $125)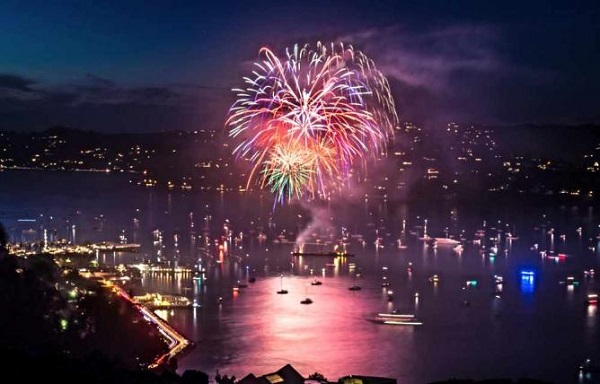 Sausalito
North Bay
Marin County Fair
This summer's Marin County Fair is celebrating that 1967 spirit with music, art, fashion and more featuring tie-dye and macramé competitions, Flower Power horticulture, Groovy/Psychedelic and Abstract art and photography, and daily 60s fashion parades. Gates for the Fair open at 11am and the fireworks start at 9:30pm. There will also be a July 4 concert starting at 7:30pm when The Happy Together Tour comes to perform hits of the era. (Tickets $15 for adults, $12 for children 12 and under and seniors 65 and over for advance tickets bought the day before. Tickets cost $20 if purchased the day of.)
Sausalito's City Festivities at Gabrielson Park 
From 6:30-9:30pm, the Sausalito Parks & Recreation Department hosts live music in Gabrielson Park with a fireworks extravaganza and music by Faithfully, a Journey tribute band. Food trucks will be providing food and beverages. Fireworks begin at 9pm. There are a limited number of tables available for the fireworks concert and show and table reservations are available. (Free event)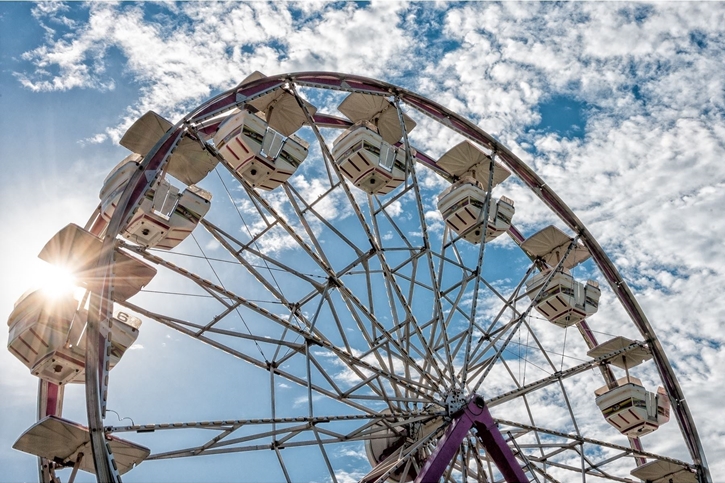 Napa County Fair
Out in wine country, local citizens and visitors alike are invited to enjoy a fun parade downtown. After the parade and festival in downtown Napa, head over to Napa's Veteran's Park for more festivities and live music leading up to fireworks at dusk. The parade starts at 10am in downtown Napa (starting at Second and School streets and ends at Third and School streets). The festival runs from 1-7pm and the fireworks begin at 9:30pm at Oxbow Commons. The three best spots to watch the fireworks are Oxbow Commons, downtown, and Veterans Park. Note that the 3rd Street Bridge will not be closed for viewing. (Tickets: $20 General Admission)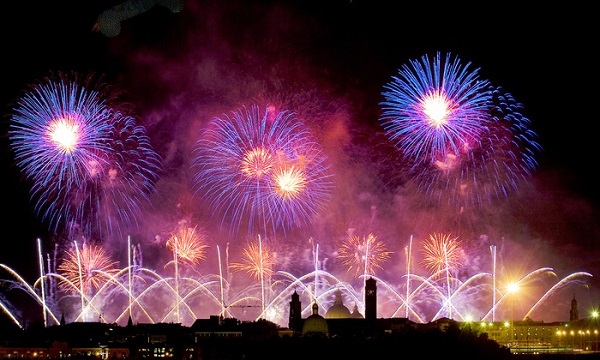 Shoreline Amphitheater
Peninsula & South Bay
Shoreline Amphitheater
The San Francisco Symphony will perform in the 31st Annual 4th of July Fireworks Spectacular at Shoreline Amphitheatre. The 8pm concert celebrates patriotic American musical favorites, the 50th Anniversary of the Summer of Love, and the 40th Anniversary of Star Wars: A New Hope with performances of its iconic score by John Williams. The concert is led by San Francisco Symphony Director of Summer Concerts Edwin Outwater and features dynamic guest vocalist Storm Large. (Tickets range from $24 for general admission on the lawn up to $35 for reserved seats.)
Foster City Fireworks & Festivities
One of the biggest Fourth of July celebrations happens at Leo Ryan Park in Foster City. Starting at 9am, it's a free, full day of fun with a family and dog parade, family games, live music and the massive fireworks show that starts at 9:30pm over the lagoon. Walk through the park where you can purchase food, visit booths of local artists, and check out the children's rides. (Free event)
Shoreline Lake
Post up at this man-made, 50-acre, salt water lake filled by waters pumped in from the San Francisco Bay that circulate back out into Permanente Creek. The park doesn't allow for individual barbecues, but there will be a big barbecue picnic on the 4th from 11:30am-6pm leading up to the nighttime fireworks show. Burgers, chicken, hot dogs, sausages, and veggie burgers will be on the grill. Enjoy being out on the patio taking in the waterfront view. Bistro hours will be extended to 10pm for the occasion. (Free event)