The Alchemy of Lee Burridge's 'All Day I Dream' Party, Burning Man Vibes and Golden Gate Park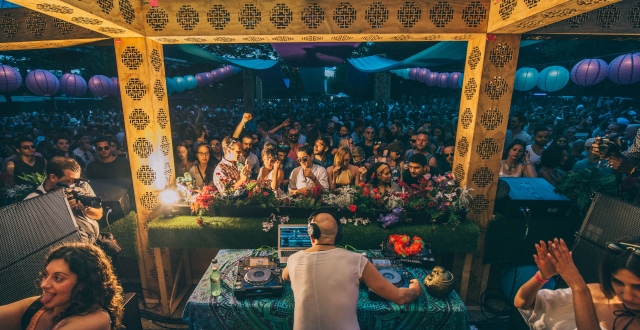 House and techno DJ, record label owner, and Burning Man influencer Lee Burridge brings his All Day I Dream party to Golden Gate Park. Burridge originally pioneered Hong Kong's club scene back in the nineties and first attended Burning Man nearly 20 years ago. He arguably helped lead a music revolution on the Playa after being less than excited by some of the early live acts at Burning Man. He frequently volunteers to spin at different camps and has performed on various stages such as the infamous Robot Heart.
Although the All Day I Dream parties started in Brooklyn, New York back in 2011, they have since become an international sensation and San Francisco can be considered the party's home base. The creative director for the All Day I Dream, Hoj, is a San Francisco native and Burridge has lived in SF on and off over the years.
Within ethereal environments decorated with live plants, draping fabric, fairy lights, and lanterns, All Day I Dream gives space for dreamy music and the global Burning Man community to freely intermix. Every bit of the experience is fine-tuned to encapsulate their dreamlike vision, which gives partygoers or "Dreamers" more than just DJ sets to embrace. The Pegoda Production, Decor and Art Installations, also run by the All Day I Dream production crew, will be shipping all the production, sound, and décor from Los Angeles for this special one-day San Francisco event.
In addition to the music and the exotic ambiance, the party looks to appeal to all five senses and, perhaps the sixth sense. Fresh oysters and Bloody Mary bar, food trucks, yoga, massages, sacred face painting, sound healing, chakra balancing, and live art are all to be included at their day party this weekend. Attendees can also enjoy plenty of lush green grass areas for picnicking and dancing under the sun (so don't forget your blanket). Vendors will also be selling clothing, jewelry, and art for your favorite excursions to the Playa.
Also in for the adventure are All Day I Dream residents, Moscow house duo Gorje Hewek and Izhevski. These international aficionados have played at Burning Man and will be performing at the upcoming event in Golden Gate Park. Back home in Russia, Gorje and Izhevski have their own weekly party, host seasonal events, and run a two-channel, 24/7 radio station.
In anticipation of the All Day I Dream day party, we spoke to Lee Burridge, Hoj, and fellow performers Gorje & Izhevski to learn more about the event's history, development and their thoughts on the local scene.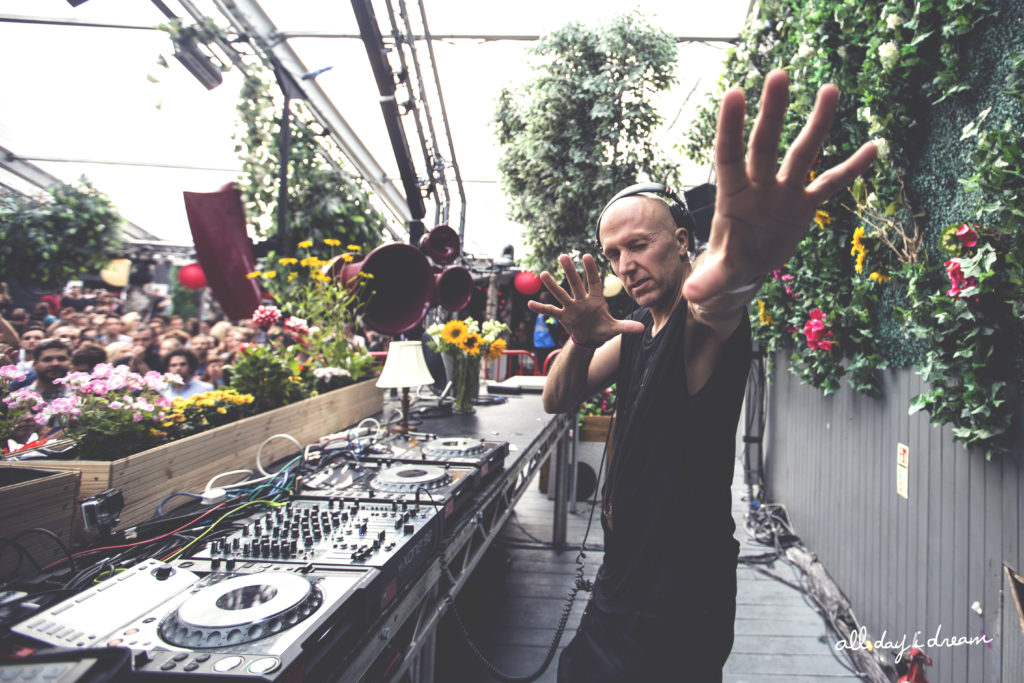 Photo: Lee Burridge, Courtesy of All Day I Dream
What was your favorite set at Burning Man last year? Will you DJ at New Barbarians this year?
Burridge: That's tough. For me, playing back to back all day long with Hoj on the Robot Heart after an amazing solo sunrise set was brilliant. The only thing that stopped us was a Mad Max sized dust storm!
What do you like most about Golden Gate Park?
Burridge: It's an iconic space where so much magic has happened. Beautiful, lush, dreamy mist, crazy people, normal people. It has a wild spirit.
Where haven't you DJ'd that you really want to?
Burridge: The moon… or, space will also do.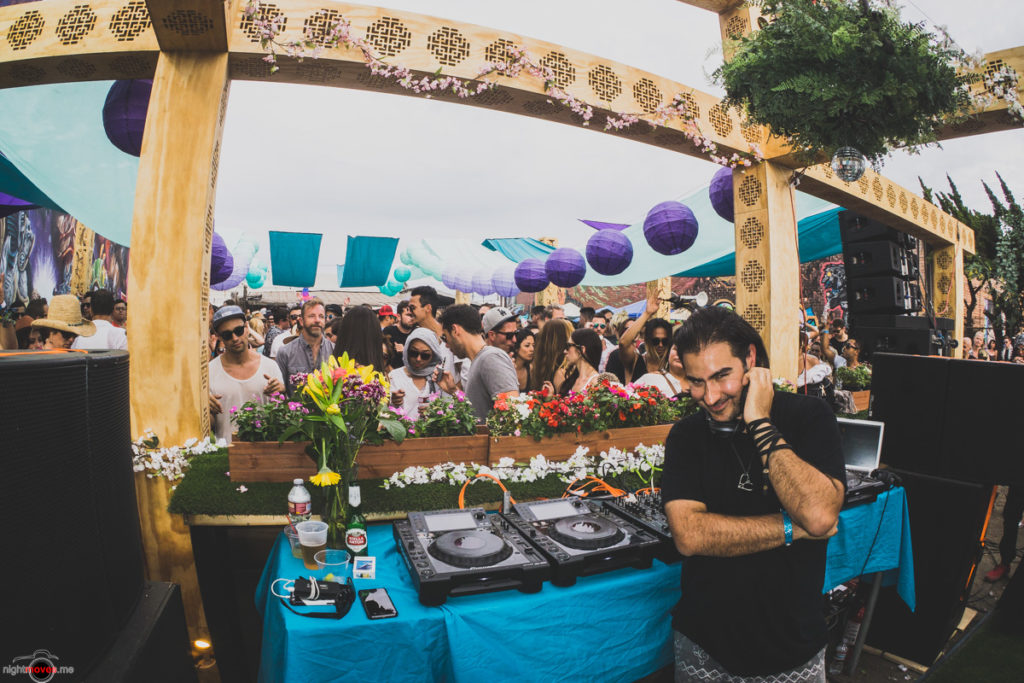 Photo: Hoj, Courtesy of All Day I Dream
How do you make each event unique but still streamlined for a nationwide tour?
Hoj: In our open-air format, the actual location adds to how each event is unique. This is especially true in a place like Golden Gate Park. The music is also constantly evolving and moving forward, so that will always be different at each event. And we'll play a huge range of music throughout the day, but I do think there's a consistency in the feeling of the music we play at All Day I Dream.
No matter where we are or what is different, there is a vibe at the events that is very recognizable. I think a lot of it comes from the people that attend. We do what we can to create a warm atmosphere for people to connect, but in the end, I think people are bringing that vibe to us.
Do the same artists (musical and non-musical) contribute for all locations or do you mix it up?
Hoj: Both! There are so many talented musical artists on the label, and they all contribute one way or another. Different artists play different locations, but Lee Burridge is usually there to lead the way. Our Stage Guru, Matthew Holt, is at as many events as physically possible to make sure the stage and the production design overall is on point.
Who are your biggest creative influences?
Hoj: Probably Stanley Kubrick and Keith Richards.
What creative selection criteria did you use for this upcoming tour?
Hoj: I have an "ADID" folder on my computer. Throughout the year, certain tracks find their way into that folder. And around this time, I get to dig in and see what gems have collected. I've also been hearing a lot of amazing tunes from some talented young producers in faraway places that I'm looking forward to playing.
In your opinion, do you feel the current SF music scene is thriving or in decline and why?
Hoj: It was disappointing to hear about the closure of Ruby Skye. I have a lot of good memories from that club and gained a lot of experience playing that main room. That said, I was in San Francisco recently playing at Audio SF. The same night, I had friends playing next door at Halcyon. My other friends were playing nearby at The Great Northern. And there were great events at both Monarch and Public Works that night too. So I'd say from that experience, it seems like SF is thriving.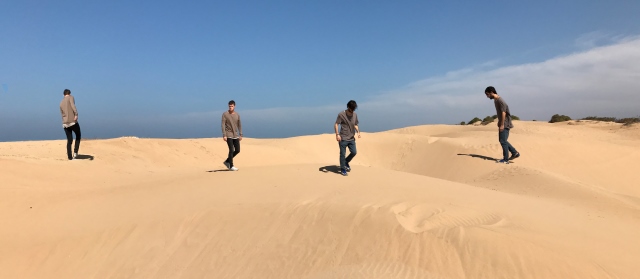 Photo: Gorje & Izhevski, Courtesy of All Day I Dream
What have you learned from partnering with Lee and Hoj?
Gorje & Izhevski: Both of them are unique people. We are happy that our paths crossed such a wonderful way [with All Day I Dream], and we are always glad to meet each other in different parts of the world, play and just spend the time together. And there's always something we can discuss during a dinner.
What is your favorite memory from Burning Man last year?
GH+IZ: It was our first Burning Man. We spent the time quite intensely. We managed to see a lot and got a lot of new impressions. It was the overall experience, less one particular moment that stood out. Dust storms, as well as people, art cars, music, the yurt we lived in, and the RV we traveled through California on. These memories are still fresh.
Do you have any pre-show rituals?
GH+IZ: We don't have any special rituals. Actually, we don't prepare for sets, because music is our lifestyle and everyday activity. Perhaps, this keeps us in good shape. We're always ready to wake up and to play our set.
What do you like most about San Francisco?
GH+IZ: San Francisco is one of our favorite points on the map. This city is always so hospitable to us. It welcomes us with good weather and nice food. We've got so many wonderful friends there. We think that everybody who travels a lot agrees, San Francisco has its own unique character and atmosphere. Maybe, it's partially because of the air that comes here from the ocean? Anyway, we'd definitely like to come here more often.
+++ All Day I Dream
June 25, 12:30-7pm
Golden Gate Park
Tickets for the All Day I Dream SF can be purchased here.