Bay to Breakers, the most San Francisco race of all, is back for another round of silliness, sweating in onesies, people-watching and fun-fueled athletics. While the runners will have to make do with water and optimum running fuel, you, the spectator, can cheer them along and catch some of the city's finest treats while you're at it. Here is our top 5 picks for food, drink and snack options…all along the route!
First Stop: Sweetgreen's Matcha Fresca
The healthy, airy salad hall of Sweetgreen is situated right nest to the starting point, and makes for a logical place to begin. Grab their 60-cal, sweet and guilt-free Matcha Fresca, made with matcha powder and sweetened with agave, and hit the streets to cheer on the runners.
171 2nd St
Second Stop: Kinda Fatty Salad at Deli Board
Relish the irony of ordering the Kinda Fatty salad…it still has "salad" so makes perfect sense for a day of running. Maybe not? In any case, you can ponder this question as the race heads toward Civic Center Plaza. Deli Board is a quick block away from Howard Street, and it's brimming with savory stacked-sky-high sandwiches, salads and other remixed classics, courtesy of Adam Mesnick.
1058 Folsom St
Third Stop: Chicken salad at Souvla
As the race moves to Hayes Valley, you'll find the most succulent and rich chicken salad at Souvla. This Greek mini-chain might be expanding, but the Hayes Street location is as magical as ever. A chicken wrap, complete with juicy oranges and yogurt, might be the best portable option to take to the race, but that might be just plain cruel to wave in front of the athletes.
517 Hayes St
Fourth Stop: Ice Cream at Twirl and Dip Soft Serve
As the spectators battle the winds and tourists of Golden Gate Park, on the other side of the de Young museum complex is the Twirl and Dip food truck, seducing weekenders with delicious, organic soft-serve ice cream. Go for the sugar cone (naturally!) and fill it with classic vanilla and dark chocolate, or go seasonal with a bold fruity flavor. The Tcho chocolate dip is a must.
335 Martin Luther King Jr Dr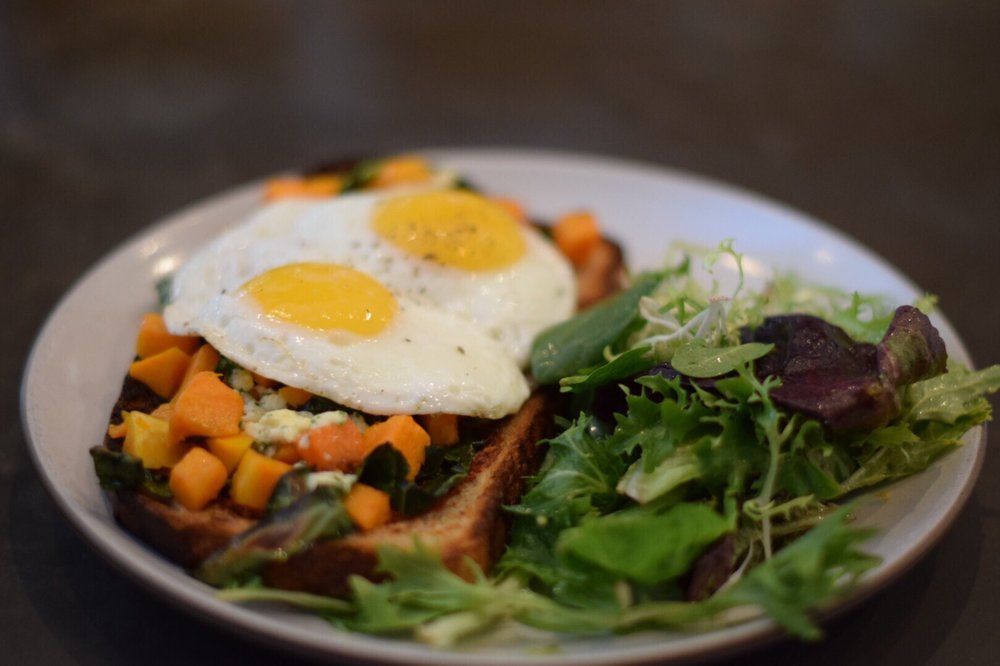 Last Stop: Outerlands
You made it! While runners catch their breath and post vigorously on social media, head straight to Outerlands, the glorious Outer Sunset institution just a block away from the finish line. Treat yourself to an oozing grilled cheese sandwich, a dutch pancake and, of course, a cocktail. Hey, you deserve it!
Reservations recommended.
4001 Judah St
Runner up: The Pizza Place, 3901 Noriega St