Meet the Global Curator of Festival Culture Blog 'Fest300': Self-Expression, Travel & the Everfest Team Up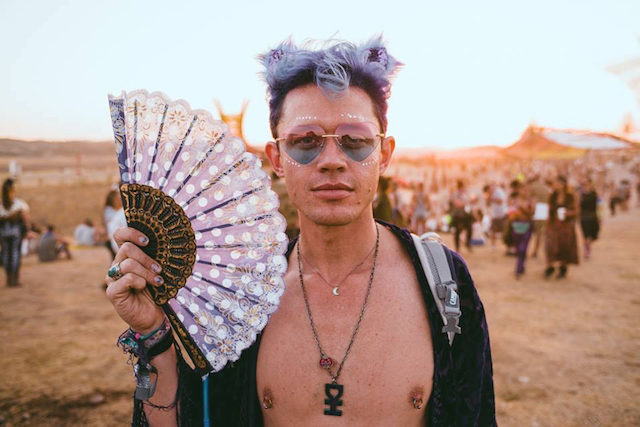 ---
Regarding the global fest culture movement, a perpetually building tidal wave, Fest300 has been the best way to check the surf report. Fest300 is an international festival culture blog, based in San Francisco, built around their coveted list of the best three hundred festivals around the world. Fest300 was born as a passion project of hospitality guru, Chip Conley (Airbnb, Joie de Vivre), the late photographer and adventurer Art Gimbel, and unbridled spirit, Eamon Armstrong.
While ninety percent of the Fest300 list of the 300 best festivals in the world is curated by Chip Conley—leaving ten percent to the festival community—Eamon Armstrong is the lustrous and lavish man who is lucky enough to vet the list. He travels far and wide across the globe scouting the world's next top festivals. Just in the past year, he has traveled to Australia, South Africa, the UK, Denmark, Mexico, and more. The dream, right?
San Francisco has known Armstrong by several names—The Minister of Purpleganda, the Pretty Prince of Parties—to friends and colleagues, however, he is Eamon.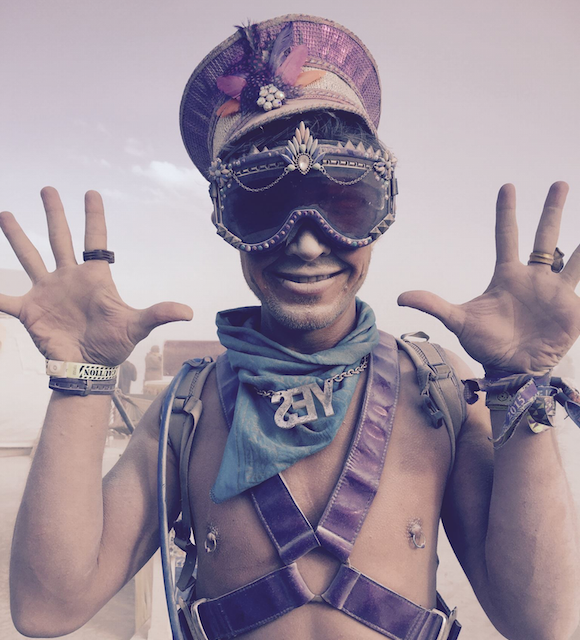 Photo Cred: Jenna Sessions
Hailing from Santa Fe (NM), Eamon Armstrong moved to the Bay Area soon after graduating college in Los Angeles. It wasn't long before the theater kid found his groove. "I saw more space for weird [here]," Armstrong recalled. "I declared myself the Minister of Purpleganda and threw parties in San Francisco. I told people about these parties using social media for propaganda—but it was Purpleganda, so it was psychedelic and fun."  
As the Minister of Purpleganda, Eamon found his place at the forefront of San Francisco's party scene, widely identifiable as the purple guy. He recalled this particular chapter of Eamon with a smirk. "I dressed as this androgynous, Andy Warhol-esque, purple creature with a bob wig. It seemed like such a powerful brand. I started conducting social media marketing campaigns for events like How Weird Street Fair. It was the first time in my life that I had a bit of a drag vibe."
Those unacquainted with Eamon might misinterpret his peacocking as shameless self-aggrandizement. But Eamon's flamboyance is not about showing off…okay, it's a little bit about showing off…but first and foremost, it's about issuing everyone in the Eamon-sphere a license to do the same—to fearlessly express one's truest self. "I've found that in being this flamboyant, expressive self," Armstrong noted, "I've given others around me the permission to do the same. That is what I care most about." This is perhaps why he is so loved. And that is why he was appointed community builder for Fest300 upon its inception in 2013.
Armstrong has not always been so secure in himself and his presentation, however. "A lot of that has to do with masculinity," Armstrong said of his sexuality in retrospect. Like many of us who grew up in the '90s or earlier, Eamon was affected by the horrifying social implications—alienation at best—of being perceived as gay during that time. "When I was younger, I was a musical theater kid. I very much did not want to be perceived as gay. I went to college in LA. I was an actor. I was in a fraternity. I did a bunch of cocaine. I went to 'Vegas. I wore polo shirts. I wanted to be masculine in a certain way and wanted pretty girls to like me. I was very lost and phony."
In 2010, after moving to the Bay Area, Eamon discovered Burning Man. "I was awestruck with how much was possible in who I am," he remembers. "One of the principles of Burning Man is radical self-expression. I saw so much fabulousness. I've always been a fabulous person but, again, always wanted not to be perceived as gay. Ironically, I've become a much more powerful man by embracing my masculine-feminine self."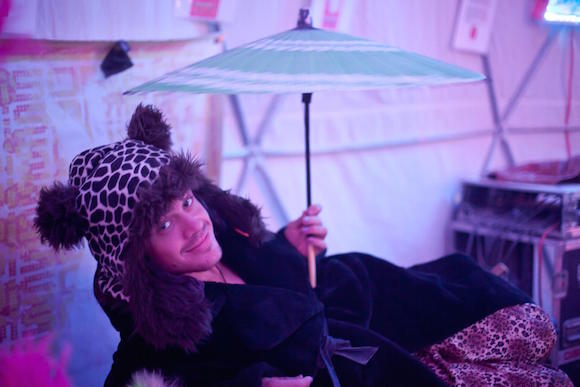 Photo Cred: Stuart Philkill
This liberation of self and exploration of identity is one of the major draws to Burning Man, and the greater transformational festival community. Armstrong's intimate experience with the transformative power of these festivals rendered him the perfect candidate for his role at Fest300.
Together with a few impeccable recruits, Chip, Art, and Eamon built Fest300 into what has largely been regarded as the voice of festival culture—a trove of sage perspective on the polymorphous, now often inundated, festival landscape. 
Then in the early summer of 2015, Fest300 suffered a devastating blow with the sudden passing of co-founder and beloved leader, Art Gimbel.  "Art's cultural curiosity and spirit of adventure," Conley wrote in reflection of Art's life, "…and his desire to celebrate humanity [was] a constant inspiration to our Fest300 team as well as our broad and growing community." Gimbel's photography has been featured on The Discovery Channel and National Geographic Magazine.
Early on, Conley's success with niche hospitality project, Joie de Vivre, meant Fest300 had the unique luxury of operating without the pressure to monetize—a curse, Eamon admits, as much as it was a blessing. "[Fest300] had a lot of opportunity to be value driven and not all about monetization first," said Armstrong. Facing the long-term implications of such a cushion, however, Eamon came to believe, "the very fact that we had prolonged monetizing for down the road, meant that we weren't really pushing for that financial sustainability that would really allow Fest300 to grow and be of greater service."
Conley's continued success with Joie de Vivre earned him a seat at Airbnb as Head of Global Hospitality and Strategy, stealing much of his focus away from Fest300. After Gimbel's tragic passing, Armstrong found himself at the helm.
Faced with one of the most difficult challenges of his life, Armstrong sought guidance. "I had a [human] design reading," he said. "The reader told me—though, I used to think I was a king, specifically a prince who would become a king—he told me, 'You are not a king. You are an oracle. And your job is to speak to the kings.' That simultaneously took all this pressure off me to lead, and yet at the same time gave me this mandate to advise. That was around the time I decided that I didn't need to be the head honcho at Fest300."
In the past, Fest300's sophisticated brand caught the eye of a few companies exploring potential mergers or acquisitions. An Austin-based organization called Everfest was one such company who finally sealed the deal.
Everfest is an online database of 15,000 festivals around the globe with the intention—much like Fest300—to patch together the international festival community. As Eamon describes, "Everfest and Fest300 are perfect compliments." The meeting was set and shortly thereafter the unification of Fest300 and Everfest began.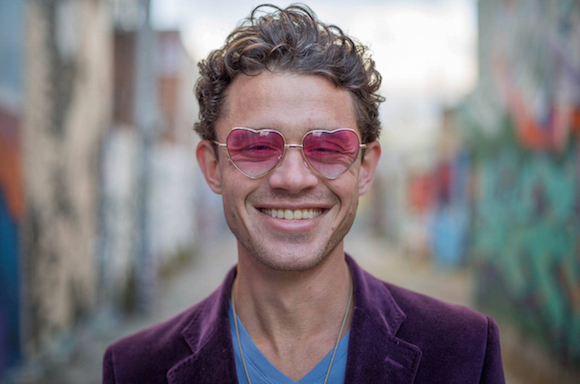 Photo Cred: Dijon Bowden
With curiosity mounting of how the process has been going, I invited San Francisco's beloved Eamon Armstrong to brunch, to chat about the vision and the challenges of the merger with Everfest.
"Here's the thing," Eamon began, and the wind and spring birds in the trees over Cafe Revelry's back patio calmed—as if listening as intently as I. "Everfest and Fest300 are perfect compliments. Because Everfest brings business savvy and a solid SEO (search engine optimization) strategy with a database of 15,000 festivals. So, quantity." He summed up in a word. "While, Fest300," Armstrong continued, "is a sophisticated brand with content that's at the top of the festival world and a loving community full of relationships based on a very well invested emotional bank account. So, fucking vibes!"
The level of excitement, pride, hope, and a pinch of frustration spiked in his voice all at once with the grand vision of the new Everfest. "If we meet halfway, that's a knock-out-of-the-park company!"
Armstrong admits there's been some hardship in the merger, which he diagnosis as remote syndrome due the distance between Everfest HQ in Austin, TX and Fest300's in San Francisco. "How do I connect with the Everfest team and build real bonds with them? I'm trying to meet people on the Everfest team to encourage and mentor them—raise the vibe within the company"…"We just don't quite understand each other yet," said Armstrong.
"I'm no longer running the ship and that's really hard for me," he confessed. "It's been an opportunity to grow, particularly in my humility—to just be patient and live in the real world. We've got to make money," he reasoned. "The real way for Everfest to be of service is to be financially sustainable."
"To be fair, I think the founders of Everfest would like to leverage my gifts. They do want me to build out our community features on Everfest." Quick to mind was the Everfest website, promising "tangible perks" to their community members. Armstrong read my question before it hit my tongue and he elaborated. "Right now, what we have for perks are in the form of discounts at festivals and upgrades to VIP, things like that," he explained. "Some of the festivals we are already working with in this way are BottleRock, Euphoria, and What The Festival.
"The way we'd like to build on that is to offer cool festival gear, much like gift packages, as well as a dynamic and engaging community experience." The excitement was already rushing back to his eyes. "Fest300 has never had the ability to create these really slick online community features, which—by the way—Everfest is totally going to be able to do."
With my tangential curiosity satisfied, Eamon dove back into the relationship with Everfest to finalize his most honest sentiments. "Chip told me recently over dinner…the resources and business acumen of Everfest can make Fest300 what we've always wanted it to be. He also feels that I need to be holding space for community and fighting for that to be in balance with the more transactional Everfest.
"As long as I can continue that with Everfest, I have my close connection with Chip and our editor Laura, and we're able to run the magazine—as long as I feel we're able to serve and support this transformative element of festival culture—I'm happy.
"I really do believe that abundance is available. If we seek to create more abundance around us by creating more generosity and more openness and more love, we can have the experience of the rising tide that lifts all boats. I want to be part of that tide."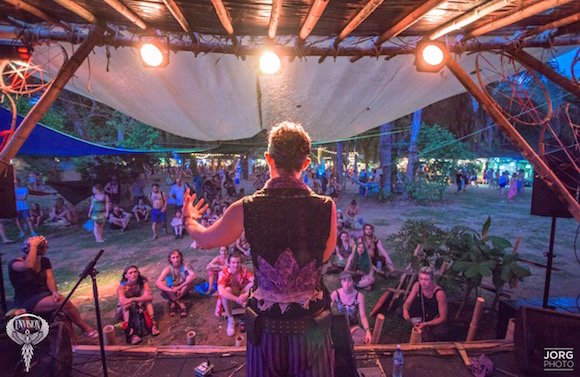 Photo Cred: Andrew Jorgensen
+++Eamon Armstrong will be giving a series of talks regarding "toxic masculinity" at the festivals listed below. Plus more to be announced. As Armstrong puts it, "The goal is actually changing the perspective of 'othering' [or alienating] in current rhetoric on toxic masculinity."
Speaking Series Schedule:
Afrikaburn (South Africa)
What The Festival (Oregon)
Lightning in a Bottle (Bradley, CA)
Boarderland (Denmark)
Burning Man (Black Rock Desert)
…and more to TBA
"They believed that the more people who visited and connected with each other at festivals, the better our world would be." —The Festival Guy on the founders of Fest300
Read more about Fest300 on their website.