The 5th Annual Northern Nights Music Festival will once again return to the Emerald Triangle located in California's picturesque Redwood Curtain. Cooks Valley Campground will come alive July 14-16 with a legendary lineup featuring West Coast hip hop collective Living Legends, southern funk duo Cherub, bass master G Jones, and many more.
The three-day weekend of music, art, food, libations, and yoga has been meticulously curated, showcasing a wide variety of styles and artists worldwide. Northern Nights Festival is known for offering a boutique festival experience in an epic forestal location. Situated along the Eel River, just a few hours north of San Francisco, Northern Nights hosts performances cutting-edge dance musicians and diverse community activities.
Other artists who are part of the Phase One lineup release include abstract hip-hop talent Big Wild, electro soul phenom NoMBe, and Dirtybird Records' member Justin Jay. Rounding out the first wave of announcements are The Range, Colorado's Unlimited Aspect (Unlimited Gravity x Project Aspect), Mr. Fijiwiji, IHF, and Nominus. See below for the current list of all the acts announced…so far. More performing musicians will be released in the coming months.
Three-day tickets are on sale now with a limited number available at $229 for General Admission and $329 for VIP. Free riverfront camping is included with any ticket purchase. Upgrades, including RV, car camping, and Redwood Grove camping, are also available for purchase.
Beyond the music, Northern Nights offers on-site medical cannabis at the Tree Lounge, early morning yoga sessions underneath the giant redwood trees, the Grove Stage for live performances, burlesque, and all-night surprises, as well as scenic, Redwood Reserved, camping and glamping options.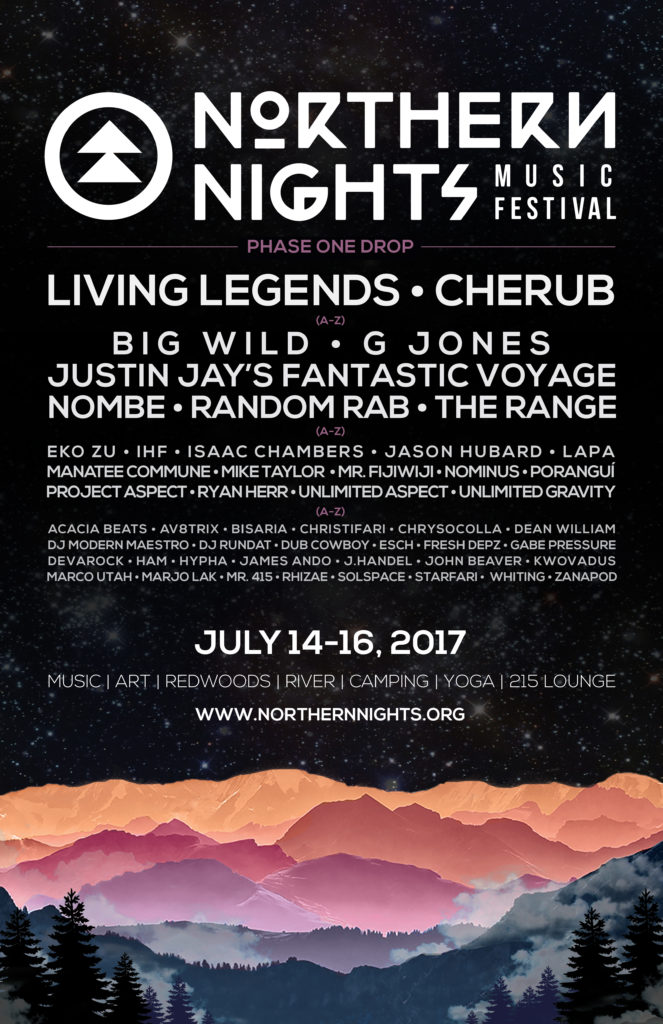 ++++Northern Nights Music Festival
July 14-16
Cooks Valley Campground