Coachella Weekend One Highlights: Drake, Drones, Kendrick Lamar and New Lady Gaga Song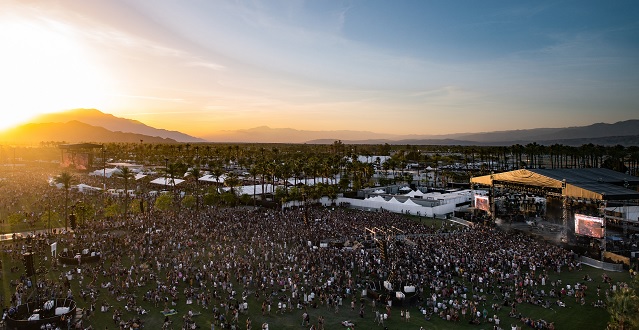 More than 100,000 people gathered in Indio this past weekend for the annual Coachella Valley Music Festival. Despite the last-minute substitution of Lady Gaga in place of Beyonce, the festival was nothing but idyllic and borderline flawless. From a surprise guest appearance by Drake to futuristic drone light shows, we've rounded-up some of the most memorable moments of weekend one.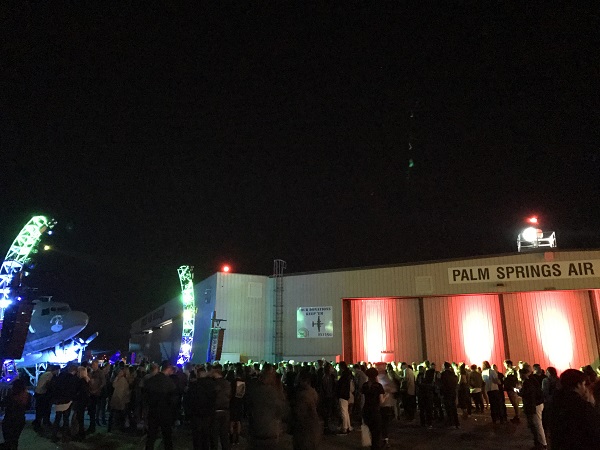 Young Turks Pre-Party at the Palm Springs Air Museum
One of the trends in recent years is the plethora of shows that happen in and around the Coachella festival. There a lot of pool party shows in between the two weekends, but the late-night festivities at the Palm Springs Air Museum on Thursday night was a welcome treat. Presented by FYF and Goldenvoice, the venue had two stages and performances by Four Tet, Francis & the Lights, Jamie XX, Sampha, Ben UFO, and Kamaiyah. One inside of an airplane hanger with some planes on display behind the crowd. The other performances happened outside in front of a large green military plane. The drink booths situated along the runway also had jets on. Although the scene was windy, the exotic ambiance and dazzling club beats by all artists made for the perfect kickoff experience.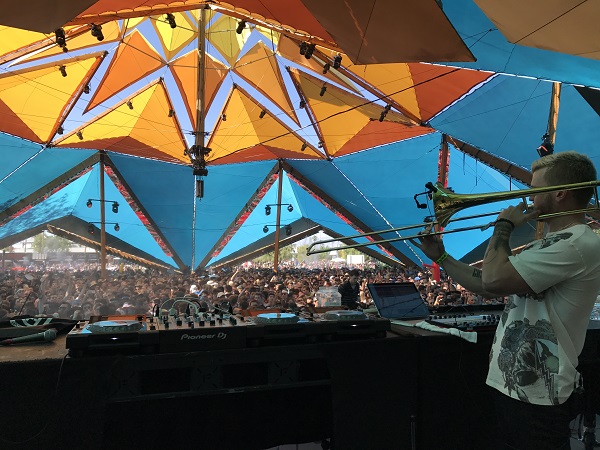 The Do LaB's New Beacon Stage
It took many hours and lots of sweat for the Do LaB crew to set up their newest installation, and it was worth every bit of energy. Dubbed "the Beacon," the structure is made from wood and colorful tarps, with long, skinny visual screens lining the inside. From afar, it looked like a pineapple with spider legs. On the inside, there was plenty of space to dance and mini elevated wood stages to take in the full view. Expect this stage to make its next appearance of the upcoming Lightning in a Bottle festival. Noteworthy performances inside the Beacon included PartyWave, the trombone play during Brownies and Lemonade's extended set, and the Friday closing set from Mr. Carmack.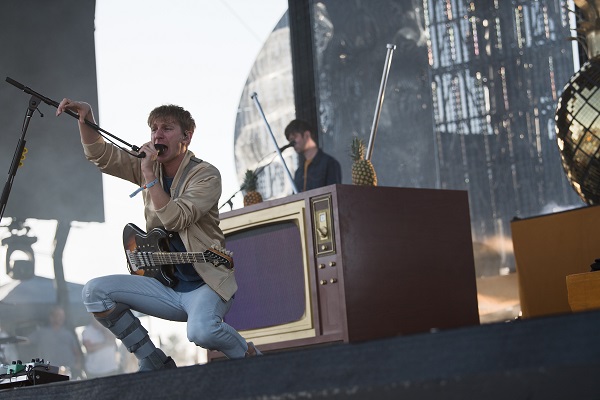 Courtesy of Coachella
Glass Animals at Sunset
The funky UK quartet had an unfortunately short set the last time they played a festival in California last fall due to a stormy Treasure Island. Fortunately, they made a triumphant return to the Golden State with perfect weather conditions at sunset. The band delighted the crowd with smooth renditions of "Black Mambo," "Gooey," and "Other Side of Paradise," closing with "Pork Soda" while a golden pineapple decoration spun on stage. The lead singer Dave Bayley hobbled around the stage with a broken ankle, occasionally sitting on top of an oversized TV. His injury didn't slow him down during his crowd surfing, and their smooth jams ensured for a divine moment.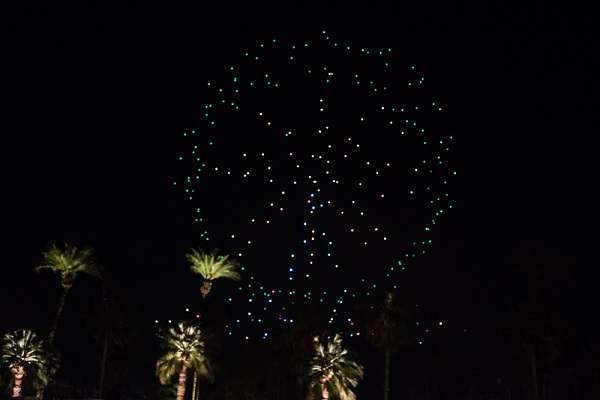 Drone Light Shows Above the Coachella Stage
To entertain fans during the gap between the final two sets on the main stage, festival organizers introduced an flying army of drones. After The xx finished their set on night one, who delivered a sublime combination of tranquil vibes and Jamie XX-infused drum beats, and following Bon Iver's trippy performance capitalized by an extended version of "45," a swarm of small white lights suddenly appeared in the dark desert sky. The first time they appeared, it took a few minutes for the crowd to realize what was happening, but once the lights started to organize in sync and change colors, people began to cheer and record the show on their phones. Powered by Intel and HP, the drone light shows were a pleasantly surprising wrinkle and served as a impressive showcase of how new technology can enhance the festival experience in hallucinatory ways.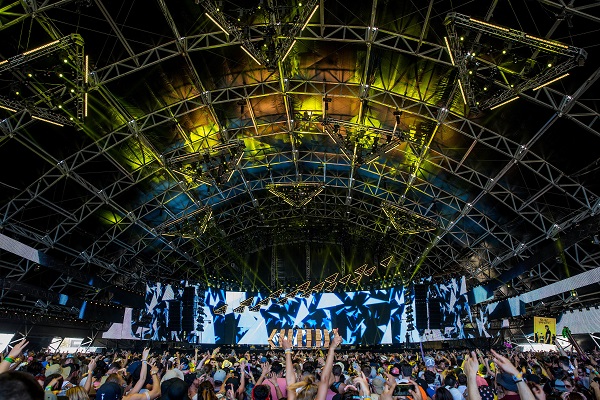 Courtesy of Coachella
The Upgraded Sahara Tent
New screens and visual projections inside the dance-friendly Sahara tent were a wonderful addition. A slim LCD screen wrapped all the way around the hanger to provide lighting from all angles. Another bonus was the fact that the Mojave and Gobi tents were located further back behind the Sahara tent, which limited the foot traffic when crossing the festival grounds. Los Angeles producer SNBRN cruised through a house set with palm tree visuals behind him. The best show from day one was Australian duo Empire of the Sun, who gracefully perused a hit-filled set like veterans with lots of awesome choreography by masked dancers.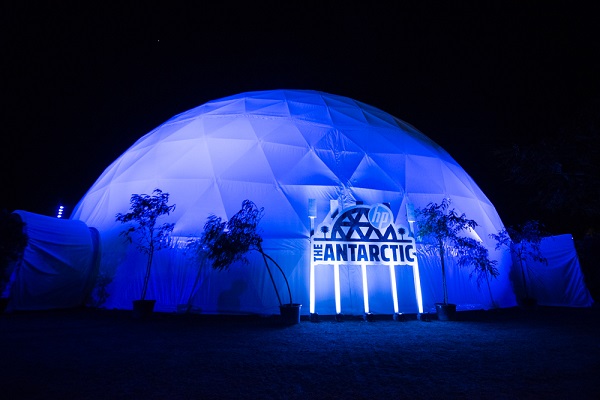 The New Antarctic Dome
The newest audio visual experience on the Coachella grounds was the large white dome with entrances both to the main camping area and near the festival entrance. Visitors could go inside this massive, dark space powered by HP to beat the heat, sit down on comfy beanbags, and look up at the half-globe projection above. The 10-minute video designed by Android Jones, the artist who did the visuals for Grateful Dead 'Fare Thee Well' tour, displayed trippy effects of the desert, kaleidoscope swirls, and psychedelic patterns. It was open throughout the day until 2am, which made it an enticing experience for the late-night trippers.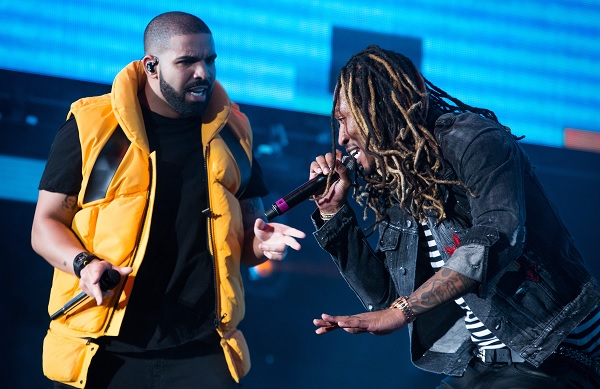 Courtesy of Coachella
Surprise Appearances by Drake, Lauryn Hill, and A$AP Rocky
Coachella is known for performers bringing out surprise guests during sets. Day one did not feature many of them, but day two was full of sightings. Lauryn Hill popped up during DJ Snake to sing a chilling version of her Fugees' single Killing Me Softly. Meanwhile, bedroom producer Mura Masa brought out A$AP Rocky for a bouncy rendition of "Love$ick." Rocky re-appeared again during ScHoolboy Q's set with Tyler, The Creator for a spontaneous rap battle. Drake tried to make up for his lackluster Coachella appearance a few years ago with a short stint during Future's Coachella debut.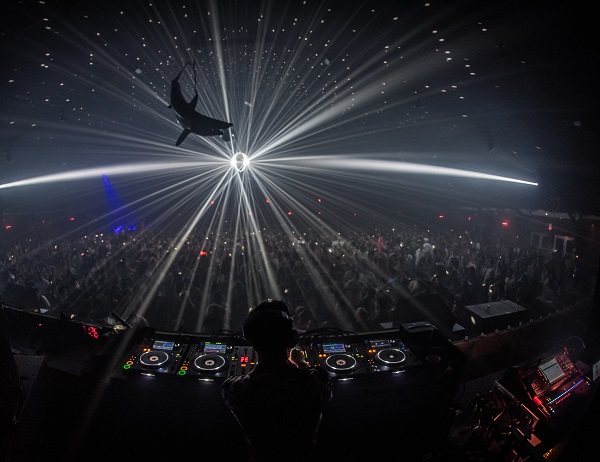 Courtesy of Coachella
The Spacious and Decorated Yuma Tent
In years' past, the Yuma tent has been seen by some as a claustrophobic, enclosed tent and dance floor that can have a line to enter. This year, the space expanded so that there was plenty of room for fans to spread around and enjoy the beats. Also welcome was comfy spots to sit on and relax, as well as an adjacent bar with phone charging stations and bathrooms so that partygoers didn't have to leave the tent to hit up amenities. Throw in a shark disco ball, more disco balls, and insane lighting for a ravers' cherry on top. Some of the acts that crushed it inside this exotic environment included house/techno duo BICEP, and minimal producer Solumun, and Italian electronic duo Tale of Us.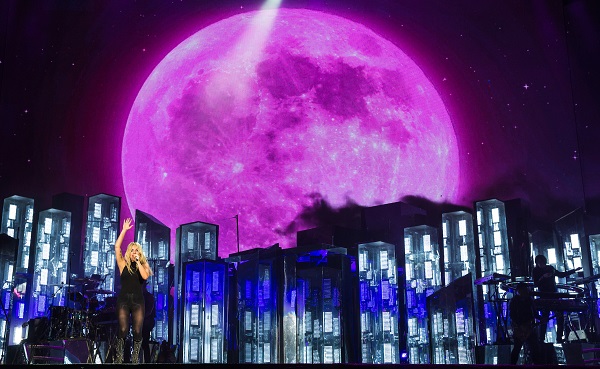 Courtesy of Coachella
Lady Gaga a Worthy Substitute for Beyonce
It's very hard to top Queen B's star power and multitude of hits, but Lady Gaga did not disappoint during her 90-minute Saturday headline set. Although some of her commentary in between tracks could be considered creepy (especially her remark about how she loves festivals because it wrangles all the predatory men), we expected nothing less from the edgy pop star. She brought the energy, rave-friendly lighting, and fireworks to her set, with plenty of exotic dancing and costume changes. Gaga debuted a new song, "The Cure," but her best moments were "Dance," a perfect track for Coachella, as well as "Born This Way," "Telephone," and "Alejandro."
https://www.youtube.com/watch?v=HgWrRYOkVWM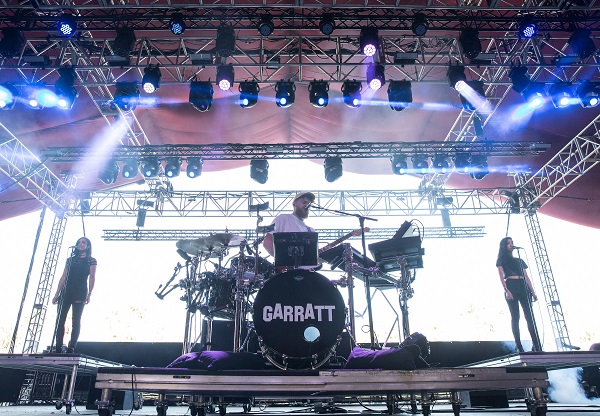 Courtesy of Coachella
Jack Garratt Delivers a Sensational Undercard Performance
Multi-instrumentalist Jack Garratt had an early set time at the Gobi tent and that did not stop him from completing a powerful show on Sunday afternoon. He pounded his drums so hard that he fell over from exhaustion at the end of a song. Garratt's support from two backup vocalists made songs like "Worry," "Water," "Fire," and "Weathered" all the more haunting. His vocal shrills reached equivalent levels of his studio versions, showcasing his intense range. Garratt hadn't performed a live show in four months and this Coachella appearance clearly gave him a great boost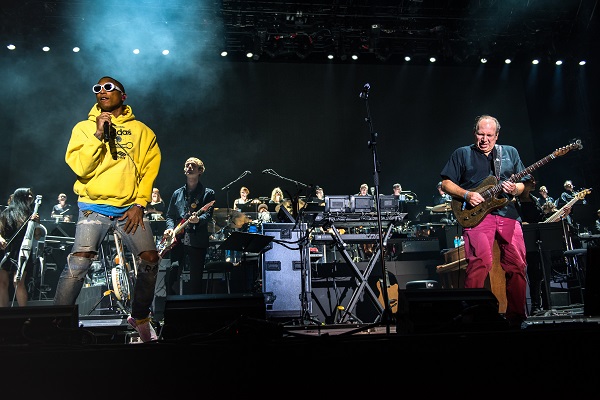 Courtesy of Coachella
Hans Zimmer Wows In Front of Thousands
The crowd for Hans Zimmer was much bigger that most might have expected, which was probably due to his ideal set time with limited competing acts. Attendees crammed in front of the Outdoor stage for an early evening performance for the ages. With a full orchestra onstage, the German composer and record producer played a series of songs from movie soundtracks, including the themes to Inception, Pirates of the Caribbean, The Rock, and the Lion King. He even brought out Pharrell for a surprise appearance to play a robust version of "Freedom."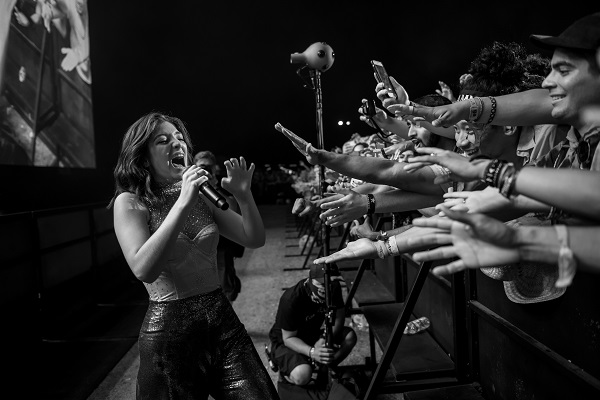 Lorde Holds Her Own on the Big Stage
The New Zealand songstress last performed her own set at Coachella four years ago on the Outdoor stage and she was a surprise guest last year for Disclosure's performance. For her 2017 main stage debut, Lorde kept the time for herself, entertaining the crowd by playing bass-heavy versions of new and old hits like "Tennis Court," "Royals," and "Liability," closing with "Green Light." She also sang a quick medley of Kanye West's "Runaway," and her pinnacle moment was her bassy and extended version of "Team" when she interacted heavily with the crowd slapping hands with folks along the railing. She teased early on in her set at a few surprises, but unfortunately, no guests ever showed.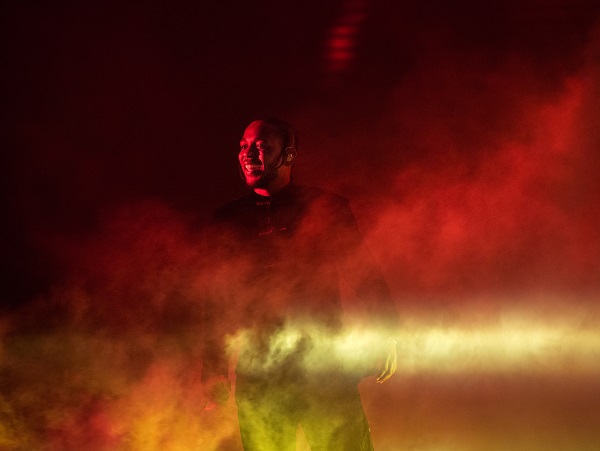 Courtesy of Coachella
Kendrick Lamar Reminds the World That He Has the Best Flows
The Compton-based rapper brought his A-game to close out the festival with lots of surprise guests. He strategically dropped his new album DAMN, which is a follow-up to his highly acclaimed How To Pimp a Butterfly and his debut good kid, m.A.A.d city. Lamar started off the set with the debut song from his LP, "DNA," and eventually performed "Goosebumps" with Travis Scott, and "Mask Off" with Future. He even brought out ScHoolboy Q for a quick number. Lamar's spitfire style of rapping was on full display, further solidifying him as one of the top current talents.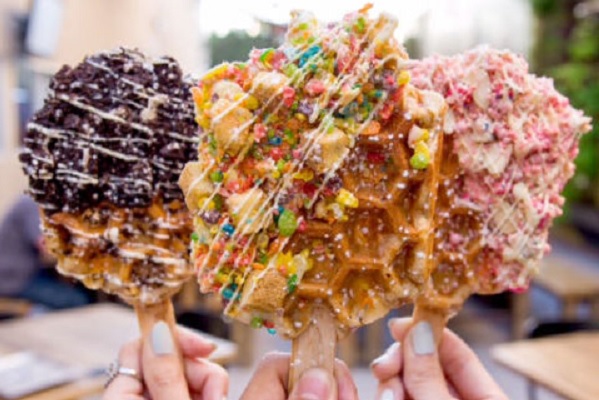 Courtesy of Coachella
Tasty Food and Drink Options Galore
One of the great features of Coachella is there is no shortage of yummy bites and tasty options. This year, the festival partnered with local LA eateries to bring some of their eclectic plates to the Polo Grounds. From sliced fresh fruit, cold brew coffee, smoothies, and popsicles to stay cool all the way to strange items like a Belgian Waffle lollipops from Sweet Comforts with sugary toppings such as chocolate, Oreos, sprinkles, Fruity Pebbles. Other noteworthy eats among the 100+ food vendors were a bomb deep fried chicken sandwich from Birdies and nitro ice cream by Wolf.