Interview: Glass Animals Bring 'Gooey' Holiday Cheer to Soundcheck Party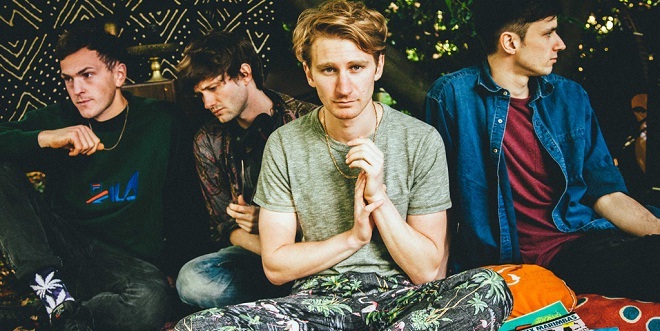 Hailing from Oxfordshire, rising quartet Glass Animals headline Live 105's sold-out Soundcheck Holiday Party at DNA Lounge on December 10.
Projecting a smooth, soulful electronic style enriched by R&B elements, Glass Animals intricately harness a mature and unique sound. When aided by psychedelic visuals during live shows, their sonically cerebral blend turns into a head-trip experience.
This past June, Glass Animals released their eclectic debut album Zaba, from which their track "Gooey," with jazzy harmonies and glossy vocals, went viral as one of the most shared tracks worldwide on Spotify for all of 2014.
We spoke with drummer Joe Seaward to ask about the band's creative process, their recovery from a robbery in Europe, and what they like most about San Francisco.
Which band member parties the most?
We all party pretty hard. I like to party as much as the next guy. When we get going, we kind of chime in together. I don't think there is a straggler. Once we get going, we're going, and we do it pretty well. We're all as good as each other I'd say.
Who are your biggest musical influences?
I don't know. We listen to a massive range of stuff between us. There aren't specific bands I can reel off. There are genres or types of music that we listen to. Dave [Bayley, vocals] and I love listening to hip-hop and we have for awhile. Dave also really likes psychedelic stuff, kind of crowd rocky things—music riff, groove-based, rhythmical things. We listen to R&B, lots of old and new. There's a massive cross section we listed to, but I don't think I could give a specific artist.
Is your sound more drawn from electronic or R&B?
I couldn't say. It's probably a bit of both. It's really difficult to describe our music. I'm so close to the music, it's hard for me to tell you what it sounds like. It's much easier for someone outside the music to hear it and describe it. We listen to lots of electronic music and Dave started off making electronic music originally. That's definitely a very important part of it all.
How were your previous experiences performing in San Francisco at Rickshaw Stop in July and Slim's in October?
It was wicked! We had a great time. The first San Francisco show at the Rickshaw Stop was the first headline show we ever played in America. It was really exiting. They were both sold out.
The first one was very much in and out. The second one, we got to hang out in the evening beforehand, which was really cool. It's an absolutely beautiful city. I love it. I really, really love it. I think it's one of my top places we've been so far. The atmosphere and general vibe of the place is really, really cool.
It reminds me slightly of when we played in Lisbon recently. Lisbon has a very similar feel to it. It's laid back, beautiful and hilly. I really like the fact that [San Francisco] is on hills. So many American cities are gridded. San Francisco feels more European in that way, which is nice.