Ever notice that area in Hayes Valley with the shipping containers and the outdoor beer garden? That's where Proxy is located. Proxy is a temporary two-block project with ever-changing food, art, culture, and retail pop-ups. This is also home to the Proxy outdoor theatre which is about to embark on their free Spring Film Series, a curated list of independent films.
The open design of the area encourages the rotation of new ideas and businesses, as well as innovative public art installations which come and go. So, while checking out the films, be sure to come a bit earlier to peruse the area. Because, who knows, it might be completely different next time you see it.
Aether, Basic Training, Biergarten, Casey's Pizza, Juice Shop, Ritual Coffee Roasters, Streets of San Francisco Bike Tours, and Smitten Ice Cream are more permanent businesses you will find at the Proxy.
Film + Food, Friday, March 31
The Disposable Film Festival celebrates the democratization of media and the power of storytelling made possible by everyday digital devices. This year the DFF joins with HERE FOR NOW to present the fifth installment of its FOOD + FILM event series: sumptuous films about food paired with delectable treats from local food trucks.
20th Century Women, Friday, April 7
Mike Mills's latest comedy creates a moving portrait of family life in a moment of upending cultural change. Set in 1979 Santa Barbara, Dorothea (Annette Bening) is a single mother in her 50s raising her teenage son Jaimie (Lucas Jade Zumann) in a sprawling home with boarders and a cast of regulars.
Whose Streets? Friday, April 14
*Official selection of the San Francisco International Film Festival
When police in Ferguson, Missouri, kill unarmed teenager Michael Brown and leave him lying in the street for hours, it marks a breaking point for the residents of St. Louis County. Grief, long-standing racial tensions and renewed anger bring together residents and supporters from around the country to hold vigil and protest, even as the national guard descends. Told by the activists and leaders who live and breathe this movement for justice, Whose Streets? is an unflinching look at the Ferguson uprising and a powerful battle cry from a generation fighting, not for their civil rights, but for the right to live.
Operation Avalanche, Friday, April 21
In 1967, during the height of the Cold War, two young CIA agents (Matt Johnson and Owen Williams) go undercover at NASA to investigate a possible Russian mole. In disguise as documentary filmmakers, they tap phones and break into offices while purporting to learn more about the Apollo project. But when they end up uncovering a shocking NSA secret—and a major government cover-up—they decide to embark on a new mission that may put their own lives at risk.
National Bird, Friday, April 28
From executive producers Wim Wenders and Errol Morris, this documentary follows the harrowing journey of three U.S. military veteran whistleblowers determined to break the silence surrounding America's secret drone war.
(RE)ACTIONS, Friday, May 5
From bodies in motion to catalyzing reactions, Exploratorium Cinema Arts selects an energizing program of shorts from their film collection to motivate creativity and scientific inquiry through active viewership. With a hosted screening of 16mm and video work, this will be a night filled with inspiring images and interactive experiences. Featuring a combination of experimental film, colorful animation, and incisive documentary, (RE)ACTIONS offers visual impact and radical motivation.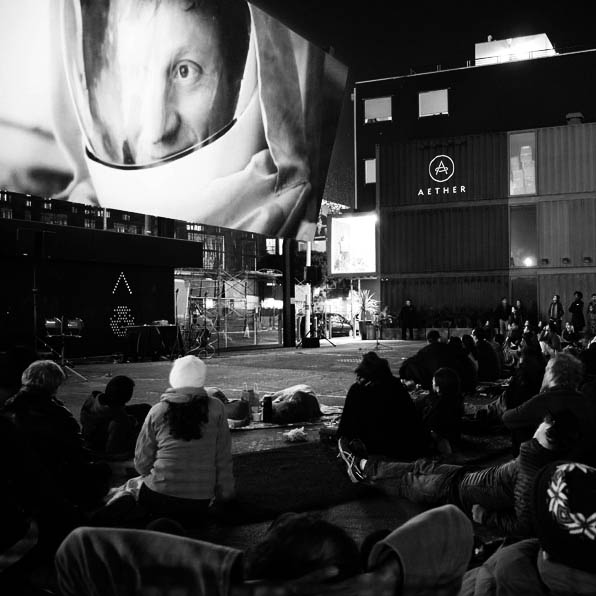 All free film screening begins at 7:45 pm. Come early to claim a good spot. Presented by HERE FOR NOW, the six-night series includes new independent film and one-of-a-kind collaborations with pioneering arts institutions.
Proxy is a free walk-in theater for San Francisco. In order to keep this community programming going, donations are encouraged.
To read more about the Proxy project, check out their website.
432 Octavia Blvd