SFJAZZ has announced the programming for the 35th annual San Francisco Jazz Festival and Summer Sessions. The SF Jazz Festival will include 43 shows; an ambitious schedule to include 13 days of acts, in five different venues around San Francisco's Hayes Valley neighborhood.
Some of the festival performances highlights include the "Jimi Hendrix of the ukulele" Jake Shimabukuro, Bay Area funk and soul group Con Brio, as well as two-time Grammy award-winning artist and Quincy Jones protégé Jacob Collier.
The festival kicks off Tuesday, June 6 from 5-10pm off with a free admission celebration at the outdoor Proxy space (on Octavia Street between Hayes Street and Fell Street) in Hayes Valley. First-day entertainment includes live music from John Brothers Piano company and North Beach Brass Band, along with a beer garden, videos, and food trucks. Visit the
Visit the SFJAZZ website for the complete calendar of festival performances.
There is also a large Summer Sessions Concert Series consisting of the John Luther Adams Festival, Great American Songbook series, Caribbean Basin Songbook series, plus individual performances by Sun Ra Arkestra, Kid Koala, and Undercover Presents The Music of Ray Charles, Nina Simone, Miles Davis' Bitches Brew, and the Music of Muscle Shoals. The complete calendar of summer session performances can be found here.
Pre-sale tickets for SFJAZZ members are available beginning Friday, March 17 at 11am. General tickets go on-sale Wednesday, March 29 at 11am. See below for some of the major dates for the festival and summer session programming.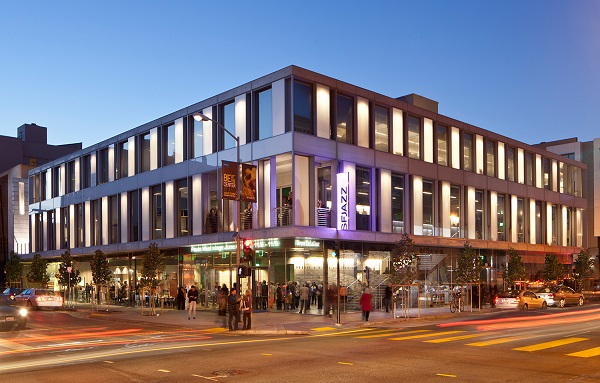 +++San Francisco Jazz Festival
June 6-June 19, 2017
– June 11: Jake Shimabukuro performs music from his latest project, Nashville Sessions, at Davies Symphony Hall
– June 12: Cory Henry and the Funk Apostles in Miner Auditorium
– June 13: Chris Potter Quartet and Melissa Aldana in Miner Auditorium
Summer Sessions Concert Series
July 13-August 20, 2017
– Great American Songbook: July 13-16
– Caribbean Basin Songbook: July 20-23
– John Luther Adams Festival: July 26-30
SFJAZZ Education – Summer In The City
– Intro to Music Production X: July 11-15, 1-5pm
– Recording, Mixing & Mastering: July 18-22, 1-5pm
– Audio for Visual Media: August 1-5, 1-5pm
JAZZ Appreciation
– Mujeres: Iconic Women in Latin Music: Wednesday, July 19, 7pm-8:30pm
– Koret Discover Jazz Series in Partnership with MoAD & Yerba Buena Gardens Festival – Sounds of Resistance: Afro-Latin Liberation Music and Movement: Wednesdays August 9 – September 13, 7pm – 9pm
SFJAZZ 5th Annual World Drum Weekend: Saturday August 5 – Sunday, August 6
Free Jazz Clinics for Teens: July 8, 15, 29, August 12