2017 How Weird Street Faire: Music, Visionary Art, Tech & Trippy Poster Art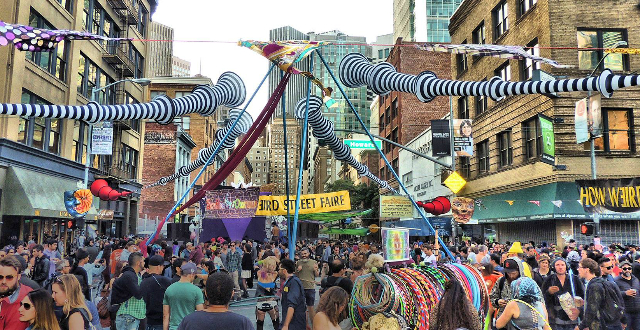 Known for groundbreaking creative events, the organizers of the 18th Annual How Weird Street Faire have been busy planning new ways to wow crowds—even jaded San Franciscans who experience "weird" on a regular basis.
The theme for 2017 is "Summer of Weird," honoring the 50th anniversary of the Summer of Love. There will be ten stages of electronic music, performances, peace activities, technology exhibits, food and drinks, vendors from around the world selling unique and creative wares, plus educating and inspiring non-profit organizations.
Donations are encouraged, and participants can purchase a Magic Button for more access to tons of freebies and discounts to vendors, including $2 off drinks at the bars. Click here to see all the additional benefits of the Magic Button.
New this year is an exhibition of cannabis related products, educational opportunities, workshops, and a dub music stage called Green Alley.
There will also be a new Circus Alley on Minna Street with aerial performances by Skyhigh Odditorium and a circus lounge by Cirque du Soleil. Expect thousands of people wearing colorful costumes while dancing in the streets. If you've attended past years then you know, just expect the unexpected.
In the meantime, plan something weird to wear for the occasion and check out this eye-popping collection of posters from How Weird's past.
Here is a list of DJs, musical acts and other groups who are scheduled to provide the musical portion of this multi-faceted event, so far. At 1st Street there is downtempo to psytrance music from the CCC, the artist collective which gave birth to the How Weird Street Faire and the World Peace Through Technology Organization. Otherwise known as the Consortium of Collective Consciousness.
CCC
Symbiosis
SomaFM
Muti Music
Enchanted Forest
Northern Nights
Pulse SF
Temple Nightclub
Underground Nomads
Mountain Lion Hi-Fi
Santa Cruz Cypher Sessions
Solid Gold Jacuzzi
Skyhigh Odditorium
The Lagunitas Beer Circus
and more!
Photos: How Weird Street Faire 2016
Photos: How Weird Street Faire 2015
Freaky, Sexy, Fun Photos From How Weird Street Faire 2014
+++How Weird, Sunday, May 7, 2017
Noon to 8pm, the event is centered at Howard and 2nd Street, SF