The curated podcast network Radiotopia just announced they're embarking on a West Coast Tour. The shows will include live radio, with conversations, stories and music from Radiotopia podcasts including 99% Invisible, Criminal, The Allusionist, The Memory Palace, Mortified and more still to be announced.
A couple of these podcasts are personal favorites. And, having listened to their stories in my home on numerous occasions, brought on my road trips, and listened to on my headphones—while maneuvering through all sorts of public transportation scenarios—it makes it all the more exciting to have them here as part of a live event. Like meeting up with an old friend, the one with all the cool stories and random facts in tow.
If you are new to Radiotopia and like podcasts, go check out their page. Radiotopia is a consortium of independent producers, all with a different focus and specialty. By grouping the podcasts, this is a way to increase revenue and grow their individual audiences, so the shows have a better chance of having a long life that we can all enjoy. And for listeners, if you like one of the shows, there's a good chance the others might also be of interest. Win, win.
Below are three SF Bay Area related stories; two from true crime series Criminal and one from 99% Invisible, an Oakland-based podcast for architecture and design nerds. Also, check out these illustrated covers done by Julienne Alexander. There's one to accompany each episode of Criminal.
Covers by Julienne Alexander
"Radiotopia is a partnership between PRX and Roman Mars, creator of 99% Invisible, supported by the Knight Foundation, and led by Executive Producer Julie Shapiro. In 2015, the network was named one of Fast Company's World's 10 Most Innovative Companies Backed by Kickstarter. Since launch, the network has quickly grown to over 17 million downloads per month."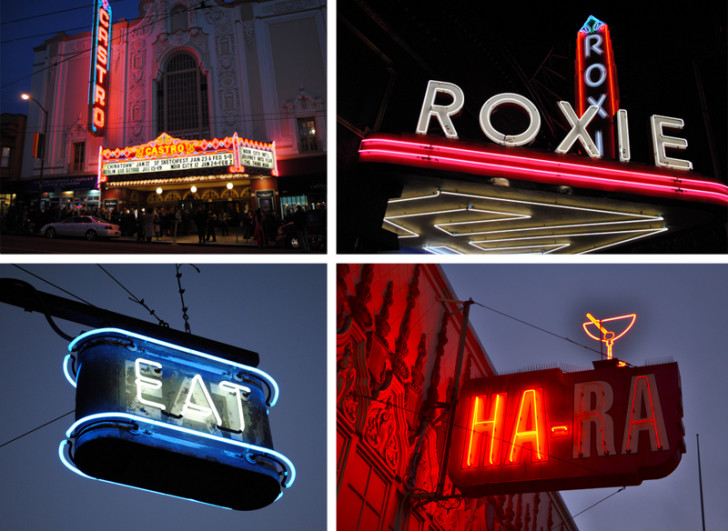 Images from 99% Invisible's "Tube Benders" episode about the diminishing art of neon sign making. Here's some examples from Oakland and San Francisco.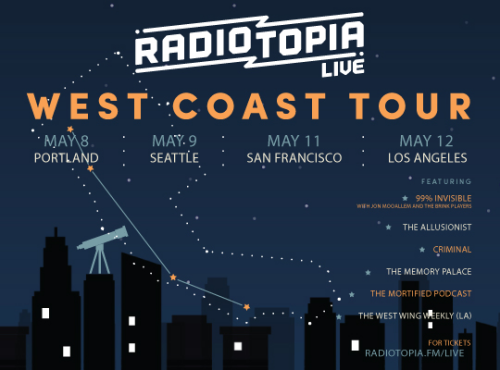 Find more info and tickets here.
Thursday, May 11, 2017 8:00pm (Doors at 7:00pm)
Nourse Theater – San Francisco