In Presidio Park, just behind the Golden Gate Bridge, lies a haven for over half a century of works inspired by the imagination of ubiquitous animator and film producer Walt Disney.
Currently, the Walt Disney Family Museum will give budding artists a chance to explore their own limitations of creativity and submit animation projects to the annual Teen Animation Festival International (TAFI).
Now in its fourth year, TAFI has provided aspiring animators (ages 13-19) with educational and collaborative opportunities, as well as the chance to win awards, studio tours and museum memberships.
This year's festival will focus on excellence through school programs and independent projects across seven different categories: School Show Reel, Individual Student Show Reel, Special Effects Reel, 2D Short Film, 3D Short Film, Experimental Short Film, and PSA (Public Service Announcement or Informational Film).
Judges from the feature film and television industry, video game studios and university programs will be ranking submissions.
All student applicants will receive four free museum admission tickets, which are redeemable Saturday, April 29th or Sunday, April 30th. Applicants and their teachers will also be invited to attend the festival those same dates. The public will be able to view student work on Sunday, April 30th during a special screening of select TAFI entries.
Opened in late 2009, the Walt Disney Family Museum houses a permanent collection of Disney's personal history and visionary achievements throughout his career—including a one-of-a-kind Academy Award with seven miniature golden men attached to it, commemorating his work on Snow White and The Seven Dwarves.
For the last eight years, the museum has encouraged young minds to visit the grounds for studio classes in drawing and animation, color and design technique workshops and experimental pop-up series.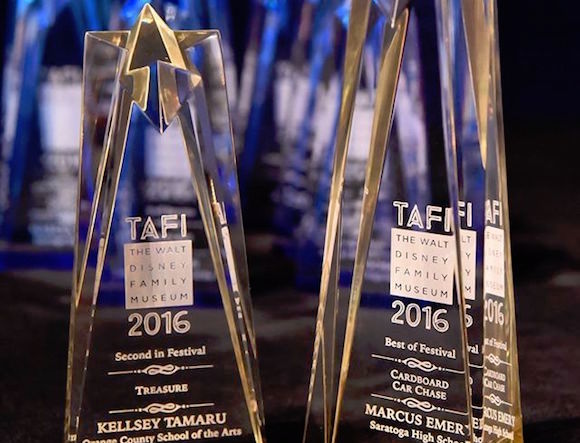 Awards given to winning animators of the 2016 TAFI
The 2016 TAFI brought industry leaders for a panel discussion, allowed participants to receive one-on-one portfolio reviews and hosted a keynote presentation by Academy Award-winning Pixar director, animator and screenwriter Mark Andrews—perhaps best known for his work on The Incredibles.
Do you know a talented teen animator? Deadline for entries is Friday, March 17th. Find more information on the 2017 and submission guidelines here.