Three Massive Anti-Trump Events Happening in SF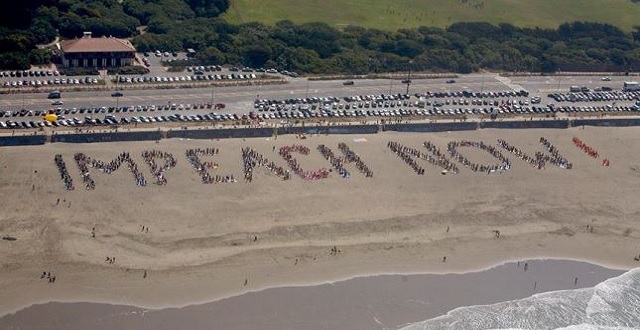 With tensions flaring nationwide, the city of San Francisco has taken additional measures to express its extreme disappointment with the current political climate. In addition to being the first city to sue President Donald Trump after filing a federal immigration lawsuit, three different protest events have been organized and set to take place this weekend and the next.
See details below for each of the three events. Also follow the SF United Against Trump's Facebook page to stay in the know about upcoming anti-Trump events happening across the United States.

NoBanNoWallSF
When: Saturday, February 4, 3-6pm
Where: Civic Center Plaza (355 McAllister St.)
7,000 people are expected to attend this mobilization in the heart of the city. People are organizing a demonstration of their disapproval of Donald Trump's racist and exclusionary executive orders. Attendees will share immigration stories and stand in solidarity with undocumented brothers and sisters.
This event is peaceful, inclusive and no violence or hate speech will be tolerated. Anyone who would like to speak or perform should contact the event administrators.
SF United Against Trump Organizing Meeting
When: Saturday, February 4, 1-3pm
Where: The Women's Building (3543 18th St., between Guerrero & Valencia)
Following the highly successful January 7 mass meeting in the Women's Building, 3,000 people are expected to attend this protest. The goal: to speak out against the general Trump agenda. As defined on their event page, organizers are committed to the following principles:
· Defend minorities and women's rights
· Stand together against hate
· No deportations, No Muslim registry
· Defend civil liberties and workers' rights
· Defend public education and health programs
Trump Must Go — Now!
When: Saturday, February 11, 10:30am-12:30pm
Where: Ocean Beach, SF
SF taxi cab driver and Oakland resident Brad Newsham organized an aerial art, human-banner at Ocean Beach. This peaceful, family-friendly rally is open to all (including well-behaved dogs) who would like to see Trump leave the White House immediately. Attendees will spell out an enormous message using their bodies to communicate and a photographer and videographer will record the message from a helicopter high above the beach. And while the exact words to be etched into the sand has not yet been announced, the message that SF residents are not in support of Trump's agenda will ring loud and clear.
So far, nearly 2,000 people are confirmed to attend with over 12,000 others confirming interest. The gathering begins at 10:30am somewhere between the Beach Chalet (1000 Great Highway) and the Cliff House (1090 Pt Lobos Ave), depending on the shape of the beach at the time. The helicopter is scheduled to arrive overhead at noon sharp and the event should be completed by 12:30pm.
It is recommended that attendees bring a blanket or tarp to lie on. As soon as the camera crew signals their satisfaction, everyone will move to the waterline and form a chain stretching down the beach, holding hands while the demonstration is filmed from above.
The results should look similar to the "Impeach Now" event that took place during the Bush-Cheney administration. Photos and video are expected to be in worldwide circulation by mid-afternoon.
Since 2007, organizer Brad Newsham has hosted a dozen similar events with several thousand participants.