The Women's March in SF & Oakland: Where to Show Up, Donate, Get Posters & Find the 'Resist!' Newspaper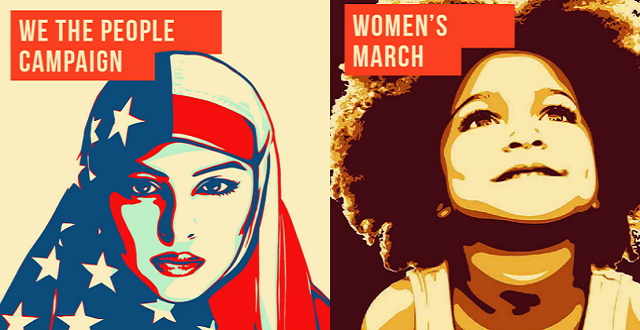 It's safe to say that almost anyone who has access to the internet knows there will be Women's Marches happening tomorrow. The mothership (no pun intended) will be in the Women's March on Washington. Sister marches all across the nation, as well as in countries around the world, will also be taking place. Around 673 marches are currently listed.
Here's the 411 on what's taking place locally, our favorite website to find beautiful and meaningful posters and a bit about the art project turned 40-page newspaper Resist! which is being distributed across the nation.
The Overview
In San Francisco, a 1.7 mile Women's March from Civic Center to Justin Herman Plaza has been organized for this Saturday, January 21, the day after Donald Trump's presidential inauguration. The non-partisan march is open to all men, women, and children who stand for human rights, civil liberties, tolerance of diversity, and compassion for shared humanity.
People will march to support and inspire each other and the nation to celebrate, honor and protect diversity, freedom, and human rights. Attendees will gather in community to find healing and strength through tolerance, civility, and compassion. All people are welcome to join as we unite locally, nationally, and internationally on Saturday to stand together in justice, respect and inclusion for all. There are over 280 marches in 35 countries uniting well over 1 million people worldwide. This is only the beginning…visit the march website for more details on these global efforts.
Those who would like to attend the SF march are asked to register, but the event is free and open to everyone. Also feel free to support the march by making a contribution. As an alternative form of payment, checks can be made out to "Women's March Bay Area and addressed to their mailing address: 2261 Market St. #164, San Francisco, CA 94114."
Any amount will help. Visit the Women's March San Francisco web page for more event details.
San Francisco March:
Time of Rally: 3-5pm
Time of March: 5-8pm
Starting Location: Civic Center at Pioneer Monument, opposite City Hall, between the Asian Art Museum and the SF Public Library.
Ending Location: Justin Herman Plaza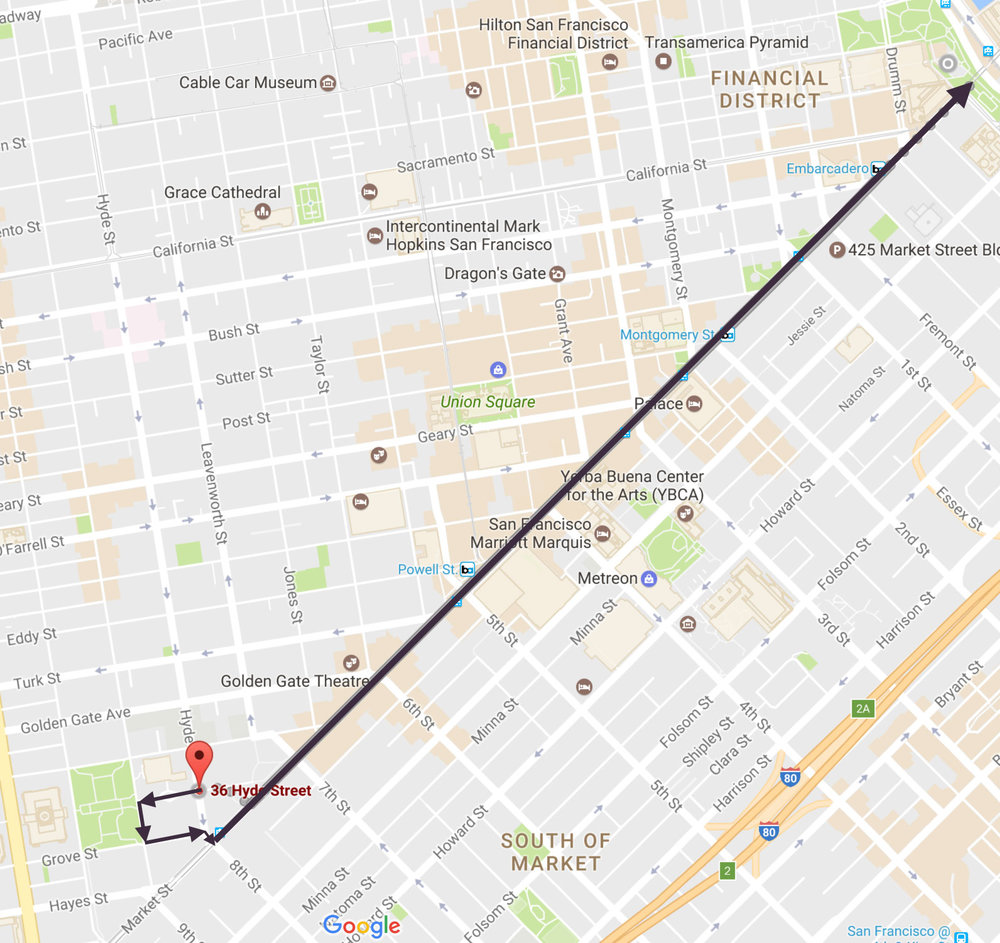 Note: Please keep in mind that backpacks, alcohol, weapons of any kind, dogs or pets (service animals only, please), and bikes are not permitted at the march and rally. Organizers are working closely with the SFPD and will have over 200 trained peace ambassadors to help with all march needs.
There are similar sister marches happening around the Bay Area in Oakland and San Jose. For more information about other California Marches, visit the CA Women's March State page for full details.
Oakland March:
Time of March: 10-3pm
Starting Location: Madison Park
Ending Location: Frank Ogawa Plaza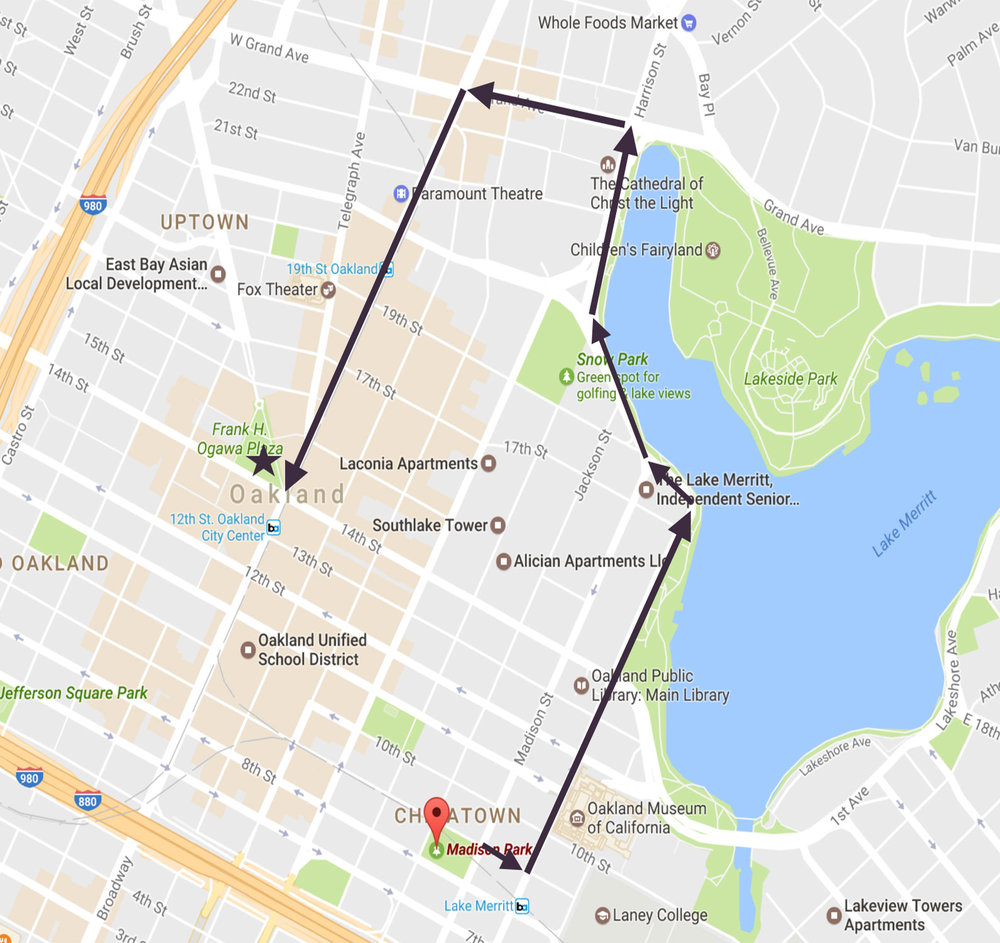 Print Posters
While many are knitting, screen printing, painting and putting all their arts & crafty powers to political use, there are many posters available to print online. Chances are there will be at least one relating to the issue/s that resonate the most with you individually. The Amplifier Foundation is a grassroots group who has put together a huge number of posters by contemporary artists, all are free to download.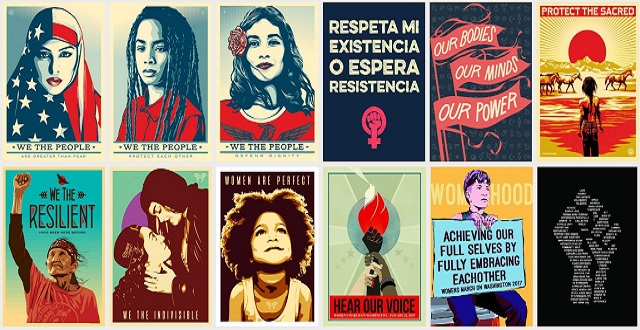 Credit: The Amplifier Foundation
RESIST! NEWSPAPER
A popular RESIST! newspaper and art project has come out in support of these events. The paper contains comics and cartoons by mostly women artists will be distributed in cities around the country on Inauguration Day and the following day in the nation's capital, during the Women's March on Washington.
Copies have been distributed all over the U.S., and the project has received thousands of individual donations. The print run recently ballooned to 60,000. The idea for the newspaper responding to Donald Trump's election was thought up by Brooklyn bookstore owner Gabe Fowler. The project was initially funded by a grant from Fowler and, after the project's launch, a separate grant from Democratic fundraiser Mitch Berger.
If you are interested in volunteering to distribute bundles of copies at the march, at this point the best option is to find a local bookstore distributing copies and see if they could use your help. Here's the list.