Coin-Op Levels Up on the Arcade Bar Trend with Tron-themed Speakeasy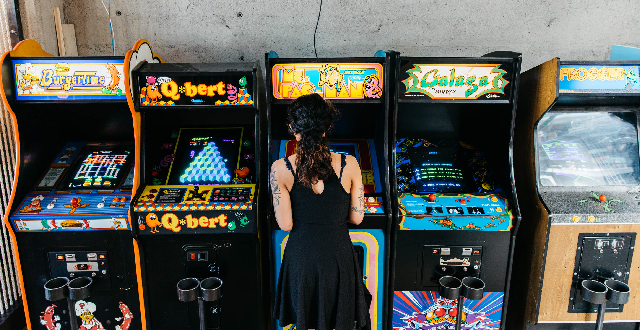 Combining vintage arcade games with good food and drinks has to be a slam dunk formula. That's the vision behind Coin-Op, the arcade game haven and bar from San Diego's Sporting Fraternity, Inc. restaurant group, is SOMA's latest meet up/nerd-babe addition. And while the soft opening has already taken place, the Tron-themed speakeasy is set to open later this month.
This new entertainment destination takes over the Drake Bar and Lounge at 508 4th St., offering 10,000-square-feet and two floors of games like Donkey Kong, Galaga, Street Fighter, and Pac-Man. Coin-Op designer Dylan Jones created a retro, sci-fi novel-themed work of art with vintage ads full of spaceships, monsters and space babes throughout. There are two main areas, including The Grid, which is the "Tron-themed speakeasy" on the second floor, then The Octagon is their lower level bar.
Vintage games are complemented by plates arranged by executive chef Mark Bolton, creator of the super bar-friendly menu. Options include quinoa tots with avocado-lime dip, and carbonara mac-n-cheese with bacon, peas, and parmesan. The drinks menu, full of playfully-named concoctions, comes from bar manager Jason Huffman from Blackwater Station in Oakland.
Coin-Op San Francisco, 508 4th Street, SF