There is a ton of festive things to do in the city, you just have to find them. And whether the holiday means dressing up to go bar-hopping, buying locally made gifts, or just want to cruise at your own speed with your family or little ones in tow, there's something for everyone. To help inspire the chill to thrill seekers, we put together a round-up of some of the top holiday activities in SF.
Gush Over (or Adopt) Animals at Macy's Holiday Windows Pet Adoption Displays
Macy's Union Square, 170 O'Farrell St
Voted "Top 10 places to press your nose during the holidays" by USA Today, cruising by the Macy's Holiday Windows to eyeball the adorable and adoptable animals from the San Francisco SPCA is a must for the holiday season. The adoptable cats and dogs will be at Macy's now through the holidays until January 1. Take home your own bundle of joy from the SF SPCA adoption pop-up on Macy's Main Floor. Each year, more than 300 animals find homes from the adoption center at Macy's and about $100,000 is raised in donations. The colorful, artfully designed windows are filled with cuteness and make a great backdrop for your holiday photos.
There are also offering Cuddle Experiences from December 6 to January 1 at Macy's Holiday Lane, 170 O'Farrell Street, 7th floor. A $20 donation gets a 10 minute cuddle session. There is also a Santa Paws event on December 8 with a $45 ticket including entry for two dogs and two people, a printed family photo with Santa, a gift bag and treats for all, including catered nibbles.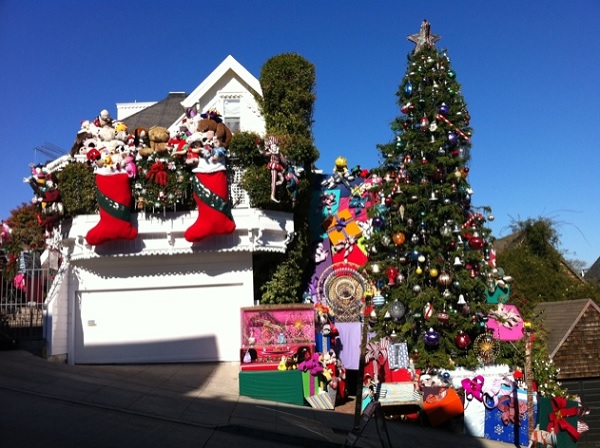 Visit Tom & Jerry's House
3650 21st St.
It's like Christmas on steroids…in a good way! High on Castro Hill stands a little gingerbread Victorian, dwarfed by a 65-foot-high Norfolk Island Pine purchased by Tom and Jerry in 1973 as a house plant. The tree has flourished and is covered in lights and surrounded by gigantic gift-wrapped boxes. The entire scene is scaled to look as if the tree were only five feet tall.
The house vanishes behind the decorations. The garage serves as a sort of fireplace, above which hang two eight-foot-high stockings brimming with gigantic teddy bears. A smiling stuffed polar bear rides an over-sized model train around the tree skirt, while a matchstick carnival spins and whirs nearby.
Tom Taylor and Jerome Goldstein are the masterminds behind the Tom & Jerry Christmas Tree. And if keeping this SF tradition alive and well is not enough, beginning December 12 through December 24 (6:30-10pm), Santa Claus will be available to all who make it up to this hilly wonderland. Candy canes and photo opps await.
The display is meant to embody the Holiday Spirit for all who choose to view it and is not of any religious or sectarian view. As you can see the ornaments and stuffed animals are of a magnitude to reflect the size and grandeur of the tree. The most memorable quote of the Christmas Tree is, "Next to Rockefeller Center in New York City, there is the Tom and Jerry Christmas Tree in San Francisco."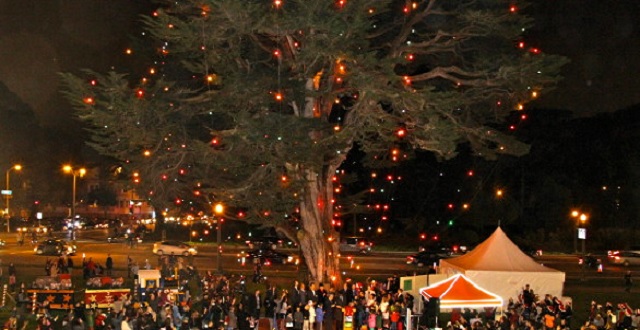 Attend the 87th Annual Holiday Tree Lighting & Winter Carnival in Golden Gate Park
McLaren Lodge, 501 Stanyan Street (and Fell) on December 1 from 4-8pm
Most tree lighting events happen right after Thanksgiving, but fortunately there's another big one this week. This free, festive event offers lots to do for the whole family. Visit with Santa Claus, enjoy live entertainment, dive into the snow play area, and get in some sled action. There will also be other rides, games, caroling, and more. Bring a new, unwrapped toy to donate to Operation Dream and SFPD's Toy Drive.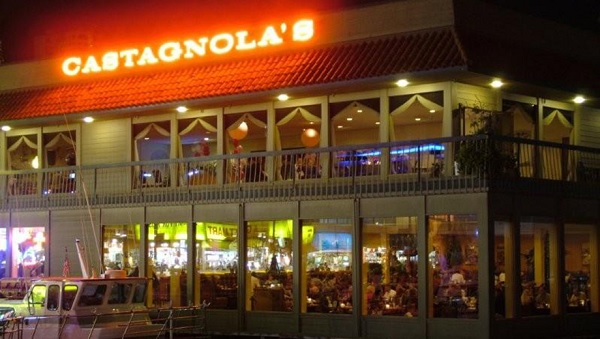 Join the Fisherman's Wharf Ugly Holiday Sweater Pub Crawl
Friday, December 2 from 7-10pm
For $25, get six drink tickets for the evening. Check-in and start the night off right Castagnola's waterside restaurant with music, a drink, light finger foods, and a fun photo opp all while enjoying the beautiful panoramic views of the Fisherman's Wharf lagoon. From there make your way through the neighborhood to five different bars:
– Gold Dust Lounge – A piece of San Francisco history (165 Jefferson St.)
– Fiddler's Green – Irish pub off the beaten path (1333 Columbus Ave.)
– Luau Lounge – The Wharf's secret Tiki bar (PIER 39 – Inside Players Sport Grill & Arcade)
– Jack's Cannery Bar – Tucked away in the historic Cannery building (441 Jefferson St.)
– Brick & Beam – A hip new take on a hotel bar (555 North Point St.)
Each bar will have at least two different drink options to choose from, which may include beer, wine, or a specialty holiday-themed cocktail. The tour is self-lead. You can check-in any time before 9pm and visit each bar in whatever order you like. All bars are within eight blocks of each other. Food is not included with your ticket, but each stop along the way has food available to purchase.
This event is in support of the Share the Warmth coat drive for San Francisco's Homeless. Please bring a new or clean and gently-used coat, jacket, or hoodie size L-4XL only to donate at check-in. Give the gift of warmth to some of San Francisco's vulnerable street population. (Not required but strongly encouraged)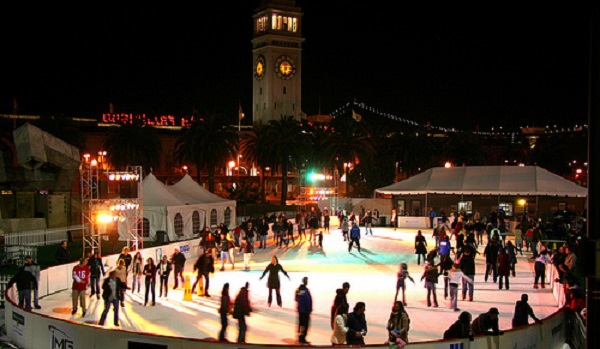 Wear an Ugly Sweater and Ice Skate at the Embarcadero
December 10 from 2-10pm
Most people know about the famous and busy ice skating rink in Union Square. There's also one setup bay-side along the Emabrcadero. This ice skating rink is open throughout the holiday season at 4 Embarcadero Center. There is also a special event on Saturday, December 10 where attendees are invited to wear their prettiest ugly sweater while they skate. It should make for an interesting sight full of holiday cheer.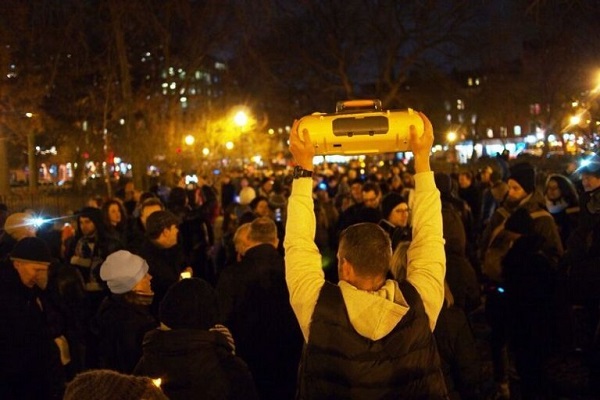 Participate in Unsilent Night 2016: Boombox Christmas Parade
December 10 from 5-6pm at Mission Dolores Park
"Carolers" play one of four tracks of music downloaded to their smart phone, or anything that amplifies music, together comprising "Unsilent Night." The public ensemble will walk a carefully chosen route through San Francisco, creating a unique mobile sound sculpture. Everyone presses "play" at the same time and revelers hit the streets surrounded in a wash of beautiful noise and holiday ambiance.
Meet on Dolores Street at the Dolores Park tennis courts by the corner of 18th St. Bring your own boombox, laptop, phone or ipod with speakers. It's recommend that you arrive a few minutes early. To get the music, organizers will hand out a limited number of CDs and cassettes for those who bring a boombox. There are also mobile apps and downloadable mp3 tracks.
Get Rowdy at SantaCon 2016: City-Wide Santa Pub Crawl
December 10, starting at 12pm
This is probably the largest holiday event in the city. Attendees dress up in full blown Santa costumes and cruise from bar to bar as a flash mob. This event brings together hundreds of slightly sober people dressed in Santa costumes parading around the city, visiting landmarks drinking at bars, and causing general mayhem. And just so you know, wearing a Santa hat isn't enough. Bring a new, unwrapped toy for SFFD Toy Drive. Ekology will be putting together a huge SantaCon bar lineup & Banter will be sharing real-time photos & videos from across San Francisco.
Please note, not all bars welcome Santas so be respectful and keep an eye out for the "No Santas" sign at the door. Santas, remember the 5 F's: don't F with police, don't F with kids, don't F with security, don't F with bartenders, don't F with Santa. Cheers!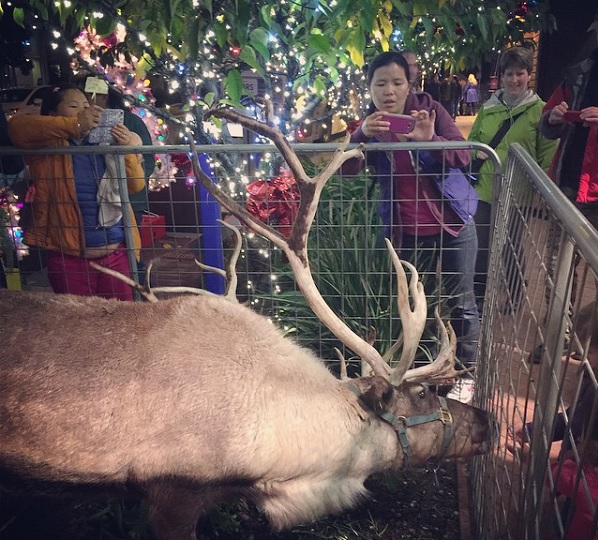 Pet a Live Reindeer at the 7th Annual 24 Holidays on 24th Street
December 15 at West Parklet/Just for Fun (3982 24th Street in Noe Valley) from 3:30-7:30pm
Say hello to some fluffy reindeer who will be on 24th Street. Each day, beginning December 1-24 in Noe Valley, merchant events & specials will be available along with live entertainment creating a Grinch-free festive atmosphere for shoppers visiting 24th Street. Don't miss out on the fun. Reindeer will only be viewable on December 15, with Santa Claus also in attendance from 4:30-7:30pm. Holiday events and performances on 24th Street include hayrides, carolers, dancers, a holiday wine walk and live local music.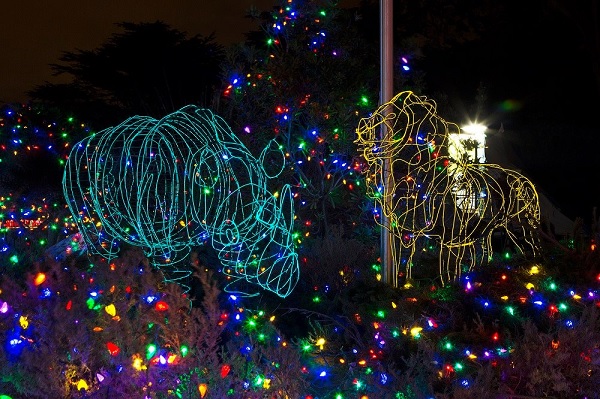 Hit Up the Zoo Lights by SF Bazaar
December 16-30, 5-8pm
SF Bazaar is curating their third Holiday Pop-Up Marketplace at the San Francisco Zoo. The annual Zoo Lights Celebration also hosts a marketplace where local artisans can sell their works to visitors. Experience the lights, sights and sounds of the holiday season during Zoo Lights at San Francisco Zoo & Gardens. Zoo Lights is a magical destination with twinkling lights, Santa Claus, reindeer and a holiday marketplace filled with food and seasonal delights. Festive music from roaming carolers will fill the air and bright lights shine the way as you retreat to a holiday hideaway at Zoo Lights. Zoo Lights will be closed December 24-25.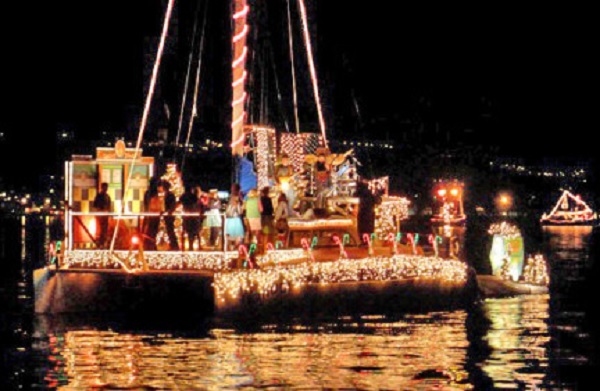 Check Out the Lighted Boat Parade
Friday, December 16, 6-8pm
The Fisherman's Wharf Community Benefit District and the St. Francis Yacht Club will join once again to present the oldest and largest lighted holiday boat parade on San Francisco Bay. Watch the free show of boats decorated with lights and holiday charm that parade along the waterfront. Spectators can enjoy wonderful views from Aquatic Park, Pier 39, the Marina Green, and Crissy Field.
A holiday tradition since 1994, the parade includes members of the St. Francis Yacht Club, Fisherman's Wharf Fishing Fleet, Golden Gate Yacht Club, PIER 39 Marina, and the Sea Scouts. The parade route will begin just off of PIER 39, proceeding west past Fisherman's Wharf, Fort Mason and the St. Francis Yacht Club, and will turn around off of Crissy Field to return along the waterfront. In addition to offering a fantastic vantage point, restaurants along the Wharf will be featuring traditional holiday menus.
The Fisherman's Wharf Fishing Fleet will remain lit throughout the holiday season. The best viewing of this spectacular display can be found at the Sport Fishing Harbor along Jefferson Street between Jones and Taylor. This event happens rain or shine but realistically if it's poor weather and/or choppy conditions you will see less boats in the parade.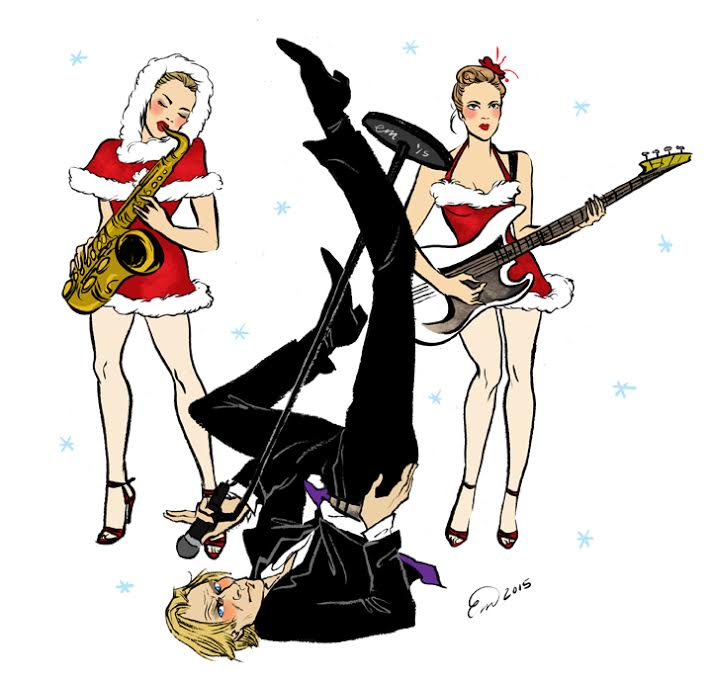 Artwork by Emma Munger
Quick Draw SF's Holiday "Merry Merch-Mas Party"
Thursday, December 8th from 6-10pm
Did you know that, if you buy locally made gifts, Santa will gift you some bonus karma points!? Okay, that might actually be a myth but what's definitely true is that when you buy art it's like giving a gift back to the artist, as well a chance to purchase something special. Find over 20 artists selling zines, prints and other gift-worthy items at F8, 1192 Folsom on Thursday, December 8th. Quick Draw is a monthly drink n' draw  open to the public. This is their annual holiday event. Come out for drinks and win prizes from their sponsored raffle!