Celebrate the Latino community and its living heritage the right way by visiting one of the many Día de los Muertos events happening this month. SOMArts, the Marigold Project, and the San Francisco Symphony (SFS) are each hosting their own Day of the Dead holiday festivities that are worth exploring.
In San Francisco, Day of the Dead has been celebrated since the early '70s, highlighted by walking processions, community graveyards, along with art, music, and other live performances. Día de los Muertos is a traditional Meso-American holiday dedicated to ancestors, honoring both death, grieving, and the cycle of life.
RELATED: Photos from Dia de Los Muertos 2015 in the Mission
Here are three not-to-be-missed ways the city is honoring this special day.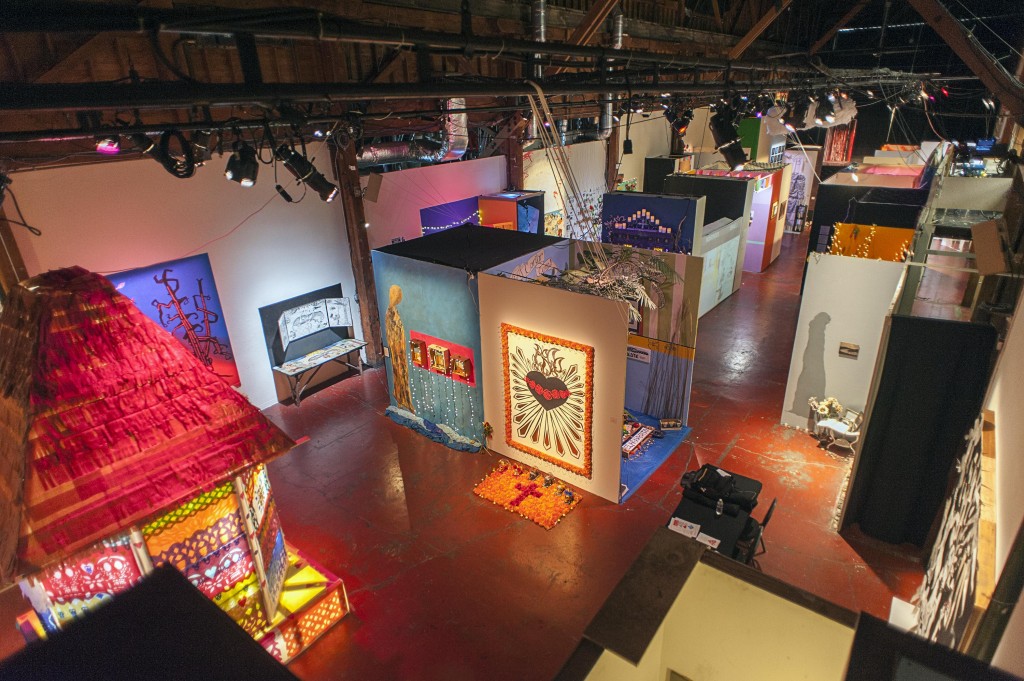 SOMArts' 17th annual Día de los Muertos Exhibition
SOMArts, a city-owned cultural center, complete with exhibition, theatre, rehearsal and design spaces, hosts an annual Day of the Dead exhibition happening now through Saturday, November 5. This powerful and emotion-filled collection of art installations, features work by more than 70 artists. In past years, artists have created installations about contemporary issues including health care, the presidential election and neighborhood violence.
The space is curated by René Yañez and Rio Yañez (with assistance from architect Nick Gomez), who each have encouraged artists to extend beyond the traditional altar. The father and son team challenge artists to use their creative visions to look at personal loss, as well as local and global issues.
A Promise Not to Forget is dedicated to artist and activist Sylvia Parra and to curator René Yañez's departed partner Cynthia Wallis. Known as Mamacoatl, Parra introduced the United Nations Day for the Elimination of Violence Against Women to San Francisco.
An artist in her own right, Wallis was a photographer and theater director for the Asian American Theater Company in San Francisco. This theme is also a call to respond to recent incidents of violence — from Orlando to Baton Rouge and Minneapolis. To honor people who have unnecessarily lost their lives and to look toward the future we want to make for ourselves.
Bring flowers, candles and mementos of loved ones to place on altars. Honor those who have passed on by creating an altar or taking part in a walking procession at San Francisco's annual Dia de los Muertos event with a Festival of Altars at Garfield Park on 26th and Harrison on Wednesday, November 2 from 4-11pm, and the Procession begins 7pm starting at 22nd and Bryant streets.
Hosted by the Marigold Project, a volunteer-run collective composed of a younger generation of altar makers, this alcohol-free event provides a public space for communities to mourn and share common feelings about death and dying, and the cycle of life.
This year's Ritual Procession honors MALINALLI (grass) governed by PATECATL (the tonali Aztec calendar symbol) connoting life's energy. This day signifies tenacity, rejuvenation; that which cannot be uprooted forever. MALLINALI days are for persevering against all odds and for creating alliances that will survive the test of time. It is a good day for those who are suppressed, a bad day for their suppressors.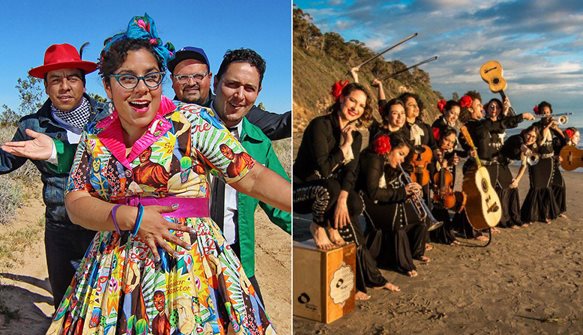 San Francisco Symphony's 9th Annual Día de los Muertos Community Concerts
Although the Orchestra of the San Francisco Symphony will not perform at these concerts, there will be numerous on-stage performers by great artists such as Los Angeles-based group La Santa Cecilia, the all-female Mariachi Flor de Toloache from New York, the women of the San Francisco Symphony Chorus in a selection of Mexican folk songs, and Bay Area theater group Casa Círculo Cultural.
Other all ages activities include art installations, dancing, arts and crafts. Complimentary food and beverages take place 75 minutes prior to both performances. The lobby festivities begin at 12:45pm and 6:45pm on Saturday, November 5, with the concerts starting at 2pm and 8pm respectively at the Davies Symphony Hall at 201 Van Ness Avenue.
Bring the entire family to a celebration of Día de los Muertos (Day of the Dead). Entertainment and activities begin 75 minutes prior to each show, when the dramatic, light-filled Davies Symphony Hall lobbies will be decorated with Día de los Muertos altars designed and created by local artists. Guests can make traditional and contemporary Día de los Muertos-related crafts, while dancers and musicians will entertain the crowd. Guests are also invited to bring objects, photos, and offerings to contribute to the two community altars.
Tickets range from $20-$90 and are half price for ages 17 and under with the purchase of an adult ticket. Brunch and concert packages that include a private tour of the altar installations on Tuesday, October 25 are available by calling the San Francisco Symphony Volunteer Council at 415-503-5500.
The San Francisco Symphony's yearly Día de los Muertos event offers a multidimensional immersion in the vibrant cultural traditions of the holiday, marked annually in Mexico and throughout Latin America to remember and celebrate the lives of those who have died. This year's performances are headlined by the La Santa Cecilia, accompanied by a 10-piece string section performing new arrangements of their music, incorporates dance-friendly rhythms ranging from cumbia, bossa nova, tango, bolero, jazz, rock, and klezmer music.
The barrier-breaking, all-female mariachi group Mariachi Flor de Toloache will perform during the first half of the concerts, giving audiences a taste of its unique mélange of modern and traditional mariachi. The women of the Grammy Award-winning San Francisco Symphony Chorus open the concert with a selection of Mexican folk songs, accompanied by dancers from Casa Círculo Cultural.
75 minutes before each concert, the Día de los Muertos celebrations start in the colorfully decorated Davies Symphony Hall lobbies. Families and children can roam through original art installations and altars built by local artists to honor the dead. Children and families will also be able to decorate and take home candy sugar skulls, make papel picado, banners, and other arts and crafts. Musicians and dancers will provide additional entertainment in the lobbies, and complimentary pan de muerto and Mexican hot chocolate will be served.
Furthermore, a fundraising event produced by the Symphony's San Francisco League to support the Orchestra's education and community programs during an 11am brunch prior to the afternoon performance will be offered in the Wattis Room at Davies Symphony Hall. Brunch packages include a seated brunch with mimosas, sangria, and other Día de los Muertos surprises, followed by premium seating at the 2pm matinee concert. Brunch packages also include an invitation to a private tour of the Día de los Muertos altars with the altar artists on Tuesday, October 25, followed by a reception. Call the Volunteer Council for details at (415) 503-5500 and purchase tickets on the Symphony's website.