The Charismatic Castro Neighborhood's 43rd Annual Street Fair (Sunday)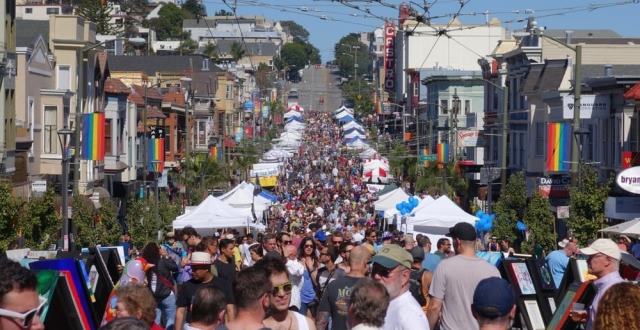 Street fairs and festivals happen almost every weekend from April to October, culminating with the always bonkers Castro Street Fair. The local neighborhood known as "The Happiest Place in San Francisco" is set to celebrate on Sunday, October 2 from 11am til 6pm–and if it's anything like past years, it's going to shine bright.
Don't miss this annual tradition and community street celebration founded by Harvey Milk in 1974. Celebrate with friends in the SF sunshine at four fabulous entertainment areas: the Dance Alley, the Sundance Saloon, the Main Stage, and the newest, lovely Castro Street Stage. Check out hundreds of local and artisan vendors, snag tasty food and beverages, and the visit the friendly Castro businesses. See below for the complete list of entertainment.
Those that make a small $5-$10 donation at the gate receive $1 discounts on adult beverages and funds go toward keeping the fair up and running, as well as toward supporting many local nonprofits. Additionally, the fair funds help to maintain the iconic rainbow flag that flies over the intersection of Castro and Market.
The fair's Information and Merchandise booth is located near the intersection of Market and Castro Streets, where attendees can pick up an official program and buy a limited-edition t-shirt of this year's and past fairs. For more information, visit the fair website.
"The American Dream starts with the neighborhoods…" —Harvey Milk
Castro Street Stage
– Cheer SF
– The Monster Show
– Vollmer
– Markus
– Beautiful Machines
Dance Alley
– DJ Rose Gold
– Jim Hopkins
– JUAN
– Adam Kraft
Sundance Saloon: spectacular fun of Country/Western and Line Dancing in the Castro Theatre parking lot
Main Stage (on Market at Castro)
– San Francisco Lesbian Gay Freedom Band
– FUN HOME by Curran Theater
– Bitch, Please
– Above and Beyond the Valley of the Ultra Showgirls
– Simone Gemini
– Special Guests, The Purple Ones (tribute to Prince)