5 Not to Be Missed Vendors at Oakland's Eat Real Fest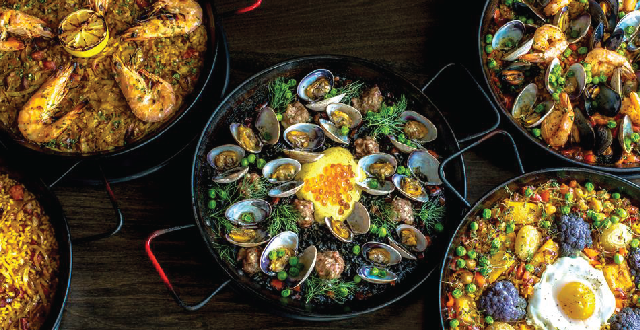 Oakland's Eat Real festival is the East Bay's alternative to the mighty Eat Drink SF, and it's back this year with more vendors than ever. Plus more bells and whistles, including a musical lineup which includes the Oakland Symphony and Amalgamation, cook-offs and workshops, it's shaping up to be a significant foodie event that's not to be missed.
With so many places to check out, here are five must-try vendors to be on the look out for…
La Marcha

Since opening its doors earlier this year, Berkeley's La Marcha is perpetually bustling. Get your portion of Spanish goodness at its vendor, and if the paella is on the menu, don't hesitate for a second.
La Chinoiserie

A festival newcomer, this Chinese-French Berkeley-based patisserie is a miracle worker when it comes to exotic croissants, delicate macaroons (with green tea and roasted brown rice, no less) and addictive cream puffs. La Chinoiserie doesn't yet have a physical location and works as a pop-up, so Eat Real is a great opportunity to get a taste.
Clove and Hoof

Another first-timer at Eat Real, this is the street food version of one of Oakland's meatiest restaurants. Clove and Hoof doubles as a butchery, so expect intriguing cuts, fresh hamburgers and lots of flavor from this casual and delicious establishment.
My Mom's Mole

Hailing from Watsonville, My Mom's Mole is haven of comfort and home-style cooking. Founded by Cezario Ruiz, who grew up in the small village of Andocutin, the brand was made possible thanks to a successful Barnraiser campaign. The secret mole recipe will be in attendance, and so will a kale salad incorporating nopales, not to be missed.
The Cocktail Project

There are plenty of local beers and spirits to be had at the festival, but the website's stand promises to be especially interesting, with demos and plenty of opportunities to get creatively, cleveryly imbibed.
Eat Real takes place at 65 Webster St. in Oakland: Friday 1 p.m. to 9 p.m, Saturday 10:30 a.m. to 9 p.m. and Sunday 10:30 a.m. to 5 p.m.