Months after last year's Symbiosis Gathering, stories still burst from those who splashed about the peninsula at Woodward Reservoir, CA. Now almost a full year after their 10th Anniversary, those stories are resurfacing as excitement grows for the next Symbiosis taking place this month. Past patrons are now enjoying blissful flashbacks of a floating treehouse, which pulsed Woogie beats over smiling, sun-soaked souls. Meanwhile, the prospective first-timers endure the final stretch to September 22nd, eager to experience what Thump, Vice's electronic music and culture outlet, called "Burning Man on Spring Break."
To throw the newbies a bone, we spoke with Kevin KoChen, a day-one participant of the Gathering and an active producing partner since year two. With the wisdom KoChen dropped on us, we put together these ten important things to absorb before joining this year's Symbiosis Gathering.
A Global Gathering All About Community
The word "symbiosis" is essentially defined as two or more organisms—or people—living in close physical association, typically to the advantage of each. This is the most important thing to remember as we become a part of the Gathering. Symbiosis exists to facilitate a thriving, albeit brief, community of open-minded, loving members to share knowledge and make memories. "Our big goal," said Kevin KoChen, "is not only to bring groups of people from California together, but really [to create] an international community." The Symbiosis producers achieve this by threading into the culture overseas.
KoChen tallied 37 countries represented at last year's Symbiosis Gathering, a level of diversity that gives the producing partners great pride. This year, KoChen says the partners "successfully petitioned for over 30 visas for performers who have never played in the US before." Those artists are predominantly affiliated with psychedelic trance, which, according to KoChen, is "much more popular in the rest of the world than it is in the United States."
Kidzbiosis & The Family Tree
Since 2013, Symbiosis Gathering has been praised by families who've brought their kids out to discover the child-friendly Kidzbiosis zone. This year, the partners have hooked up the fams with the option of a fully family-exclusive camping environment. "It's a safe zone for people with common interests," KoChen explains. "Those common interests will probably be trying to keep the campgrounds pretty mellow." An official Facebook group has been set up so all Symbiosis Gathering Kids & Families can better connect on the peninsula.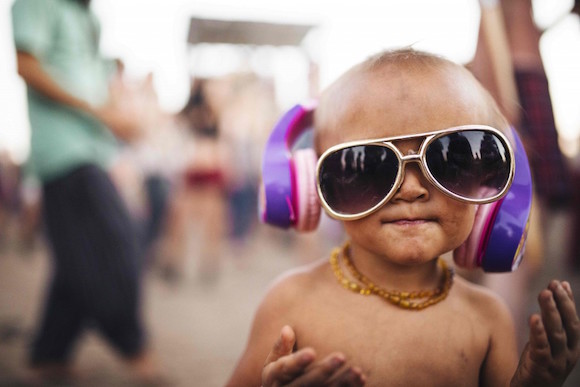 Photo: Gary Parker
Some with a narrow view on gatherings of this kind may be skeptical of the decision to invite families into Symbiosis. To them, Kevin KoChen would say, "having families [present] gives an added layer of [accountability], for people to check themselves. It gives people perspective. You never really want to be out all jacked-up in front of kids. We've grown pretty incrementally and organically over the years. We haven't had a big explosion of people acting poorly. We have a pretty outstanding crowd."
The Art (Boats!)
Symbiosis is known for harboring the awe-inspiring, art structures still shaking la playa dust off from the Burn. What the Gathering has, which Burning Man does not, is a surrounding reservoir large enough to accommodate floating art installations—Art Boats!
In addition to new Art Boats, we hope to see the DRIFT squad return to the reservoir with another floating treehouse-DJ-booth-waterslide (also spotted at San Francisco's How Weird! Street Faire this past May).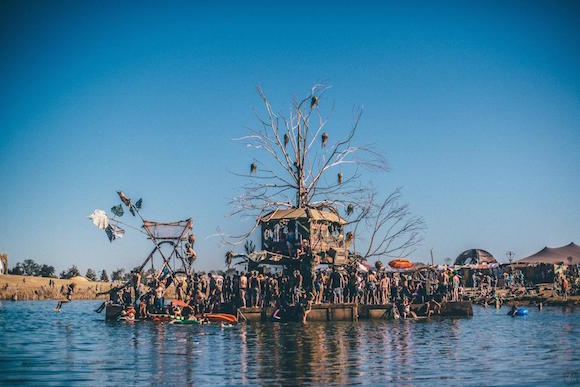 DRIFT at Symbiosis, Photo: Juliana Bernstein
Bring A Bike (if you can)
In advance of the previous Gathering, KoChen hosted a Reddit thread in which he offered fest-ers clutch advice to bring a bicycle. "Maybe that's not clear enough," said KoChen, "we are allowing bikes…" Last year's layout pushed camping further into the peninsula, extending the walk to the stages. The updated website reads, "camping may be a mile from the entrance to the festival area." To conserve energy levels, a set of authorized wheels is highly encouraged.
SymBUS!
For those near the Bay Area having trouble coordinating their car share plans, Symbiosis offers one way and round trip bus service from and back to MacArthur St. BART! One way tickets are only $50 and roundtrip passes are $90. Click Click here for more info and tickets for the SymBus!
You Won't Be Watching TV
Symbiosis Gathering is highly curated to help maximize consciousness throughout the event. There are no corporate sponsors waving advertisements in front of your nose. There is no alcohol sold at the event. And there are no on-stage screens or projections to distract audiences from the connections that can be made with those around them and on stage.
"We don't do screens," KoChen asserted. "We don't want anybody watching TV. If they want to do that, they can wait till they get home. That's been our attitude…because it's an unconscious, habitual routine and that's what we're trying to avoid in this brief time we have together."
4 Immersive Programs: Permaculture, Art, Yoga, and Ritual & Performance
"Learning in a cohort group is a powerful community experience," said KoChen.The year he joined as a partner, Symbiosis launched a revolutionary educational element to the event. It began with the study and practice of permaculture. Now, Elemental Alchemy has evolved to offer four different concentrations in which to expand your mind and practice. This five day immersive spans the week before the actual Gathering begins, and provides a focus in Permaculture, Art, Yoga, or Ritual & Performance. Kevin KoChen also added that Elemental Alchemy is beginner-friendly. "Everything is very accessible. We work with good people. No one is snooty or looking down on anyone."
Passes for Elemental Alchemy, which grant access to the main Gathering, are available here for an extra $400. "With that pass," KoChen said, "you can be at the Gathering for nine days—from Saturday to Monday. And you get fed during the immersive as well."
The Grub
"Everything is organic, locally sourced, home-cooked style food at the festival," said KoChen, providing yet more evidence that the partners are throwing an incredibly conscious, and as-sustainable-as-can-be Gathering. "Comically enough," he shared, "we don't even think about it anymore. It's so ingrained in our community now. It's a lifestyle choice that has to do with care for the environment and care for ourselves."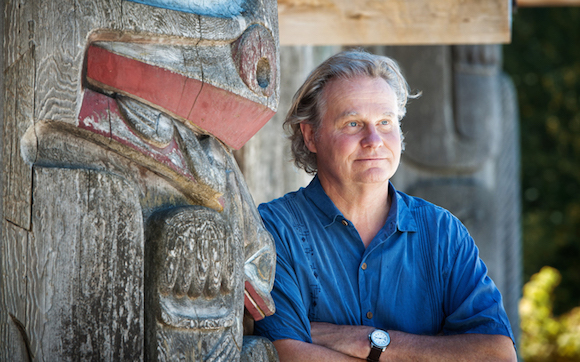 Knowledge Bombs, Compliments of Wade Davis and many more
Wade Davis is the Explorer-in-Residence at the National Geographic Society and a champion for indigenous cultures. Dr. Wade Davis will be sharing why ancient wisdom matters in a modern world. Winona La Duke, another indigenous activist working for social justice, and Vandana Shiva, an environmental and food justice activist, will also be giving talks.
"These are high-caliber, successful activists," said KoChen. "To bring folks like that into an atmosphere of celebration, gives a little more purpose to the moment, expands our minds, and reminds us to help one another a little bit more. Then of course, JP Sears and Kumare are the most enlightened fake gurus in America." (See full lineup of luminaries here.)
More Than Music
Just for a moment, ignore how absolutely smitten we are with this year's music lineup at Symbiosis—FKA Twigs, Santigold, and Warpaint are on the same bill as Beats Antique, Hundred Waters, and the stars of both Desert Hearts and Dirtybird. Okay, now step back. The broad view of everything offered at the Gathering reveals the blueprint for an intricately woven, multi-dimensional environment with far too many features to count in total here. In short, there's SO much more than music. Do yourself a favor. Forget the music lineup, and go with the flow. Everyone misses out on something. Staying present is the best way to ensure you don't miss everything.
+++ This will be the final Symbiosis Gathering to take place at Woodward Reservoir in Oakdale, CA. The Gathering officially spans September 22nd to 25th, with the option of an immersive learning experience, called Elemental Alchemy, taking place over the five days leading into the event. Head to the Symbiosis Gathering 2016 Website to secure your Elemental Alchemy and/or Experiences Passes while you still can.