How To Navigate the Magical Food Maze That is 'Eat Drink SF'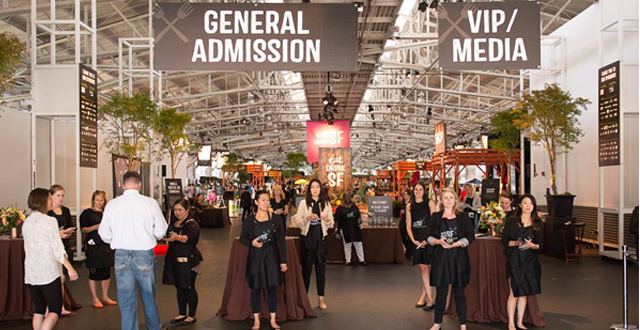 Slowly and steadily, Eat Drink SF became San Francisco's hottest culinary ticket consisting of four packed and busy 'Grand Tastings' on Friday, Saturday and Sunday. The yearly festival opened yesterday with long lines, lots of happy faces and an atmosphere of foodie cornucopia. Inside the Fort Mason pavilion, the crowds were welcomed with an electrifying, and at times overwhelming mix of small bites, strong drinks and commercial endorsements.
I ate my way through the Friday night Grand Tasting and came back with tips on how to do this delicious maze with style and ease.
Build a booze plan

Eat Drink SF offers a hefty selection of beers and spirits. Junipero Gin is making a debut. Whiskey labels from all over the U.S., such as Glenlivet and Tullamore Dew, have beautiful, old-school stations. Hangar Vodka offers a delicious lime and coconut cocktail. Bus Tavern is pouring excellent beer. Singani 63, a Bolivian spirit imported by film director Steven Soderbergh (believe it!) is a must-try.
The side effect? Manicured ladies and young couples who, after inhaling three cocktails way too fast, start forgetting norms on personal space. Don't be those people—have a plan and pace yourself. You'll leave the pavilion dignified and steady.
Go ahead, take the dumpling photo
The Taiwan Tourism Bureau is a big sponsor this year, resulting in a cute pavilion with bubble tea, welcoming agents and a huge 'bamboo steamer' filled with huge plastic dumplings for photo opportunities. As of now, judging by the festival's Instagram hashtag, it's a steamy hit. Don't snub the fun. Get in there and pose with the dumplings, showing everyone how it's done.
Locate the hottest bites

With all the choices the pavilion has to offer, long lines somehow form around the most promising restaurant booths, or, to be accurate – around the most seductive bites. These lines are usually right. On Friday, it was the deep-fried, naan-wrapped Burrata ball from Spruce that had guests oozing with excitement (and hot cheese. It was divine. When you see a crowd waiting, assume the best, and join. Tasty bliss awaits.
Pause for a workshop

Eating and drinking abundantly is tiring. Eat Drink SF has a worthy solution—workshops and lectures. On Saturday, for example, Sunset Magazine is determined to teach you how to succeed at 'Gourmet Camping', and on Sunday, during the very interesting Legacy Tasting dedicated to the city's oldest and most iconic restaurants, folks from Smuggler's Cove will take you through the history of Tiki drinks. Do attend those to have a break, and enjoy the festival to the fullest (with a plate of bites on your lap, of course).
And finally: please, no heels/buttons/evening gowns

To my amazement (and amusement) many San Franciscans, who normally opt for sneakers and jeans, dressed up to the nines. Women in tight cocktail attire and high heels, along with men in suits were a common sight yesterday. While this was a pleasant surprise, do yourself a favor, and dress comfortably and modestly (there's a coat check to help you move freely). Chutney will fly, Campari will spill, custard will drip. This is life, and the beauty of Eat Drink SF's happy, diverse experience. Just embrace it.
+++ Eat Drink SF, Fort Mason Festival Pavilion
Tickets: Saturday (SOLD OUT), Sunday 12:45pm-3:30pm