Q&A: Claude VonStroke talks Dirtybird Campout & this Weekend's BBQ on Treasure Island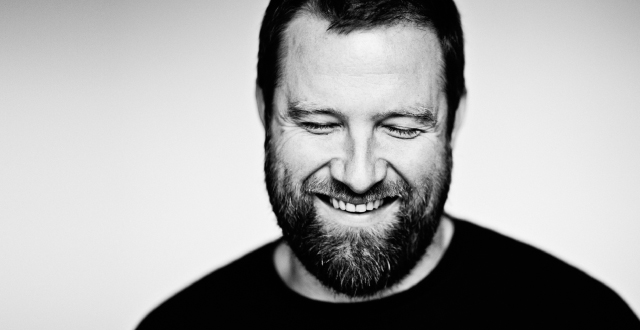 By now, the constituents of the American house music label, Dirtybird Records, are an internationally recognized force. They've crystallized prominence where they're rooted—LA and San Francisco—and they've been very well received on dance floors from Detroit to Brooklyn to Berlin. For little more than a decade, founder and pack leader, Barclay Crenshaw (aka-Claude VonStroke) has raised the Dirtybird crew with the attractive and contagious work-hard-play-hardest mentality…and, boy, they love to eat.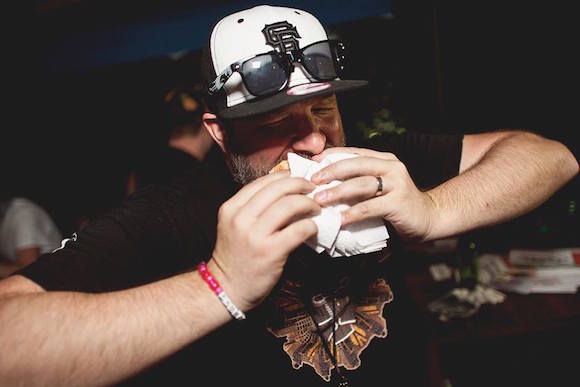 Founded on scrappy cookout dance parties in Golden Gate Park, the famous Dirtybird BBQ's have marinated good food with house music for over a decade. Earlier this year—after closing out Coachella's Weekend 1 Yuma Tent on its busiest night—day-one Dirtybird, Justin Martin, told SF Station, "From the start…We called it a Dirtybird [BBQ] because we didn't want the chance of people thinking, aw well this party's not that rocking. Barbecues will always be rockin'—as long as there's food on the grill and there's music playing."
Last year, Barclay brought his party-throwing prestige to the next level. 2015 marked the inauguration of the Dirtybird Campout—a hugely successful collaboration with The Do LaB, the event producers behind Lightning in a Bottle and Woogie Weekend.
Related Article: "Dirtybird Campout Lineup Announced"
Holding us over until the second annual 'Campout this October, Dirtybird is first bringing their famous BBQ series across the country. The Dirtybird crew is lighting up the first grills of the tour on San Francisco's Treasure Island this Saturday.
This year, attendees will be able to dress taste buds with the all new Dirtybird BBQ sauce, brought to you by Memphis Minnie's on Haight Street. The BBQ adopts a new county fair theme for 2016, to feature carnival games and a Best-In-Show-style costume contests. Don't get it twisted, though, no pets are allowed. But there will certainly be some animal appetites and furry feet shuffling at the event.
However, amidst rumors circulating the final year of Treasure Island Music Festival, we were worried about the future of the Dirtybird BBQ on the island. So we reached out to learn more, but when we caught up with Claude VonStroke—a comical bear of a man also known as "CVS"—we didn't quite get a hopeful response on the topic…we'll put it this way–you don't want to miss this year's Treasure Island BBQ.
Get your tickets now and find the Q&A with the Dirtybird boss below, along with last year's BBQ Tour recap video.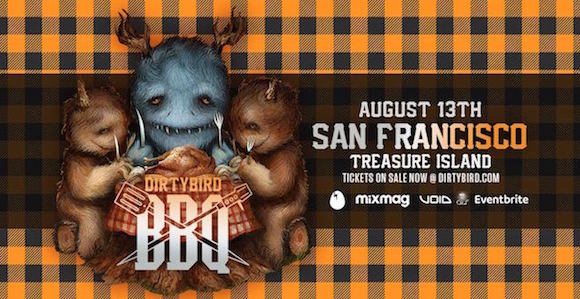 What's on the menu for Treasure Island's Dirtybird BBQ?
In San Francisco, I'm not totally sure. I think its ribs. But we'll have our own BBQ Sauce that we made with Memphis Minnie's. I just taste-tested it two days ago.
Can you explain the county fair theme a little more?
We just wanted to amp it up a little bit. So there will be same games and a best-in-show contest for those who dress up.
This is the final year of Treasure Island Music Fest—allegedly due to a forthcoming condominium project. Is the Dirtybird BBQ facing any similar permit issues?
Probably. But we're not so organized that we know whether we're getting booted out or not. (deep belly laugh). I don't know. Good question. The answer is go to the BBQ this year, just in case it doesn't happen next year.
Well at least the Campout was a huge success last year. Congrats on that. What was your favorite surprise from the first year of your Dirtybird Campout?
The talent show. I've never laughed so hard in my life. I just couldn't believe how funny people were. [People] took it to such another level that I never expected. It was almost like…I was shocked  that it was so funny. People did dances, they did comedy as well, they did music…like beatbox routines. People were really sarcastic. On a level I was not expecting. I thought everyone was gonna suck and we were all gonna laugh because they were so bad. But it wasn't like that at all.
You work with The Do LaB for the Dirtybird Campout, right? What's their involvement?
We could not do this without The Do LaB. They are the producer. We handle the creative part and we help get all the acts. But they execute the whole thing. It's totally impossible for us to execute it by ourselves. We would die. And they're an amazing company and they have the same kind of family, D.I.Y. [operation]. It's a good combo. The two companies get along very well together.
How did that relationship come about?
They were my first choice to produce the campout, but they couldn't do it. I just came to a point where I said I'm doing this Campout no matter what. So I made a flier and posted it on the internet. I had no location, no date, no DJ's, nothing, but I advertised that it was happening. It got so many people responding to the post—the highest response ever from a single post since the beginning of Facebook…(chuckles at the slight exaggeration)…The Do LaB saw the post while their other project was kind of disintegrating. So they called me up and said, "What's going on with this? We're not doing this other project anymore." And thank god. Basically, if I hadn't posted it online, it wouldn't have happened.
Dirtybird started with that same 'do-or-die' spirit, right? Is it true, you're spouse fronted the money for the label on the condition of its success within one year?
Yeah, she paid the rent so there wasn't as much pressure. That was the deal. She would cover the rent for a year and I had to make it happen. That is a true story.
Why do both your birth name and stage name appear separately on the 2016 Dirtybird Campout lineup?
I'm making a whole album under my real name. It's more like half-time, hip-hop 90's vibes with modern production. I'm really into it. I played a set of that last year, as well. I'm gonna actually start touring my name.
Will that put your work as Claude VonStroke on hold?
No. I'm gonna be doing both. There's not a separate Barclay Crenshaw tour. But we'll see. I don't know how it's gonna go. If it's a total disaster, then there won't be any dates. But if it's hugely successful then we'll look into dates.
Is there a projected release date for that Barclay Crenshaw album?
I know the music will be pretty much done maybe toward the end of this month. Maybe not the vocals and singers…but music, maybe by end of August. I mean I'm going for the end of the year. I'm hoping. I'm super busy. It's hard for me to do everything. So I'm just trying to get it tight. Then move on after that, ya' know what I mean?
It's sucks when you're playing something for someone and it's half done and half good. I just want it to sound right when I play it for people. So they can get into it. I'm just trying to get to that stage first.
+++The Treasure Island edition of the Dirtybird BBQ takes place this Saturday, August 13th. The lineup for the BBQ includes music from Claude VonStroke, Justin Martin, J. Phlip, Christian Martin, Worthy, and Ardalan. Tickets for the 2016 Dirtybird Campout in October are also currently on sale.