SF Station Partners with Never Elsewhere & Oaklandish for 20th Anniversary Design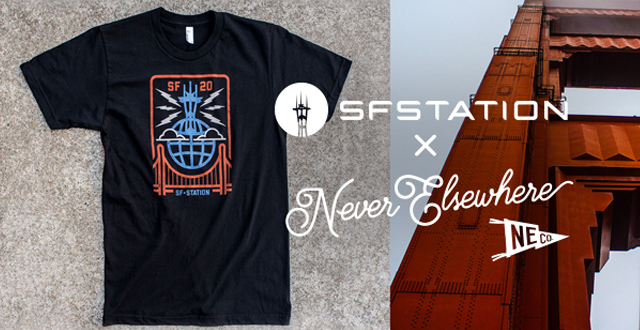 This month, SF Station collaborated on a t-shirt design to celebrate its 20th anniversary with the folks from Never Elsewhere, a clothing-inspired project brought to us by Oaklandish. There is a good chance you've seen the Oaklandish city logo-inspired t-shirts, hoodies, and accessories around town–and while offering an easy way to show some serious Bay Area pride, they also give ten percent of their proceeds back to the community by supporting local non-profit groups.
The decision to work with Oaklandish and Never Elsewhere for our t-shirt design was an easy decision. Oaklandish has seen amazing growth over the years and worked with countless independent designers. Never Elsewhere is a new addition to the Oakland apparel scene–launched through grassroots pop-up events, similar to the way Oaklandish got started out of a van at farmers' markets and street festivals before opening its flagship store in downtown Oakland in 2011.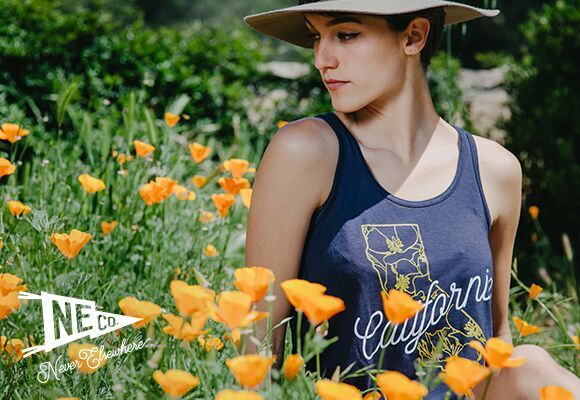 Never Elsewhere went through several name alterations (formerly There There and N.S.E. West) before settling on its name, which felt true to the sense of belonging and homegrown praise they wanted to instill in their customers.
Their name origin is explained on their website, "Our 'where' is the San Francisco Bay Area. Your 'where'? Maybe here, maybe elsewhere. But wherever it is, it's where you call home. Our goods honor that sense of place. We celebrate local love and creative adventures with nostalgia and new-wave spirit, from California to the horizon."
Angela Tsay, the owner at parent company Oaklandish, said the team has been tweaking the brand behind-the-scenes since late 2010 and finally hit an inflection point where they expect to gain more traction with Never Elsewhere.
"It's been an amazing experience to build Oaklandish and create good jobs in Oakland for young people…We hope that we'll be able to adapt to and survive the huge changes Oakland is now undergoing."
Never Elsewhere has introduced several lines of swag over the years, including a few that celebrated the culture in cities like Savannah, Denver and Baltimore. Their current line, which they've called LSD, is a collection of sporty designs reminiscent of something you might see on a Grateful Dead album, which Tsay says is a throwback to the history of San Francisco.
As with Oaklandish, this company also doesn't slack on giving back to the community–another major factor that attributes to their unanticipated success. As a B Corp, certified by B Lab, their business practices are upheld to standards of social and environmental performance similar to the way food producers can be approved as 'fair trade'.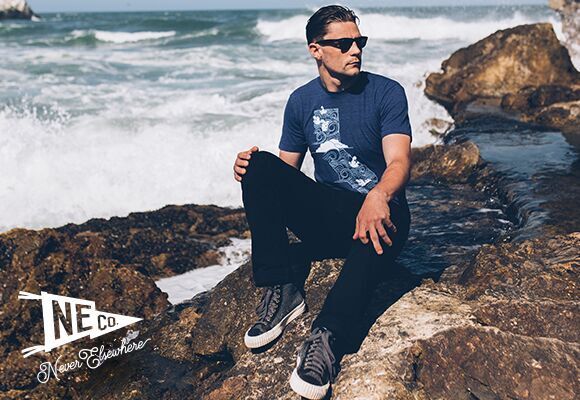 Each month, Never Elsewhere sponsors a non-profit on their Community Partner page and donates ten percent of their online sales to help fund participating businesses. In the past, they've worked with Swords to Plowshares, which supports veterans struggling in San Francisco, and Oakland Trails, which promotes and maintains area wildland parks.
They usually embark on ten to fifteen design collaborations with local nonprofits and businesses each year, but their work with us here at SF Station is the first with a San Francisco-based company.
Bobby Zwahlen, who drafted the design for our SF Station shirt, said the idea came easily, as SF Station's Sutro Tower logo represents one of many iconic landmarks across the Bay Area landscape.
"Much like how SF Station emits information to the masses, the Sutro Tower was key for emitting better reception on your TV and radio station," said Zwahlen. "In our collab design, the Sutro Tower sits on top of the world communicating information out to the world…through the fog, to the people."
The SF Station 20th anniversary shirt can be purchased here.
Find out more about Never Elsewhere developments on their blog and visit their parent company Oaklandish to read more on how they got started.