Despite having a fairly large Russian population, San Francisco's Russian food offerings are limited mainly to the neon-lit, another era-style grocery stores in the Richmond, Cinderella Bakery, the freshly opened Bulka in the Haight and a couple of somewhat secret, event-oriented restaurants where courses are intermittent with live music. That's why David Nayfeld and Angela Pinkerton's pop-up Mama Galina is not only fascinating and delicious—but also important and eye-opening.
The pop-up, consisting of communal style dinners around Russian and Jewish inspirations, takes place at a refurbished space in the Mission, while the two prepare to open their permanent restaurant, Che Fico, later this year. The family adds to the pop-ups charm—Nayfeld brings his childhood memories, his mom Galina (who makes for a very charming hostess) and a sense of humor. Pinkerton provides her pastry chef chops and Eleven Madison Park cred (the two met while working at the lauded NYC establishment) and the result is one of the best meals in town.
For me, a Russian who grew up eating potato salad for breakfast, it's also quite transformative, as Nayfeld takes traditional Russian ingredients like potatoes, beets, smoked sturgeon and chopped liver and makes them sexy, a word no Russian will ever pair with his dinner.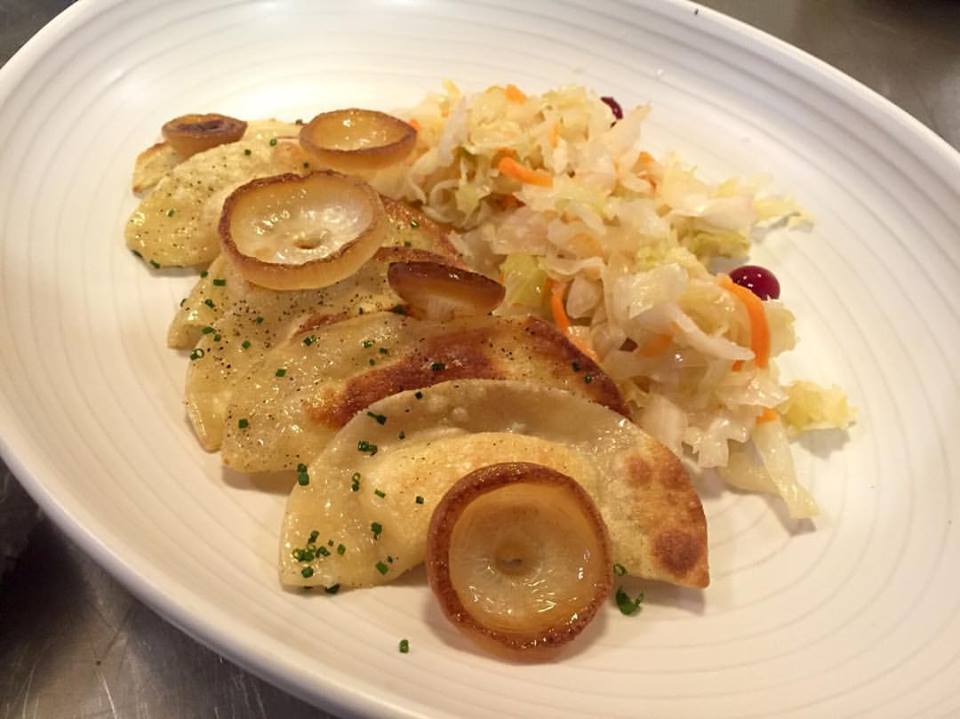 Served family style, the dishes include, but are not limited to, Salat Olivier (a Soviet-era favorite of potatoes, peas and mayo, made fresh by cutting the vegetables into large chunks, intermixed with olives), a salad marrying pickled beets and farmers cheese (another Russian staple) with walnuts and pickled onion, a deconstructed Beef Stroganoff with oyster mushrooms, and, of course, of variety of pickles.
The desserts are a detailed, attentive spin on Russian classics; an airy honey cake, preserved fruits in Cognac, baked apples, more farmers cheese with homemade jam, and more. The meal, $75 a person, is accompanied by beer, wines from Georgia, and Kvas, a traditional fermented bread and raising drink Nayfeld categorized as 'children's beer'—all which taste completely fresh against the backdrop of San Francisco's craft beer and elite wine scene.
Around our table, no other dinner guests were Russian, so the ironic touches and unorthodox twists Nayfeld applied to Mama Galina's dishes might've been somewhat lost on them. However, this didn't mean, that every single item on the plates wasn't devoured with joy and abandon. In Mama Galina's interpretation, Russian food is fun, adventurous and open to outsiders. As for someone who secretly craves this style of food time after time, it sets a new bar—from now on, all my smoked fish sandwiches will be accompanied by cultured butter and pickled fennel.
Mama Galina, Thursday-Saturday, 7:30pm, until July 22nd
2817 24th St.
Named after his mother, Chef Nayfeld creates a dinner inspired by the food of the former USSR and his upbringing as a Jewish refugee from Belarus.