Phono Del Sol Founder Discusses Origins of Non-Profit Music & Food Festival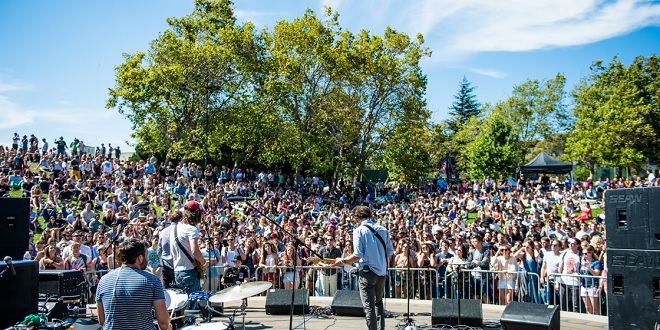 The Bay Bridged, a non-profit arts organization supporting the San Francisco Bay Area independent music community, has partnered with local recording studio Tiny Telephone, to create a spectacular lineup for the 6th Annual Phono del Sol Music & Food Festival. Electro pop duo Chairlift and dream pop band Alvvays are set to headline the intimate outdoor event on Saturday, July 9 at Potrero Del Sol Park.
In addition to the headliners, there are a number of local acts scheduled to perform. Enjoy the music, check out the food vendors, and find a grassy space for the perfect picnic opp. Also, you can feel good knowing that part of the ticket proceeds are also supporting the San Francisco Recreation & Parks Department.
To preview the Phono del Sol Festival, we interviewed the co-founder and executive director of The Bay Bridged, Christian Cunningham, to learn more about the festival's history, understand more about the event's operations and purpose, and find out what attendees can expect this year.
Photos from 2015 Festival by Gabby Gamboa
How did the festival first form?
John Vanderslice and I were having a discussion in 2011 about Potrero del Sol Park and how beautiful it is with the built in bandshell, skate park, and grassy hills. We decided it would be a fun undertaking to throw a small 500 person festival there in July to support both organizations and celebrate everything we love about San Francisco Bay Area Music. That first year we had Aesop Rock and Mirah co-headline with three other bands, five food trucks, and only one stage. It was such a great success that the event has expanded substantially over the last six years.
How many "employees" or staff does the festival have?
The festival has zero employees. Everyone who produces and organizes the event does so as a volunteer— as are most members of The Bay Bridged organization. This is truly a labor of love and couldn't happen without the support of all of our partners and sponsors as well.
Since you are a nonprofit, where do the funds from the festival go toward?
All proceeds from Phono del Sol go directly back into the organization and allow us to continue to produce low-cost alternative events throughout the Bay Area. The money is also used to directly fund our online publication TheBayBridged.com where for the last ten years we have spotlighted thousands of local musicians in the Bay Area.
What will be some of the exciting changes this year compared to last year?
Our biggest change will be enhanced alcohol gardens, more family-friendly options, and a gigantic Phono del Sol banner on the main stage that our volunteer staff painted a few weeks ago. We also have a few new flamingos to show off!
What is your process or criteria for identifying the musical acts to perform?
A number of different factors go into how we book Phono del Sol including staff interest, band interest, availability, budget, and diversity of sound. On average, we vet several hundreds of bands before we get the lineup that you see each year.
Have you guys ever thought about doing a winter festival as well?
We do still have The Bay Brewed, our Rock and Roll Beer festival every other year in the winter. We are always trying to come up with new events and opportunities as well. However, winter weather becomes the biggest hindrance for an outdoor festival like Phono.
If you could have a picnic in San Francisco, where would you go?
Although I am a neighbor of the park, I guess I shouldn't say Potrero del Sol Park as that would be too easy. I would have to then say Precita Park is my next go to for all things picnic-related.
2016 Set Times
10am: Brunch at Cease + Desist in the Mission District (tickets)
12:00-2:00pm: Happy Hour (discount beer and cocktails)
1:00pm: Dick Stusso (Potrero Stage)
1:35pm: Hot Flash Heat Wave (Mission Stage)
2:10pm: The She's (Potrero Stage)
2:45pm: The Seshen (Mission Stage)
3:20pm: Adam Vida (Potrero Stage)
4:00pm: Mr Little Jeans (Mission Stage)
4:40pm: Born Ruffians (Potrero Stage)
5:20pm: Alvvays (Mission Stage)
6:10pm: Chairlift (Potrero Stage)
9pm: After party at Rickshaw Stop with Yumi Zouma (tickets)