Q&A: Then & Now with Hip Hop Collective Hieroglyphics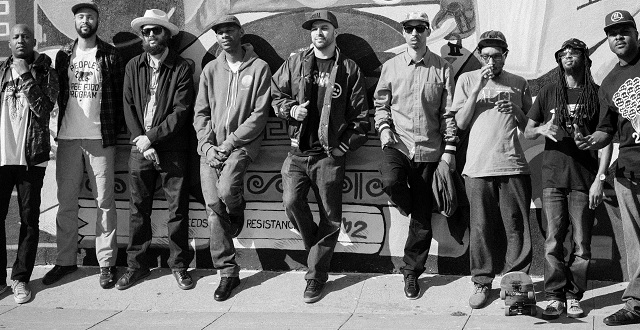 West Coast hip hop has a rich history dating back to the 1980's, with movements that emerged both in Northern and Southern California. Although the Los Angeles story of Dr. Dre, Eazy E, Ice Cube and N.W.A. received plenty of recognition, there was a similarly iconic but lesser-known musical movement in the Bay Area, in large part thanks to Ice Cube's cousin and hip hop MC Del the Funky Homosapien and his Oakland clique Hieroglyphics.
Underground collective Hieroglyphics, also known as the Hieroglyphics Crew and 'Hiero', was founded by Del in the early 1990s. The multi-member group currently consists of rappers Casual, Pep Love, producer/manager Domino, and DJ Toure. Also included are members of the rap group, Souls of Mischief (Phesto, A-Plus, Opio, and Tajai). The Hieroglyphics collective is symbolized through their ubiquitous three-eyed, straight-lipped face logo. Created by Del, the image is the Mayan numerical for eight and also used as a symbol for infinite.
It all started with the 1993 release of Del the Funky Homosapien's No Need for Alarm, which debuted Hieroglyphics as a group and introduced many to the regional Oakland style of hip hop and a "Golden Era 90's" freestyle-based sound. The record exploded, and was the first of three classic "Hiero Golden Age" albums the collective would release. The next two were the critically acclaimed Souls of Mischief album 93 'til Infinity and Casual's Fear Itself.
Now, with years of growth and experience under its belt, Hieroglyphics has a show at Berkeley's UC Theatre on Saturday, June 25.
To get some fresh perspective on the Oakland hip hop music scene and learn about the history of Hieroglyphics, including past and current musical endeavors, we interviewed rapper Casual and Souls of Mischief member Tajai.
What do you think are some of the defining characteristics of hip hop history here in Oakland and the Bay Area?
Casual: That's a good question. Specifically, the independent culture brought out in the late '80s, music released by Dangerous Music, Too $hort, and his comrades, is what helped to spearhead the Bay Area's independent music movement—like when everyone was just selling (records) out of their trunks.
What about Del the Funky Homosapien's original vision for the group inspired you?
Tajai: Del is the godfather of what we do, man—like how the Wu Tang has the RZA. Del is not the most prolific producer in the crew, but as far as direction, and writing for Cube, that all goes to Del. All props to Del. He's definitely one of my inspirations.
How did you get introduced to rhyming at age eight?
Tajai: Really, honestly, it was the only [element] of all the hip hop stuff that was free. I felt like it was attainable. Really hearing Too $hort do it in '82, '83, made it feel like it wasn't just a New York thing or a foreign thing. Being in school, having poetry programs, being encouraged to write at home…My daughter already has songs, she's four years old. Sing-y songs, you know, but it just came naturally.
Were there particular acts or groups that particularly motivated you?
Tajai: Big Daddy Kane. Youth culture. He was a grown ass man, but in his heyday, he was 21, 22-years old. A lot of the guys who were considered "old school dudes," when we were listening to them and when they were making these records, they were just 19, 20-year-olds, not even old enough to drink. As a kid coming up, you're looking at it like 'these kids are doing this shit'…[Kool] G Rap, Kane, KRS-One types…just the regulars from the Golden Era. I never thought of myself as a kid rapper even though I was a kid rapping all my life until, shit, I turned 18 in '93. So maybe, technically, I was a child rapper. Since all rappers were really young, it never felt like I was really 'doing it.'
Casual: Yeah. Guys like [Tajai listed], but it wasn't limited to just the Bay Area…I looked up to guys all over the world in hip hop particularly. Guys like Run DMC. Those guys got a lot of my attention and respect.
Where in Oakland were you able to perform in your early years?
Tajai: We performed at the clubs and they would make us sit in the back. Before then, it would just be house parties, talent shows, talent parties, raves. You know, places now where all warehouse parties are…we were rockin' these places. I never experienced it because I'm from East Oakland, but now, my daughter and [people her age] hang out in the same 'bandos' and spots we used to fuck with…it's a trip.
Now, they seem to have a lot more equipment. When I was little, you weren't even gonna walk into Leos or Guitar Center, unless you saved up for two years. Now every kid has a PA system, turntables, Seratos. They got it a lot easier. When we were doing it, it was an event. You had to get the sound system and let the guy DJ. Berkeley Square was a big venue for all ages, not even 18 and up 'cause I was under 18. I guess also Green Day kind of got busy there too. I never seen them there though.
What was the rationale behind merging your group Souls of Mischief into Hieroglyphics?
Tajai: We've always been Hieroglyphics, we've decided to put out a record as Hieroglyphics. We were a musical group rather than a crew. We've always been Hiero as far as our professional years go. The first (official) draft we made was in '97. Before that we weren't performing (together).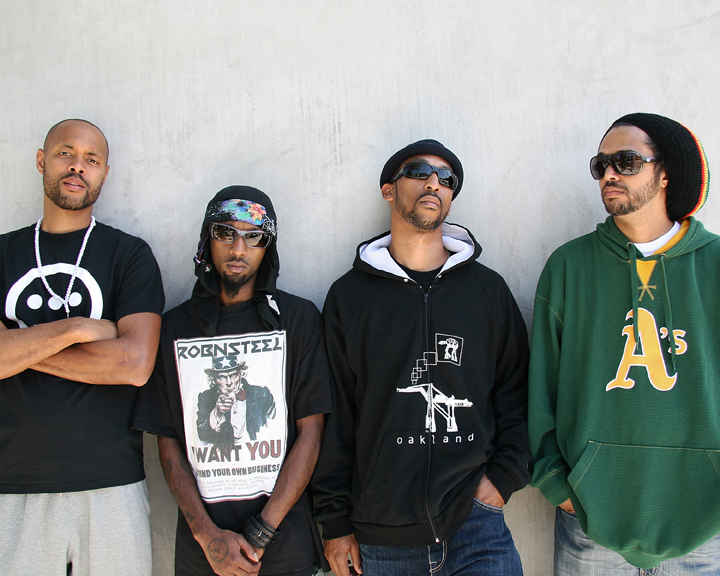 Soul of Mischief
Where were you when you first signed to a major label and what was the first thing you did after signing the deal?
Tajai: Shit man, they flew us out to New York in April of '92. We were watching the Rodney King riots on TV when we got signed. We were in Empire hotel, furthest from poverty and downtrodden-ness as you get. We were jumping bed to bed, just so excited. That was '92. Basically with that money, I can tell you exactly what I bought—a leather jacket from Banana Republic, a fur Kangol…I bought a bunch of Polo Rugby shirts, a couple pairs of shoes, some Tim Chukkas, and a few pairs of Levis. I bought a Herringbone bracelet. Everything else went to Stanford for tuition.
My first five years of my career, all that money went to pay for college or college loans…'93 to '98. Really '93 to 2001. 2001 was when I started getting into real estate after I started paying off all my debt. I graduated from Stanford in '97, then I just graduated from Cal in 2004 with a master's in architecture.
What is your most vivid memory from collaborating with George Clinton?
Casual: Oh, well, one of my vivid memory was actually being in the room with his long, colorful (hair) extensions. He's an icon I might add—a musical god, so to speak. It was a blessing. All I could think about was telling my dad.
What would you say were the most pivotal points for your label Hieroglyphics Imperium?
Casual: It was selling over 100,000 units on three different projects, which was very good for an independent label. It gave us the go ahead to say, 'hey, we can really do this.'
What are your thoughts on the state of music in Oakland today?
Casual: I'm still looking for a young group like Hiero to come out. I got my record deal when I was 17 years old. I know there's a group that's (age) 13-17 that's ready to come out with some new, cutting-edge music. I'm not tradition-focused, outside of the tradition of just being innovative.
What's changed the most about Oakland since you came onto the scene?
Tajai: I would say the demographics have changed a lot due to gentrification. I'll say it's different than Brooklyn and other places. In Oakland, people own [property] out here, ya know? It's not a rental market. There are multiple migrations, especially African-Americans out of the city. Ever since we got here, we were catching hell. Whether it was police brutality, heroin, crack…there have been multiple exoduses because there has been a constant assault on black humanity, survival, and community. From the outside, with red-lining and all that stuff, and from the inside, with people falling victim to that stuff…violence. I had homies leaving in the '80s, moving to Fairfield, Vallejo, Richmond, Sacramento. When I drive with my mom out there, we have to sit in the car for an hour, she says 'this is why you don't move.' This is our neighborhood and community. Why are we leaving it instead of fixing it? It happened again in the early 2000s. There's only 40% of the entire black population left in Oakland.
There's the legacy of a lot of crack crime, crack babies, all these things, you know, it's cyclical. Then also they had these churches selling these deadly ass loans. You can move out of you home and you can get two houses in Sacramento. [It was] people doing simple math instead of being a little more savvy about it. We had heirloom homes too…like a grandma's home, where there are now fourteen grandkids…they sell that home for a million and each grandkid makes 80 grand and the home is gone. It's more of that than a place like Crown Heights where landlords are coming in busting walls, doing all kinds of crazy tactics to kick tenants out of rent control places.
Here, people are giving it up. That's Oakland, but not all of Oakland. Even this concept that Oakland is nice now…Oakland always has been nice. What the fuck? Oakland has been nice all my life. There are guys who live in the good parts and go through their dirt in the bad parts of Oakland. It's not two worlds, where it's so separate—it's always been nice. The people who never were in it are telling this story.
Are there any up-and-coming artists we should watch for?
Casual: We always promoting young artists. Right now we got Knobody, who is an artist we've been putting out for a while. We're always looking for new and young independent acts. And you know Tajai has a whole record label (Clear Label Records) where he did nothing but put out young Oakland up-and-coming artists.
What's different about your live performances today compared to the ones in the '90s?
Casual: Energy. I'm just playing. [laughs] I take that back. It's not too much of a big difference. We get the same type of crowd and still rock the same type of shows. You know, I'd say the biggest difference is seeing the age difference between me and the fans.
Will Hieroglyphics create new material soon?
Casual: We're about to do one last album, I think it is…we might record that. We'll make an announcement soon, but I think we got one last one coming.