Q&A: Alt-Rock's Cage The Elephant Returns to SF With New Material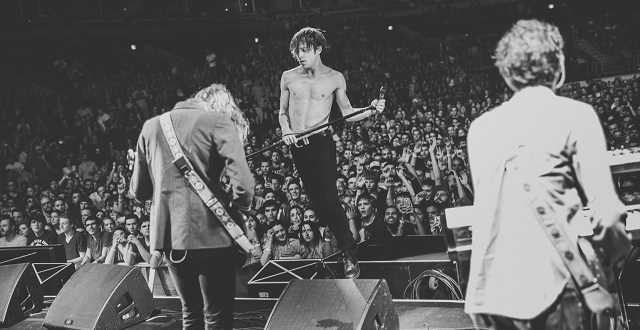 Grammy-nominated rock band Cage The Elephant embarked on a cross-country arena tour last month in support of fourth studio album, Tell Me I'm Pretty. They have an upcoming stop in San Francisco and are set to play Bill Graham Civic Auditorium on June 23, with support from fellow rockers Portugal. The Man.
Tell Me I'm Pretty was released back in December and produced by Dan Auerbach of The Black Keys & his side project The Arcs. This honest record showcases brilliant songwriting, pushing even further past advances the band had made with their 2013 record Melophobia, which was nominated for a Grammy for Best Alternative Album. Their new sounds harness grimy and gritty rock 'n' roll vibes, highlighted by Shultz's fierce vocals that eloquently navigate atop raw, distorted guitars and catchy percussion.
After a six-year quiet period, we interviewed Matthew Shultz back in 2013 in light of their third album. From there it's been full-speed ahead and much to catch up on. We checked in again with Shultz to see how the band has evolved recently, ask about his guilty pleasures, and to find out what he enjoys most about visiting San Francisco.
How soon after touring for Melophobia did you begin writing Tell Me I'm Pretty?
Pretty much right away. As soon as we went back home, we booked a studio session and started rehearsing.
What was the process for identifying guitarist Nick Bockrath and keyboardist Matthan Minster as new band members?
The four of us, Brad (Shultz), Jared (Champion), 'Titch' (Daniel Tichenor), and myself, wrote a little bit prior to them coming in and contributing. Then, we brought them on when we really started getting into demoing. They also toured with us for the entire time that we were doing Melophobia.
Have there been any noticeable changes to your live performances since they joined?
Oh yeah, for sure. They are both incredible musicians and reliable Those are the kind of guys that are good consistently–they're on top of their game and they can go into situations where they don't know the material and learn it relatively fast. They both are incredible players–imaginative and creative as well. It's really a blessing to have those guys around.
What was Dan Auerbach's biggest impact on producing the record?
I think where Dan made the biggest impact on the record was making sure that we put out a raw record, instead of overcomplicating things. He has a knack for identifying essential elements of a song and keeping us from second-guessing ourselves. Dan just really believes in allowing sounds to stand by themselves.
How has your hometown of Bowling Green, Kentucky shaped who you are today?
I think that Bowling Green, it has shaped me in a lot of ways. I don't know if I can sum it up into words. I guess off the top of my head, just the core values of authenticity and sincerity. There wasn't much of a scene in Bowling Green. It's not like the band or musician in the town were catering toward a particular sound that was a popular sound of the city. I think it gave us the opportunity to explore and without the opportunity to be judged super harshly. And then, I think the likelihood of making it out of a small town is better. It's easier to be sincere when it's not completely about being about a career or something like that. That's not a knock against bands. I'm a fan of a lot of bands that have come out. I'm just saying for us.
Do you have any remedies or ways you keep your body and vocals cords physically fit to play?
Uhm, no (laughs). Prayer?…No, nothing really. Drink coffee.
How do you take your coffee?
Black. I like French Press and espresso.
Do you have any guilty pleasures?
I guess my guilty pleasure is that I love cheap, Hollywood blockbusters. Even if it's not on a good film, which more often than not is the case, it's more or less the feeling the reminiscing of childhood. My wife can't stand that stuff. So I always have to sneak in those movies on the road or when I'm alone.
What do you like most about visiting San Francisco?
All the history that's there. The street architecture is gorgeous. There's a lot of artisans, mom-and-pop restaurants and shops and stuff, which I really love. I love the city. There's a lot of great coffee shops there as well. I just like the artisanal kind of approach. The heritage. There's a lot of freakin' history in San Francisco and that's very important.
+++ Cage the Elephant, June 23, Bill Graham Civic Auditorium