Flash back to Los Angeles pre-2014. Aaron Clevenger is already embedded in the LA house scene, well known as AC Slater – but a feeling of discontent swells. As we've seen much throughout music history, waves from the UK scene hit US shores a bit late. The UK garage house sound Clevenger was looking for was still absent from LA. "There was no place for me to go to hear the music I wanted to hear," Aaron testifies. "So I said fuck it, I'm just gonna do it myself."
Two and a half years later, AC Slater is internationally known for his Night Bass party series—hosted by Sound Nightclub, LA's premier dance venue, filling the very void he identified. In the first year the party series gained such rapid and favorable attention that AC Slater brought the party on the road for a national tour. And it hit.
With incredible momentum, AC built the Night Bass brand into a label, recruiting long-time friends, Jack Beats, Petey Clicks, Sinden and more. The label quickly snowballed into an international force.
Just this first half of the year, AC Slater has performed Coachella and curated a Night Bass stage for this month's Electric Forest in Michigan. He's set to perform Lollapalooza and just released a 3-track EP via OWSLA, the imprint notoriously attached to Skrillex. At the same time, though, AC is bringing Night Bass out for another North American tour—this time with a twist.
With this year's tour revamped as the Summer Phases series, AC says his mission is "to bring the Night Bass experience to other cities, each with different lineups" and "special decor and visualizations to create the ultimate Night Bass experience."
Summer Phases just kicked off in Phoenix, AZ—next stop: San Francisco. So before Love + Propaganda goes full Night Bass with Motez on June 11th, we had to know if AC Slater—with his ability to manage so much at once—is even human. Find out what the Night B-O-S-S with the beast-mode work ethic has in store for us in the full interview below.
So, how has your life changed as you grew from a producer to a label boss?
What's changed is, I have no free time. (chuckles) I'm always working and I love it!—because it's not really work! The only hard thing is juggling the label, studio time, gigs, all that stuff. I still try to do the monthly, but sometimes it can't be done because of radius clauses. It's not as easy as when I was an artist and could fuck around in the studio all day, but I love it.
Do you have a team now or is Night Bass all you behind the scenes?
I have a little team now, which really helps. When it started, it was just me. Now I have a label manager, who does all the administrative work—delivering all the releases. Once everything is decided, he puts it into motion. He basically saves my life on a daily basis. I've been adding in building blocks here and there, building the family, fine tuning things and figuring out how it should work. It's really fun actually. I've never done anything like this. It's really cool.
As far as demos and finding new artists, that's what I like to do with the label. I want it to be perfect. I have a really strong vision of how I want the label to be and it's really important for me to stick to that. The most important thing is originality. A lot of the people sending music are trying to sound like something we've already put out. But we want someone who's got their own mind and own ideas.
How many producers are signed to Night Bass now?
I've got a big family of producers now! A lot of different people from all over the world. They all have the same mindset as I have right now, so it's fun. I'm lucky enough to have made friends with people like Jack Beats and Chris Lorenzo. I think fans can sense when people get along on a personal level. I've known Petey Clicks and Jack Beats for years and years through music. It's really cool to be able to put out their music. I really look up to them as artists. I'd say the dedicated team is Petey Clicks, Sinden, Jack Beats, Jay Robinson, and Hotfire.
You had the opportunity with Summer Phases to create a Night Bass-only showcase, but you didn't. You instead pulled in some incredible producers from other labels like Kill Frenzy (Dirtybird) and Motez (Sweat It Out!) to headline in San Francisco…why not keep it in the fam?
Because I'm showcasing what I like, not only music that we're releasing. One of my biggest influences, especially when it comes to Night Bass, is Dirtybird. I get them involved whenever I can. Motez is also a friend of mine and I've known Sweat It Out! for years and years. It's a community—not a weird competition or something. [I'm] spreading the music I love. So I'm stoked.
Is that also why you only booked yourself headlining one of the stops?
Yeah, I want to intro people to other artists. If they already know about Night Bass, then they already know about me, you know? I don't need to put myself on the top of the flyer, I'd rather introduce someone I respect. I'm more the curator.
Why did you change the name of the tour to Summer Phases this year? Is there a different concept from the last Night Bass Tour?
We just came up with a name that fit Night Bass for a good summer series. There's an association with the moon. It was natural. For every flyer I changed the moon to match the moon phase for that specific date. If you look at LA's [posters], the moon will slightly change.
The Summer Phases concept is to bring the Night Bass experience to other cities with different lineups of really good DJ's. People always say, "I wish I could check it out." Summer Phases is my way to bring it to them. We spaced it out through the summer, so it isn't such a rush. We didn't have to lock up the same line up for every show. So I'm taking a different approach. [I'm] trying to go to alternate venues I wouldn't normally go to. Some of the cities, that's kind of hard to do. So we bring in some elements that will make it unique.
Isn't one of the stops on a boat?
Yes! Toronto is on a boat! We've done Holy Ship! but this is way different. I'm really excited. I've heard they really like their boat parties in Toronto.
You say decorate. How so?
I'm working with each venue to see what we can get away with depending on what they have. [We're thinking of] everything from the layout to the lighting and visuals to make it feel like you are at Night Bass, not just some party. There's a lot of really cool things I don't want to mention yet. For Phoenix—this is something you can't get away with everywhere—it's in this big warehouse with columns. We're covering those with old Night Bass flyers and artwork. Stuff people will notice, talk about and say, "alright, I'm here."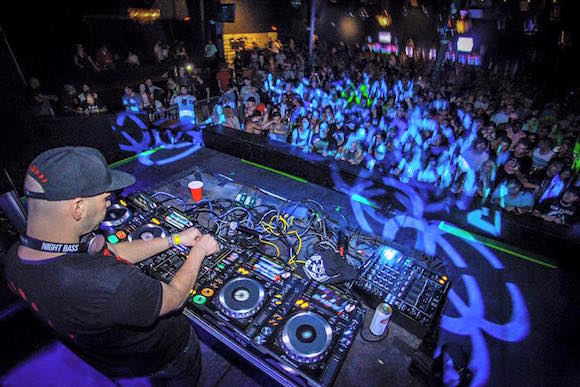 So you are maintaining your notorious stripped-down, back-to-basics values as a DJ, but curating more of a specific atmosphere. I was starting to think you would be adding all the bells & whistles and distractions like lasers, ridiculous visuals, etc…
(Laughs) When I started going to raves when I was younger, nobody watched the DJ. You hung out, danced, and met people. It was social. Over time, it kinda turned into a concert. For me, it's about creating an atmosphere overall rather than putting on a big visual show. Back to basics. Everyone has their own experience. I want it to be closer to what I fell in love with when I was a teenager.
Do you see that social element thriving at your shows?
Absolutely. Come to the monthly. I walk around at the party in L.A. and kids tell me, "Yo, this is my best friend, I met him at Night Bass." There's a whole scene of kids that all know each other through Night Bass. I think they found a common ground in the music. It feels really good to see that kids are bonding over it. It's really neat.
At the start of Night Bass, there was a heavy UK influence. Are you still looking to the UK? Or have you gotten excited about a scene elsewhere?
I feel like [Night Bass] has gained its own momentum now. Of course, I'm still paying attention to what's going on over there, but the borders have dropped. There's interesting music coming from everywhere. I'm putting out these producers from Russia called Phlegmatic Dogs. They sound British but it has that Russian tech sound to it. And Americans are making more music that sounds like it should be from the UK. We're getting all kinds of experimentation from everywhere now.
Do you feel like Night Bass is responsible for breaking down those borders?
I think so, yeah. I mean, I started Night Bass because there was no place [in LA] for me to play this stuff. And there was no place for me to go to hear the music I wanted to hear. So I said fuck it, I'm just gonna do it myself. People were like, "who are these people you're booking as headliners?" No one knew what the hell was going on. Now there's parties popping up everywhere with that same type of music. Going from no one knowing what the heck I'm talking about to everything I'm into being everywhere… I think yeah, Night Bass had something to do with it. I won't take all credit but we did our part.
Night Bass has expanded rapidly—from a party, to a tour, to a label—and it doesn't feel like it's done growing. What is the future of Night Bass?
I definitely have a long term vision. To me, the sky's the limit. I want to grow it. I don't know how much I want to talk about specifics at this stage, but there's definitely a plan to grow it into a global tastemaker. Night Bass is going to be very globally influential on music. I'm just getting started.
And you just released the Bass Inside EP. Have you really been able to create new music while planning all this?
Yeah! I've gotten a lot of new music done, or almost done. A music video for Bass Inside comes out in a week or two. It's a goonies meets rave thing—like, post-apocalyptic shit. I've been working a lot. I have a ton of nearly completed music. It's looking good.
So can we expect a new AC Slater album coming soon?
Definitely trying to plan that out right now. It's gonna take some time for sure. Hopefully before the end of the year.
+++Summer Phases comes to San Francisco on June 11th. Grab your tickets and come meet your new best friend as AC Slater and Motez transform Love + Propaganda into Night Bass: San Francisco.