Farm to Fork Pop-Up Dinner DocuSeries Kicks Off with Chef Tu David Phu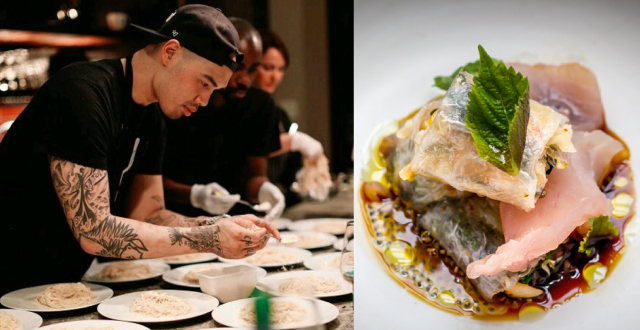 Some chefs craft their path by climbing the ranks at one particular restaurant, while others are involved in a number of projects simultaneously, cooking up a storm all over town. Chef Tu David Phu is one extremely busy representative of the latter group; having worked in some of the most prominent restaurants in the area, from Oakland's Flora to Acquerello in San Francisco.
He's currently collaborating with Farm to Fork, teaching workshops on his native Vietnamese cooking techniques at Eatfeastly.com in San Francisco, participating in the Asian Speakeasy Pop-Up project and orchestrating a number of events and semi-secret dinners.
As part of the Farm to Fork series, short films are created around each featured chef, documenting each chef as they develop their menu, source their ingredients, and create the dishes for their pop-up dinner. At the events, guests will have the chance to speak to the chef and watch the film on a 75 ft. projection wall, fully immersing diners into the process and hard work that went into every dish.
Farm to Fork has partnered with Slide Ranch, a nonprofit sustainable farm dedicated to helping children connect with nature, and provide education on healthy food systems. A portion of the proceeds from our pop-up dinners will be donated to Slide Ranch. Chef Tu will be preparing a five-course meal at the first Farm to Fork event of the series which will take place on May 8th.
On top of it all, Tu David Phu is a member of the Seafood Alliance, Slow Food, and the Mycological Society of San Francisco. He takes the time to conscientiously create dishes, engage within the cooking community and the environment. From Vietnam to California, his travels are reflected in the dishes he creates. And with his family in mind, his dishes are made with a type of love and care that can often be lost in the hustle and bustle of the restaurant biz—no details spared.
Phu was kind enough to give us a bit of his time, to school us on authentic peppercorns, about building community and the Bahn Mi takeover!
You've cooked in some of the Bay Area's best restaurants—how would you characterize Northern California cuisine?

Northern California Cuisine is a huge melting pot. There are so many cultures and influences here and in the Bay Area. So in my strong opinion, California Cuisine is reflective of all that. So when someone states that they are doing California Cuisine it can almost mean anything.
You have gone above and beyond the kitchen by participating in groups like the Seafood Alliance, and being sure to engage diners as people, versus just as consumers—what motivates you to take this approach? 
After many years of grinding in the kitchen, I felt a disconnect from ingredients and guests. Pop-ups allow me to engage the guest and tell them the story of my food and perspective. It's more intimate. The workshops and special menus are ways to learn and pass on knowledge to others. It creates a sense of community and allows me to connect to people from another walk of life that I might not usually get to talk to. Cooking and food bring people together. I think that is beautiful.
Whether it's through community-conscious food groups or chef series, it's important to gather people together to focus and address issues aka awareness. I've joined other chefs and societies because our voices are better heard as a group than alone. As a group, voicing our beliefs can start movements.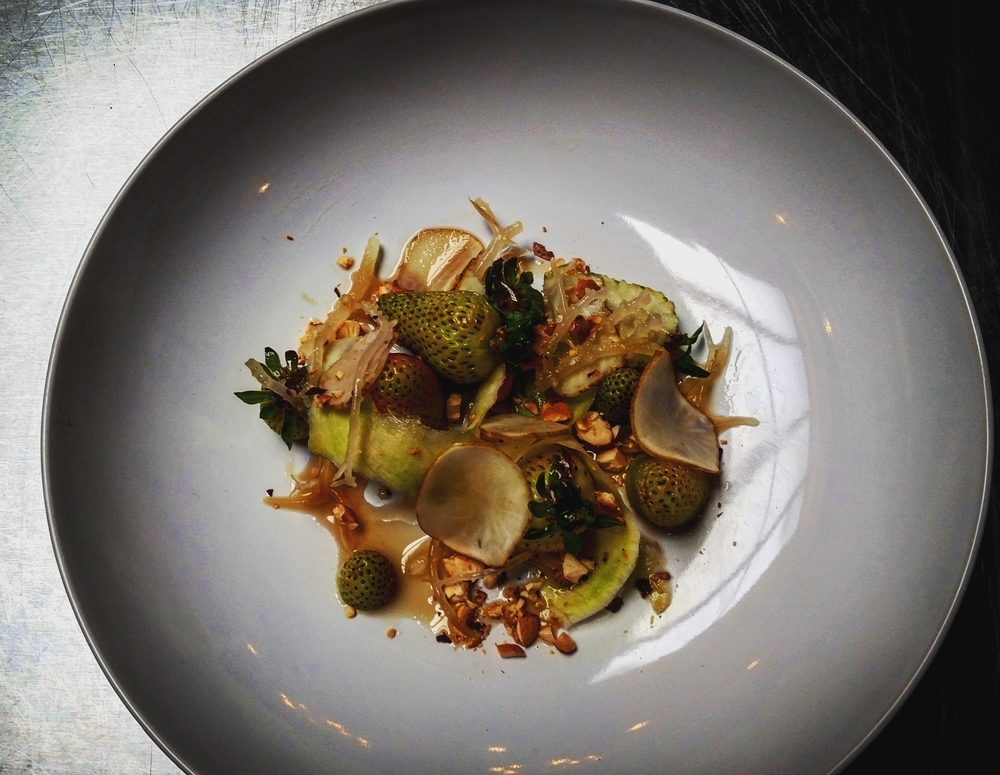 What Vietnamese ingredients haven't the Bay Area folks discovered yet?

I really feel that Westerners don't know what good peppercorns taste like, or where true white peppercorns come from. My family and I refuse to buy peppercorns over here. We import peppercorns from our Native Island in Vietnam (Phu Quoc) every few years. Great peppercorns are spicy, nutty and have elongated depth of spice in the back of the throat. Paired with food, they bring the sweetness out of fruits and vegetables. True white peppercorns are digested from birds then excreted in the fields. Farmers are then left to forage for this white gold. I'm hoping to expand and bring lesser-known ingredients like that to the table.
What do you think about the overwhelming Bahn Mi craze?

As my website says, 'There is more to Vietnamese cuisine then Banh Mi, Pho and Spring Rolls.' I love Banh Mi, it's my favorite go-to comfort food—all I have to say is, if you decide to put Banh Mi on your menu, don't make a mockery of it. Do your homework and make it taste good. Please!
As someone who grew up in an Asian family, what was your initial approach to cooking?

I've always been the fat little kid in the kitchen, asking my mom 'when is the food ready.' I've watched the amazing gatherings between my father, mother, sister, cousins, aunties and uncles. Growing up poor we didn't have much, but we could always look forward to Sunday gatherings. Everyone got together, helped prep and cooked amazing food. The best times of my adolescent years were in the kitchen with my family.
Chef Tu will be featuring an Ocean themed menu with locally harvested seaweed off the California Coast.