It seems you can't go anywhere in San Francisco these days without seeing someone pulling out a vape pen. From bars to bus stops, baseball games and concerts, the new smoking patio is no longer outside. It's exactly where you are standing.
Of all the cannabis brands currently available in dispensaries, one company in particular stands out—the Bloom Farms Highlighter Pen. Its impressive packaging is the first thing that lures you in, with its simplicity and ease of use being the major selling point for anyone looking to give vape pens a try.
But Bloom Farms is more than just what it offers to dispensary patients. They're becoming an industry leader, setting a new standard for cannabis companies looking for their slice of the (medicated) cake. No other cannabis company in California throws an industry event like the Budtender Bash or holds bi-annual job fairs, connecting the cannabis industry to high-quality candidates seeking an entryway into the industry. And no other cannabis company does corporate social responsibility quite like Bloom Farms does.
SF Station talked with Michael Ray, the company's founder, about what sets them apart, their mission to end hunger in California and redefining what it means to use cannabis in 2016.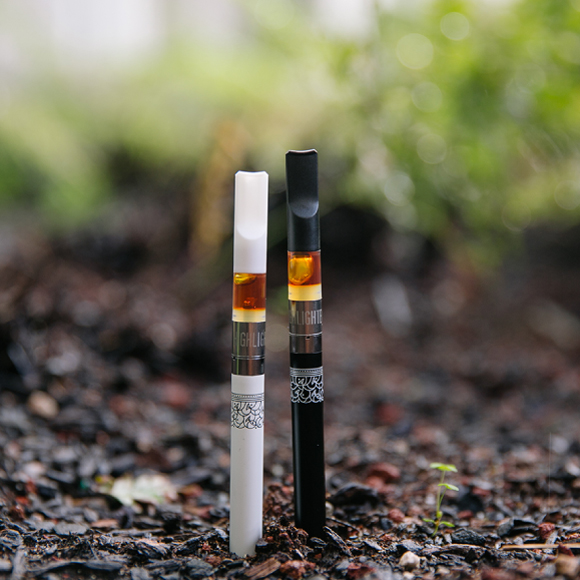 Image Courtesy of Bloom Farms
SFS: What is the Highlighter pen?
MR: The Bloom Farms Highlighter is a cannabis vaporizer pen of the highest quality. Our cannabis is curated from responsible and professional family farmers who care about sustainable cultivation.
SFS: What are some of its defining characteristics that set it apart from the other vape pens on the market?
MR: The oil that we produce is some of the most consistent on the market. Every cartridge is about 50-60% THC.
The Highlighter represents the company culture at Bloom Farms. We go the extra mile in every part of our business including the design of our vaporizer. Every detail of the Highlighter was tested, scrutinized, and created for ease of use, enjoyment, and discretion. It also represents the modern cannabis industry that welcomes everyone, not just the high potency smokers.
SFS: Tell me the Bloom Farms origin story. How did the idea for the company come about?
MR: The idea for Bloom Farms came from my recognition of a gap in the marketplace. My demographic wasn't being served by the cannabis industry. I don't really like to inhale smoke for obvious reasons, and I don't enjoy the experience of ultra-potent, high THC products. There wasn't a vapor cartridge tailored to me. So I decided to make one.
I also wanted to build something more than a business. I wanted to help guide a movement. Bloom Farms is more than our products; we're a cannabis company on a mission to end hunger in California and to legitimize the cannabis industry.
SFS: What were you doing before you got involved with Bloom Farms?
MR: Before Bloom Farms, I was working on Wall Street. But I was ready for a change and I had always been interested in the cannabis industry. I saw the potential for a social shift that I wanted to be a part of, and with the advancements in portable vapor technology I realized it was the perfect time to build my dream cannabis product. Finance is moving around a bunch of imaginary numbers and although it pays well, it's not as much fun as cannabis and the people aren't as nice.
SFS: Why do you think people have responded so well to the highlighter pen?
MR: It's a sexy vaporizer. It's sleek, discreet, and functional. We took the time to develop every component of the Highlighter, from the packaging to the mouthpiece, to create a truly elevated consumer experience. If you get your hands on a Highlighter, you'll understand. The experience of buying a Highlighter, opening the box, and taking that first pull is very pleasant. More importantly, our oil is the best on the market because it's sourced from responsible family farmers who take pride in their work.
SFS: Bloom Farms has grown rapidly in the year and a half it's been available on the shelves of dispensaries. What do you think contributed to its growth?
MR: Bloom Farms is a different type of business in the space. We're creating a company culture around corporate social responsibility, we pay our employees above average salaries including four hours of paid volunteer time every month, and we're making products for normal people. Consumers these days take pride in the products that they use and the companies that make those products. When a medical patient walks into a dispensary, they want to know that their money is going toward something greater. Ultra high potency is a niche that we aren't focused on. I think our customers and patients really appreciate that we are tailoring to their needs instead of trying to set records for potency.
SFS: How does Bloom Farms execute its mission to remain a "socially responsible" company?
For each product purchased, Bloom Farms donates one meal to a food-insecure family in California. I recently wrote an article for MG Magazine about the importance of socially responsible business. You can read it here. Bloom Farms has partnered with the SF-Marin Food Bank and have set a goal to donate 1,000,000 meals in 365 days and we're on our way to reaching that goal but we need help from others. We urge everyone to help us fight
Bloom Farms has partnered with the SF-Marin Food Bank and have set a goal to donate 1,000,000 meals in 365 days and we're on our way to reaching that goal but we need help from others. We urge everyone to help us fight food-insecurity.
SFS: How does Bloom Farms set itself apart from the other cannabis companies?
MR: We have a one-for-one program to help food insecure families, we have donated to the Calaveras County Butte Fire fire relief, we host a Cannabis Career & Job Fair in San Francisco and Los Angeles, among other initiatives. We want to grow so that we can do more to help our community and especially to defeat food insecurity.
We're a mature adult focused company. Look around and you'll see some irresponsible and immature marketing efforts in the cannabis industry. Bloom Farms doesn't associate with that. Our products are for everyone and we don't discriminate or alienate on the basis of gender, race, sexuality, age, or anything else. Bloom Farms is focused on four pillars for our patients: relief, relaxation, creativity, and fun. Every human deserves those four pillars.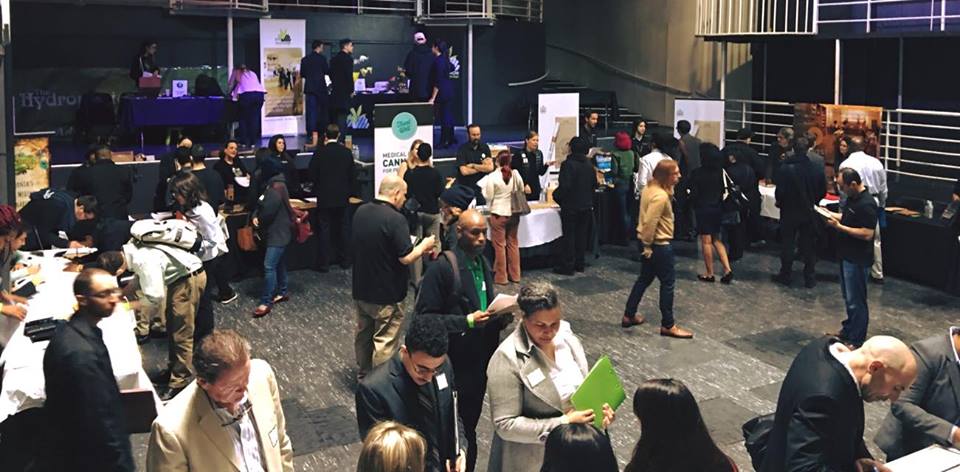 SF Bay Area Cannabis Career Fair, via Bloom Farm Facebook
SFS: Tell me about the Bloom Farms jobs fair. What is the incentive for Bloom Farms to connect job seekers to its competitors?
MR: If Bloom Farms can help match quality employees with professional employers, then we are not only living our company value of "give something amazing back", but we are helping to move the cannabis industry forward.
SFS: Why do you think it's important to redefine cannabis culture?
MR: There has been a negative social stigma around cannabis for a long time, and with legalization right around the corner, it's important that we professionalize the industry. Look around, the leaders in cannabis culture don't fit the typical stoner stereotype. We're entrepreneurs in a legitimate industry, and I think it's imperative that we help more politicians, doctors, and citizens understand that fact.
SFS: Why do you think the Budtender Bash has been so well-received? What can cannabis industry workers look forward to if they attend this party?
MR: It's an event tailored specifically to industry workers. It's a chance for the hard-working members of the cannabis community to come together and celebrate each other. And there are no restrictions around medicating with cannabis, so everyone can enjoy the night in whatever responsible way they choose. It also helps that there's an open bar and great live music.
Look, Bloom Farms is building a community and creating a movement, and that starts with budtenders and other industry employees. The Budtender Bash is about bringing together the influencers in the space, presenting our mission, and getting more people on board with the professionalization and legitimization of the cannabis industry. We have to be united, and we have to act strategically.
SFS: Does Bloom Farms have any plans to roll out any new products in the near future?
MR: We have some pretty awesome plans for a new product, but we aren't ready to announce anything yet. If you want to be the first to know what's happening with Bloom Farms, get on our mailing list and follow our blog. You can do that here.
SFS: How would you like to see the industry progress in the next few years?
MR: I would like to see the Adult Use Initiative pass. I would like to see easier access to cannabis for people who want it, and especially for those who need it. I'd like to see fewer incarcerations for cannabis related crimes, and for those who have been incarcerated for a non-violent cannabis related crime to have their sentences reduced. I want the negative social stigma around cannabis to be erased — the super stoner stereotype is a fallacy! Finally, I want to see more legitimate jobs in the industry. The cannabis industry is real and flourishing, and I want us to have a voice.
SFS: Where can people find Bloom Farms products?
MR: Medical patients can head over to our website, input their city and find a dispensary near them that carries Bloom Farm products. Also, make sure and follow us on INSTAGRAM and FACEBOOK.