Just Announced: Win A Ticket to See Metallica Play Inside Berkeley's Rasputin Music For Record Store Day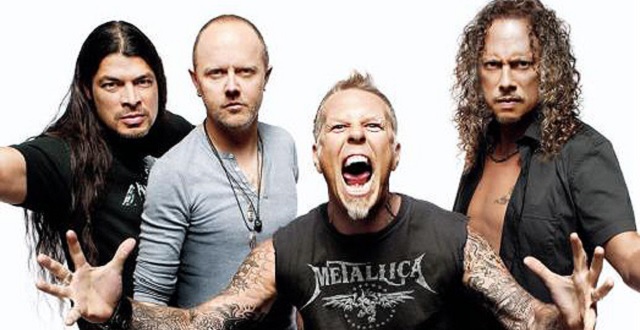 Grammy Award-winning, Rock and Roll Hall of Fame inductees Metallica will hold a very special performance inside the Rasputin Music record store in Berkeley on Saturday, April 16. This intimate show will be to celebrate Record Store Day 2016, for which the band has been named the event's ambassador.
UPDATE: Stream it live at 4pm PST at: https://www.facebook.com/Metallica/
The band invites fans to join them on this special day to experience the passion for music that lives on in local record stores worldwide. Record Store Day, the global celebration of the culture of the record store, takes place annually in April. For a chance to attend this one-in-a-lifetime performance, visit Rasputin Music in Berkeley between now and April 10 to fill out a ballot for your chance to win one ticket to the in-store show.
See also: CBS RADIO's The Night Before ft Metallica
"Getting loud, noisy and sweaty at Rasputin's on Telegraph Avenue in Berkeley transports Metallica right back to the core of its Bay Area beginnings," said Metallica's Lars Ulrich. "We can't wait to celebrate Record Store Day while shaking up the East Bay old-school style."
Metallica formed in 1981 and is one of the most influential and commercially successful rock bands in history, having sold over 110 million albums worldwide, many of which have gone multi-platinum.
Metallica has consistently supported Record Store Day over the years with a healthy handful of special releases and even held in-store appearance to kick off the very first Record Store Day in 2008 inside Rasputin Records in Mountain View. Last year, band members James Hetfield, Lars Ulrich, Kirk Hammett, and Robert Trujillo secured the highest selling release of Record Store Day when the band's cassette-issued demos collection, No Life Til Leather.
In addition, Trujillo's lauded biopic, Jaco, about legendary bassist Jaco Pastorius, was Record Store Day 2014's Official Film. A special Record Store Day exclusive version was released on DVD for Black Friday 2015, including a bonus CD featuring tracks from Trujillo himself.