Get Tickets to the New SFMOMA This Week with Free Admission on Opening Day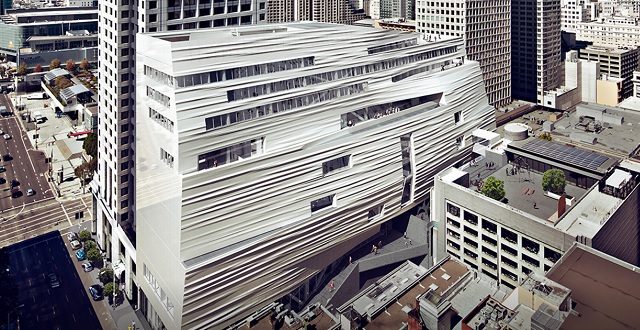 Art fans – mark your calendars. Free admission tickets to the newly expanded and transformed SFMOMA go on sale Wednesday, March 30, at noon at www.sfmoma.org/visit. Opening day will be free to public on Saturday, May 14, from 10am to 8pm, following an inaugural ceremony.
UPDATE: it appears tickets are now sold out.
The thoroughly transformed SFMOMA has six art-filled terraces, a new sculptural staircase, and Roman steps for public gatherings. The new museum will feature nearly 45,000 square feet of free art-filled public space.
The new SFMOMA galleries will be open to the public seven days a week from 10am to 5pm through Labor Day, with extended hours on Thursdays until 9pm. The museum's free ground floor public spaces offers complimentary Wi-Fi, opening daily at 9am. Permanent hours and a series of family days will be announced in the near future. Ticket prices and dining options are listed further below.
Visitors can enter the museum through the original main entrance at Third Street or through a new entrance at Howard Street. The new Joyce and Larry Stupski Entrance at Minna Street, dedicated to school groups and after-hours performances, provides accessibility from multiple sides. SFMOMA was founded in 1935 as the first West Coast museum devoted to modern and contemporary art.
Admission ticket prices
Members: Free
General admission: $25
Seniors (65 years and older): $22
Ages 19-24 with ID: $19
Ages 18 and younger: Free
The cost of an annual membership begins at $100, and all members get unlimited free admission, access to members-only previews and parties, plus discounts on programs and shopping at the SFMOMA Museum Stores and online.
Dining at SFMOMA:
–Cafe 5: California-fusion flatbreads, fresh organic salads, and open-faced sandwiches located on the fifth floor open 10am to 4:30pm
– Sightglass: Third-floor coffee bar offers artisanal beverages and pastries, open 10am to 4:30pm
– In Situ: Will be open for lunch and dinner beginning in June with a rotating menu of dishes contributed by 80 global chefs